Item specifics
is_customized:

Yes
Compatible Brand:

HTC,Apple iPhones,Samsung,Motorola,Toshiba,Panasonic,Blackberry,Nokia,Sony-Ericsson,LG,Palm
Type:

Emergency / Portable
Power Source:

A.C. Source,USB
Socket Type:

Others
Model Number:

pow_5000mAh_1
Place of Origin:

Guangdong, China (Mainland)
Product Description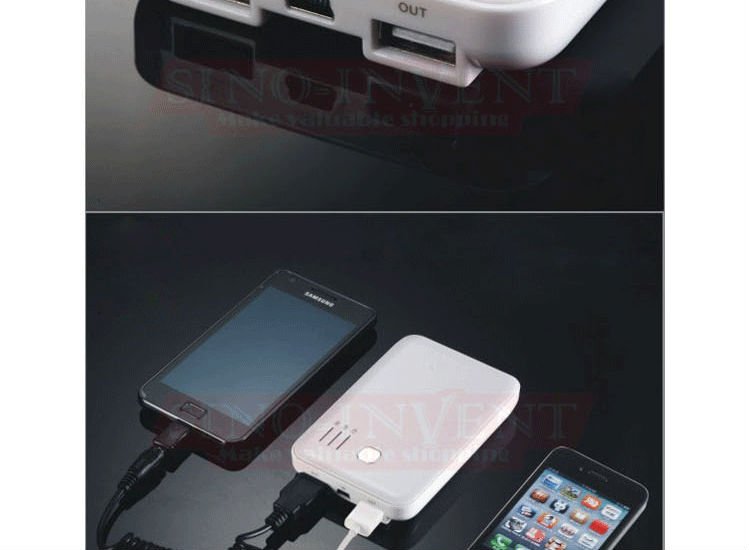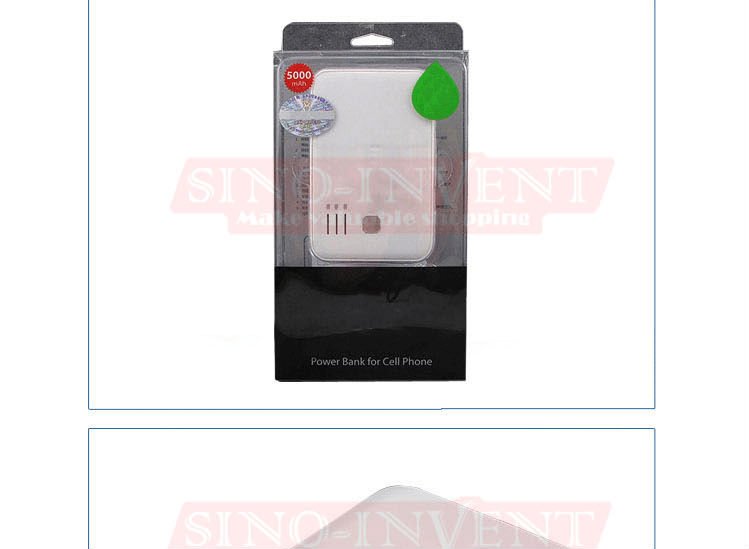 Full Single Package Default list:
1x Battery Pack
1x DC USB Cable
1x Mirco USB Connector
1x Mini USB Connector
1x Apple iPhone Connector
1x Samsung Connector
1x Sony Ericsson Connector
1x Nokia Connector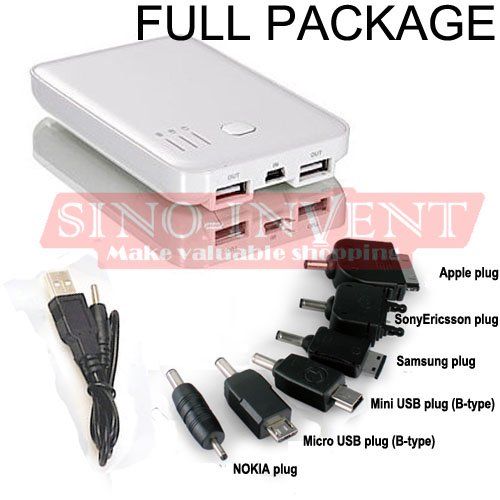 Fit Model:
note: for the replacement of mobile phone is very soon, below list is only for your reference, we cant list all fit model here. To make sure if your phone is fit for, please confirm your phone connector style of charge.
Apple:iPhone 3G 3GS 4 4S;iPad 2,3 the new iPad;iPod;iPod Mini Nano Photo U2SE Video Nano 3rd Gen Touch 4Gen
Amazon: Kindle Kindle 2 Kindle 3 Kindle Touch wifi/3G Kindle DX
Blackberry:9900 9930(Montana) 9530 9000 P'9981(knight) 9700(Onyx) 9780 9788 9790(Bellagio) 9630(Tour) 9800(Torch) 9850(Monaco Touch) 9650 8310 9860(Monza) 9300 9350 9360(Apollo) 9810(Torch 2) 9500(Storm) 9520(Storm2) 9550(Verizon) 8900 8520 9530 9630 9670 Curve, Pearl, 6210, 6220, 6230, 6280, 6510, 7100g, 7100r, 7100t, 7100v, 7100x, 7210, 7230, 7250, 7270, 7280, 7290, 7510, 8700, 8700c, 7130, 7130e, 7105t, 7520, 8800, 8820, 8830
Samsung:i9100 Galaxy S II, i9220 Galaxy Note, s5830 Galaxy Ace i9250 Galaxy Nexus, w999, i9001 Galaxy S Plus, S5830i, i9000 Galaxy S, E120L(Galaxy SII HD LTE), I9003(Galaxy SL), I997(Infuse 4G), S5660(Galaxy Gio), I9103(GALAXY R), I929(GALAXY SII DUO), I9108(GALAXY SII), S5368, I8150(GALAXY W), S5690(Galaxy Xcover), W899, I9500(GALAXY SIII), I917(Focus), S5820, I9300(GALAXY SIII), S5360(GALAXY Y), I9100G(GALAXY SII), I9008L(GALAXY S), I509(GALAXY Y), I8530(Galaxy Beam), I919(GALAXY S DUOS), I909(Galaxy S), S5570(Galaxy Mini), I9023(Nexus S), P1000(Galaxy Tab), I809(Galaxy S), I8700(Omnia 7), Galaxy Tab 7.7 P6800, T959(Fascinate 4G), W689(DUO), W589 S8600(Wave 3), I8350(Omnia W), W799
G600: SAMSUNG G600 G800 M8800 ( DM-S105, GT-3650 / Genio Touch / Corby / S3650, M8800 Pixon, S5230 / GT-S5230 / Star / Tocco Lite, SCH-i770 Saga, SCH-i910 Omnia CDMA, SCH-R200, SCH-R210 Spex, SCH-R300, SCH-R310 Byline, SCH-R400, SCH-R410, SCH-R420 Tint, SCH-R430 MyShot, SCH-R450 Messager, SCH-R460 Myshot 2, SCH-R500 Hue, SCH-R520 Trill, SCH -R550 JetSet, SCH-R600 Hue II, SCH-R610, SCH-R800 Delve, SCH-R810 Finesse, SCH-U310 Knack, SCH-U350 Smooth, SCH-U430, SCH-U440 Gloss, SCH-U450 / Intensity, SCH-U470 Juke, SCH-U490 Trance, SCH-U650 Sway, SCH-U700 Gleam, SCH-U706 Muse, SCH-U750 Alias 2, SCH-U810 Renown, SCH-U900 FlipShot, SCH-U940 Glyde, SCH-U960 / Rogue / Glyde 2, SGH-A117, SGH- A127, SGH-A137, SGH-A167, SGH-A177, SGH-A226, SGH-A227, SGH-A237, SGH-A257 Magnet, SGH- A517, SGH-A637, SGH-A657, SGH-A697 Sunburst, SGH-A736, SGH-A737, SGH-A747 SLM, SGH-A767 Propel, SGH-A777, SGH-A827 Access, SGH-A837 Rugby, SGH-A867 Eternity, SGH-A877 Impression, SGH-A887 Solstice, SGH-F110 Adidas miCoach, SGH-F200, SGH-F210, SGH-F400, SGH-F480 Tocco, SGH-F490, SGH-F700, SGH-G600, SGH-G800, SGH-i450, SGH-i617 BlackJack II, SGH-i627 Propel Pro, SGH-i637 Jack, SGH-i640, SGH-i788, SGH-i900 Omnia GSM, SGH-I907 Epix, SGH-J700, SGH-L760, SGH-M110 Solid, SGH-P520 Armani, SGH-T109, SGH-T119, SGH-T229, SGH-T239, SGH-T339, SGH-T349, SGH-T409, SGH-T419, SGH-T429, SGH-T439, SGH-T459 Gravity, SGH-T469 Gravity 2, SGH-T539 Beat, SGH-T559 Comeback, SGH-T639, SGH-T659, SGH-T729 Blast, SGH-T739 Katalyst, SGH-T749 Highlight, SGH-T819, SGH-T919 Behold, SGH-T929 Memoir, SGH- U900 Soul, SPH-A513 Fin, SPH-A523 Mysto, SPH-i325 Ace, SPH-M300, SPH-M305, SPH-M310 Slash, SPH-M340 Mantra, SPH-M510, SPH-M520, SPH-M800 Instinct, SPH-M810 / Instinct S30 / Instinct Mini, SPH-R311 Axle, SPH-Z400)
HTC: HTC Incredible S, HTC EVO 3D, HTC Sensation, HTC Sensation XE, HTC Desire S, HTC One X S720e, HTC Wildfire S, HTC Sensation XL, HTC Desire HD, HTC EVO 4G, HTC Rhyme, HTC Chacha, HTC Raider 4G, HTC Wildfire, HTC Deisre, HTC Salsa, HTC Radar C110e, HTC HD2, HTC 7 Trophy T8686, HTC One S, HTC 7 Mozart T8698, HTC MyTouch 4G, HTC Inspire 4G, HTC HD7 T9292, HTC One V, HTC 7 Surround T8788, HTC Thunderbolt, HTC Amaze 4G, HTC Aria, HTC EVO Design 4G, HTC Chacha A810e
LG: LG P970(Optimus Black) LG P940(Prada 3.0) LG P990(Star) LG LU6200(Optimus LTE) LG P920(Optimus 3D) LG P970(Optimus White) LG Optimus 2X LG P503 LG Lucid 4G LG P350(Optimus Me) LG E900(Optimus 7) LG E510(Optimus Glare) LG E730(Optimus Sol) LG P705(Optimus L7) LG P880(Optimus 4X HD) LG P930(Nitro HD) LG P690(Optimus Net LG P355 LG C660(Optimus pro) LG P725(Optimus 3D MAX) LG Optimus Pad V900 LG C550(Optimus Chat) LG E400(Optimus L3) LG P999(Optimus G2x) LG T500 LG T500 LG C330 LG P698 LG P693 LG S310 LG F100L Optimus Vu LG C300(Town) LG A200 LG P520 LG C360 LG GT910s LG P925(Thrill 4G) LG Optimus M+ LG P936(Optimus 4G LTE) LG Optimus 3D P920 LG F160L LG Optimus L5 LG VS920(Spectrum) LG T370 LG A258 LG S360 LG F100S(Optimus Vu LG Optimus LTE Tag LG AX155 / Banter AX265 / AX300 / AX310 / Swift AX500 LG Rhythm AX585 UX585 / Glimmer AX830 / Tritan AX840 UX840|
LG Quantum C900 / CF360 / Incite CT810 / dLite GD570 / Shine II GD710
LG Xenon GR500 / Vu Plus GR700 / GS170 / Prime GS390 / Sentio GS505
LG Encore GT550 / Arena GT950 / GU295 / GU292 / Neon II GW370
LG eXpo GW820 / Remarq LN240 / Rumor Touch LN510 / Rumor2 LX265
LG LX290 / LX370 / LX400 / Lotus LX600 / Lotus Elite LX610
LG Select MN180 / Imprint MN240 / Lyric MT375 / T-Mobile G2x / Optimus 2X
LG Optimus M / Optimus S / Optimus T / Optimus U / Optimus V
LG Phoenix P505 / Thrive P506 / Saber UN200 / Wine II UN430
LG Genesis US760 / UX220 / UX265 / UX300 / UX310 / Bliss UX700
LG Cosmos VN250 / Cosmos 2 VN251 / Cosmos Touch VN270
LG Vortex VS660 / Ally VS740 / Fathom VS750 / Revolution VS910
LG VX5500 / Accolade VX5600 / Glance VX7100 / VX8360
LG Clout VX8370 / Chocolate 3 VX8560 / Chocolate Touch VX8575
LG Decoy VX8610 / enV2 VX9100 / enV3 VX9200 / Versa VX9600
LG Dare VX9700 / enV Touch VX11000
Sony/Sony Ericsson: LT26i(Xperia S) LT18i(Xperia arc S) ST18i(Xperia ray) MT15i(Xperia Neo) LT15i(Xperia Arc) MT27i(Xperia sola) X10i LT22i(Xperia P) ST25i(Xperia U) MT11i(Xperia neo V) MT25i(Xperia neo L) WT19i(Live with Walkman) SK17i(Xperia mini pro) E15i(X8)Xperia Play Z1i U5i(Vivaz) ST15i(Xperia mini) U1i(Satio) E16i(W8) MK16i(Xperia Pro) M1i(Aspen) ST17i(Xperia active) LT28at(Xperia Ion) A8i WT18i(Walkman) E10i(X10mini) J20(Hazel) U20i(X10mini Pro) U8i(Vivaz Pro) U100i(Yari) W20(Zylo) Xperia Young LT29i(Hayabusa) W150(Yendo) WT13i(Mix Walkman) J108i W715c T715 SK15i W100i(Spiro) MT18i CK15i(Txt Pro) W150i,J105i(Naite)Xperia Active Billabong Edition Xperia X
K750:K750/K750IW800C/S700S/S700C/Z520C/K758C/W550/W850I/K800I/w900C/Sony Ericsson CST-60 C905, D750i, J100, J100i, J105 Naite, J220a, J230a, J230i, K310i, K320i, K610im, K750i, K800i, K850, M600, P1i, P990i, S500, S500i, T506, TM506, TM506, TM717 Equinox, V630, W205, W350, W395, W518a, W580i Walkman, W610, W715, W800i, W850i, W900i, W902, W960i, Z520i, Z530i, Z555i Sony Ericsson CST-13 F500i, J200i, J210, J210i, J300, J300a, J300i, K300i, K500, K500i, K506c, K508i, K510, K600, K608, K608i, K610i, K618i, K700, K700i, K790, K800, P800, P900, P910i, R300, R300LX, R380 World, S700i, S710a, T39, T39, T60LX, T60LX, T61c, T61c, T61LX, T62U, T68i, T68i, T200, T202, T226, T230, T237, T290, T290a, T290i, T300, T306, T310, T310, T316, T600, T600, T608, T610, T616, T630, T637, U10i Aino, V600i, V630i, V800, W300, W300i, W380 Walkman, W550i, W600i, W700, W710, W810, W810i, W830i, W850, W908c, W910, W910i, W950, Z200, Z300, Z310, Z500, Z520a, Z525, Z530, Z550, Z558, Z558i, Z600, Z608, Z610i, Z710, Z710i, Z750, Z800, Z800i, Z800i, Z1010
Motorola: mb525, Droid Razr, Droid X, Atrix 4G,IDEN Series i9 Stature A555 Devour, A957 Droid Pro, AURA, CLIQ / CLIQ MB200 / Morrison / DEXT MB, Cliq XT / Zeppelin, Crush, Droid X / MB810, Flipout, i1 / Opus One, i465 Clutch, i776, MB300 / Motus / Enzo / Backflip, MileStone, QA1 Karma, Quench, XT720 Milestone Q Series Q Global, Q9, Q9h QA Series Evoke QA4, Hint QA30 RAZR VE20 RAZR2 V8, V9, V9m ROKR E8 V Series Adventure V750, Rapture VU30, Renegade V950 Z Series Krave ZN4, Z9, Zine ZN5
Nokia: N9, Lumia 800, N8, C5-03, 5230, Lumia 900 Hydra, 1006, 2605 Mirage, 6205, 6350 Snapper, 6500 classic, 6750 Grouper / Mural, 7705 Twist, 7900 Prism, 8600 Luna, 8800 Arte, 8800 Carbon Arte, 8800 Sapphire Arte, N8, N85, N900, N96, N97, N97 mini
Palm: Treo PRO 850
Pantech: EASE P2020, JEST TX8040
Garmin: NUVI models such as: Nuvi 200 205 250 255 260 270 300 310 350 360 370 660 c580 200w 205w 250w 255w 266w 5000 600 610 650 660 670 680 710 750 760 770 780 850 860 880 900T
Nextel: ic402, ic502, ic902
User Guide (Very Important!)
[ product parameters ]
Battery capacity: 5000mAh / 3.7V
Rated capacity: 18.5Wh
Products: weight of about 153g
Product size: 110 * 70 * 16.5 ( mm )
Charging mode: CC / CV
Input voltage: 5.V + 0.5V
Output voltage: 5.5V + 0.5V
Maximum charging current: 800 mA
Maximum output current: 1000 mA
Charging time: 2 to 3 hours
Working temperature: - 10 degrees - 40 degrees storage
Transport temperature: - 20 degrees - 50 degrees
Input power: from the power adapter for charging, computer USB interface.
Circle of life: not less than 500 times
Weight: 160g

[ products applicable]
Applicable to all with USB charging devices, such as mobile phone, iPhone iPhone4, iPhone 3G, iPhone 3GS, iPod, iPod Classic, iPod Touch, iPod Touch 2G, iPod Nano, PSP, MP3, MP4, PSP, GPS, digital camera, Bluetooth, etc.

[product characteristics ]
1) press TEST to detect residual electric quantity detection switch
2) use of high-quality environmental protection of lithium ion batteries, 500 cycles of charge and discharge capacity is larger than 80%
3) use of simple, plug-and-play, easy to carry
4) intelligent protection chip: overcharge, overdischarge protection, overload protection, short circuit protection

[ function ]
1) Automatic wake-up function: access load automatic wake-up, LED lighting, display the current consumption.
2) output function : to connect mobile phone automatically to the mobile phone charging, LED lights, remove the load after 5 seconds the LED turn off.
3) function keys: keys to the power indicator button, press according to the battery capacity, the corresponding LED lights, unlock button 5 seconds after the LED turn off.
4) lights: the indicator lamp is a two state:
State of charge: the mobile power charging, LED light shows the current battery
Discharge state: discharge lamp, LED shows the current battery.
Battery indicator: press the button, LED light shows the current battery.
5) for charging mobile power: rechargeable line into a computer or a USB interface output charger can charge.
6): the voltage of the battery overcharge protection for 4.3V + 0.05V, battery protection, stop charging the battery.
7) the overdischarge protection: the battery voltage is lower than 2.4V + 0.1V, battery protection, to stop foreign discharge.
8) circuit protection: when in normal work, the short circuit of the output end of the circuit in the protection of the state, no output, protection after the chargers to charge 3 seconds can relieve protection
9) conversion efficiency is greater than or equal to 80%

[ note ]
1) long time when not in use, at least every three months to give the product a charge.
2) in the charging indicator light, a charging plug, avoid long time and damage the battery charging.
3) please 0-45 C, relative humidity 20-70%Rh environment using, and away from the wet, heat and fire.
4) please keep products store in a dry place, away from moisture and corrosion of materials.
5) do not use rough chemical substance, such as soap or detergent scrub.
6) this product is strictly prohibited on the disassembly, impact, put into fire or water.
7) if the battery ballooning, leakage or smell, please stop using it immediately.
Payment
1) We accept Alipay, West Union, TT. All major credit cards are accepted through secure payment processor ESCROW®.
2) Payment must be made within 3 days of order.
3)For security reasons, we will only ship orders to the delivery address you confirmed with Escrow.
International Buyers – Please Note:
Import duties, taxes, and charges are not included in the item price or shipping cost. These charges are the buyer's responsibility.
Please check with your country's customs office to determine what these additional costs will be prior to bidding or buying.
Shipping

For security reasons, we will only ship orders to the delivery address you confirmed with Escrow.
We will ship the package within 2-3 business days(for mass wholesale, domestic handling time need to be confirmed specialized) after receiving your payment and your mailing address, a usable phone number is required if the parcel is shipped by registered air mail or express.
We do combine shipping for additional items, please contact me in advance for details including item numbers.
A) By Air Mail and Registered By Air Mail (China By Air Mail, Hong Kong By Air Mail, Swiss By Air Mail, Singapore By Air Mail etc.), a slow but very economy way of shipping. Always it takes 10-25 workdays. It maybe take a little longer for some remote areas or during busy season, please be patient. (Please understand there has some situation out of my control whice lead to unexpected delay like custom`s process, bad weather condition etc)
B) Express, faster ,safer but expensive. If you need a faster deliver and not very sensitive to the freight, please contact me or choose the express shipping service when payment.
I'll try my best to eliminate & minimize the your custom`s tax within the legal, and easy the custom proceeding. (In most condition, you needn't pay the tax. But a little time, as a buyer, it is your duty to pay the tax when you make an order from abroad. Our price does not include taxes, VAT, or other hidden charges.)


Policy&Service
We guarantee 100% customer satisfaction. If the item is defective upon receipt or during use, customer has up to 7 days from date of receipt to exchange a new one. (If the item is a machine or something like, buyer should be sure the package and item in brand new condition. Merchandise damaged or with missing components are not exchanged)
Buyer accepts responsibility to pay for return freight for any reason except DOA (dead on arrival).
We offer one year warranty for equipment. Buyer need to pay two way shipping freight.
Returns are usually processed within 5-7 days from the time there received.
Consumption goods and accessories come with a 3 days warranty for DOA.
Please contact us through email for detailed replacement procedure if you need to replace items.
Feedback
If you are happy with the item, please leave a positive feedback for us. Your feedback is always important to us, we will do better. If something is unsatisfactory, please feel free to contact us to solve it before leaving a negative feedback or low DSR. Most times it is simply a misunderstanding that we will be happy to correct.
Contact Us
Please feel free to contact us for any question,welcome to inquiry, we will respond ASAP.
Packaging Details
Unit Type:

piece
Package Weight:

0.260kg (0.57lb.)
Package Size:

23cm x 11cm x 3cm (9.06in x 4.33in x 1.18in)
Packaging Details
Unit Type:

piece
Package Weight:

0.260kg (0.57lb.)
Package Size:

23cm x 11cm x 3cm (9.06in x 4.33in x 1.18in)
Payment
Our Buyer Protection ONLY protects Payment Methods on AliExpress as below:
Bank Transfer
QIWI
webmoney
Report item
More battery charger mobile phone Products