Item specifics
Item Type:

Grow Lights
is_customized:

Yes
Brand Name:

GG
Length:

27 inch
Body Material:

Iron
Features:

Suitable for all stages of growth
Width:

27
Light Source:

LED Bulbs
Warranty:

3Years
Wattage:

150
Certification:

CCC,CE,RoHS
Is Dimmable:

Yes
Voltage:

85-265V
Power Source:

AC
Model Number:

GG-ZWD150W(50*3W)
power:

150W(50*3W)
PF:

>0.97
leds color:

Red, Blue,Orange.blue,etc
lumens:

>=2800lm
wavelength:

Red:630nm/660nm, Blue:430nm/460nm;Orange:610nm
Ratio:

630:660:610:460:12000K=30:5:5:5:5
Lifespan:

50,000 hours and 100% 3 years warranty
Protection:

voltage-regulator diode to protect leds
Input Voltage:

AC85~265V
Name:

150W led grow light 50*3W
Product Description
For better price:
Welcome to Mayer's new store
With
freeshipping price just 109dollars for this 150W(50x3w)
led grow light by following link:
http://www.aliexpress.com/store/product/EMS-Free-shipping-UFO-Led-grow-light-150W-With-50-3W-leds-for-hydroponics-lighting-dropshipping/410257_630070358.html
http://www.aliexpress.com/store/product/DHL-free-shipping-UFO-Led-Grow-Light-150W-Black-body-color-for-indoor-growing-hemp-bloom/214402_637689355.html
Store:
http://www.aliexpress.com/store/214402
http://www.aliexpress.com/store/410257
Tech info:
- LED Chipset: 3W ,actual power can be 2W/LEDS
- Number of LED's: 50 pcs
- Rated Hours: 50,000 Hours
- Bands: 5 Band or customized ratio
Color Nm Led.qty.
Red 1 630nm 30
Red 2 660nm 5
Orange 610nm 5
Blue 460nm 5
White 12000K 5
— Body color: White (Default Selection)
Black (Leave massage to me for this body color)
— Worldwide Voltage: 85v-264v
— Warranty: 3 Year All Inclusive
150W(50*3W) LED Grow Light Detailed Product Description
1.150W(50*3W) LED grow light and actual power is : 95W - 100W.
2.Help increase yield of plants ,Suitable for all stages of growth .
3.CE&ROHS certificates
4.100% 3 years Warranty
5.Input voltage(Wide Voltage): AC85-264V
6.Hanging kits included.
7.All emitting angle for option: 60/90/120degree,90 degree is ueually uesd.
8.All Spectrum for option:
Red:630nm/660nm ; Blue:430nm/460nm ; Orange:610nm ;
White:6500K;Yellow:580nm ; green:530nm ; cyan:500nm ;
Violet:410nm ; Infrared: 730nm/850nm.
9.Available: 14W 45W 50W 90W 120W 150W 200W 300W 600W with 1w led and 45*3w, 80*3w,
100*3w, 150*3w, 200*3w, 360W (180*2+6*5W),288*3w ,600W (264*2+7*5W),or Customized.
10.High Efficiency,Up to 80% energy savings vs; Virtually no heat emitted;
11.Application:Suitable for the greenhouse lighting, horticulture, hydroponics, farm, flower exhibition,
garden, bonsai etc.
Parameter

Content

Data

Content

Data

Size

Phi 270x60mm

Power

150W (50x3W)

Input voltage

AC85~264V

Lux

1M/1240,1.5M/542,2M/230

Working current

300mA

Lifespan

50,000 Hours

Work frequency

50/60 Hz

Color

Red/Blue

Working Temperature

,-40oC~55oC

Lighting Area

1M/19.63sqm , 1.5M/32.15sqm,

2M/58.06sqm06

Inner box

317x317x140/1pcs

G.W.

4kg/1pcs

Carton box

560x320x325/4pcs

G.W.

15kg/4pcs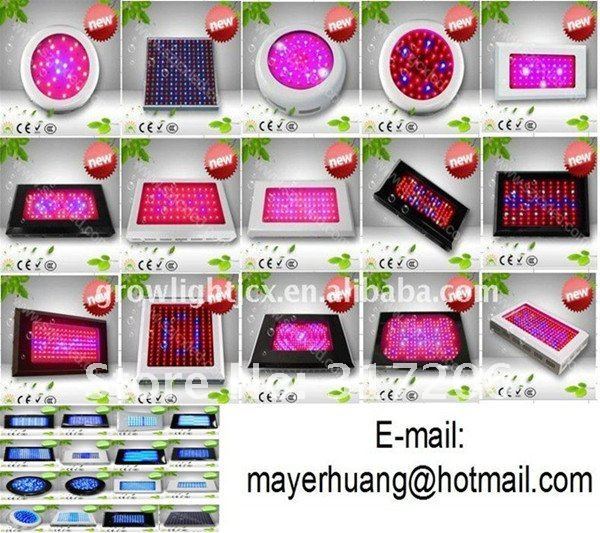 PhytoLED is the grow LED division of PHT Trading sa, also owner of the brand Phytolite, dedicated to the research and developement of LED based Indoor growing lights.
Our LEDs for grow plants indoor, are developed in cooperation with companies based in Switzerland, Italy, and China and are representing results of a long term on field testing and experiences sharing with others companies and users.
Our LEDs grow products for indoor gardening are thinked to cover small and medium surfaces in hydroponic gardens as well as grow rooms and greenhouses. They can alse be used and installed as modular systems to cover big surfaces also.
Grow LEDs are used for small germination stations, vegetative maintaining, home grow boxes, but also green houses as sun light supplement and photoperiod controlling.
All our LEDs for grow indoor are enginered in Taiwan and realized in China and comes with 3 years warranty. All replacement parts are available for fast delivery or repaiment trough our China laboratoy.
Hydroponics is the easy way to grow fresh herbs, vegetables, fruits and flowers indoors, all year long without the need for soil or natural sunlight. Whether you are a professional hydroponics gardener or indoor gardening hobbyist, Bluegrass Organic Grow Shop (BOGS) can supply you with what you need to grow bigger, better and more productive plants.
Grow LED is the new lighting range with optimal lighting with little energy consumption. Featuring LED lighting technology with a wide spectrum of light specifically needed for plant growth. Each LED lasts for up to 50,000 hours of usage sustaining low maintenance, Grow LED is built to last. With Optimal radiance and sustainable technology, Grow LED is engineered for energy efficient lighting.
Low Heat
Grow LED lights produces very little heat, maintaining low chances of affecting aquarium temperature using smart air cooling technology to effectively dissipate heat.
Cable and Brace Mount
Horizon can be conveniently brace mounted or discreetly suspended with stainless steel cables for the stylish look.
Energy Effecient
LED lighting systems are extremely energy efficient, only consuming 1W/3W per LED. Grow LED will save you around 70 - 85% of energy costs compared to other traditional lighting systems.
CE AND ROHS Approved for your peace of mind and operational safety.
Full Spectrum for option and emiting angle:
Red:630nm/660nm ; Blue:430nm/460nm ; Orange:610nm ; White:6500K;
Yellow:580nm ; green:530nm ; cyan:500nm ; Violet:410nm ; Infrared: 730nm/850nm.
60/90/120 degree emiting angle for option.
36 Months Warranty
You will have peace of mind knowing Grow LED lights is warranted against defective material and manufacturing faults for 36months.In the 3years,just send the led grow lights back to our company,we'll pay the payment of shipping fees,and repair it,then send back to you in 10days.
This panel does not run hot, just warm. You will not experience unsightly brown burned leaves when they accidentally touch the LEDs. This is common with most other lights that get very hot. This more controlled running temperature reduces the need to water so often and keeps rooms with plants from getting uncomfortably hot in the summer months requiring additional air conditioning. Extreme energy efficiency permits this new LED panel to pay for itself many times over each year in electricity savings. It saves 70% to 90% in energy consumption compared to incandescent bulbs or fluorescent tubes.
Wide angle projection insures uniform leaf coverage. Scientifically calculated even blending of red and blue LEDs eliminates the time consuming task of repositioning separate colored lights back and forth trying to achieve uniform exposure.
14 to 16 hours per day is all that is necessary for maximum plant health with this wave blended lighting system. This allows distances 6-Inch and less between the LEDs and the plants accelerating photosynthesis.
Red and blue wavelengths are for growing and flowering of plants. The typical white plant lights that are very hot is unnecessary and just consume excessive electricity. The purity of the LED generated light lengthens flowering periods.
Hydroponics is the easy way to grow fresh herbs, vegetables, fruits and flowers indoors, all year long without the need for soil or natural sunlight. Whether you are a professional hydroponics gardener or indoor gardening hobbyist, Bluegrass Organic Grow Shop (BOGS) can supply you with what you need to grow bigger, better and more productive plants.
Or, better yet, make a list and visit the shop. If the item you want is not in stock we can order it for you and get in for you in a few days with a deposit. Please make sure to include the part number and description.
Product Notes
This LED Grow Light can easily be hung or mounted directly to a flat ceiling or even used for indirect lighting. Making this model easier for mounting in tight or unusually shaped spaces.
Each LED produces light cones so that when they are clustered into arrays the light cones overlap, increasing light intensity and color mixing, meaning your plants get the most diverse combination of blues and reds for better growth stimulation.
FAQ - Frequently Asked Questions
Why is red light important for plants?
Red light is very important to plant reproduction. Phytochrome pigments absorb the red and far red portions of the light spectrum and regulate seed germination, root development, tuber and bulb formation, dormancy, flowering and fruit production.
Why is blue light important for plants?
Blue light stimulates Chlorophyll production more than any other color, encouraging thick leaves, strong stems and compact vegetative growth.
What can I grow?
You can grow any indoor plant with this Grow Fixture. LED grow lights are used to grow orchids, roses, peppers, tomatoes, basil, lettuce, herbs, kale, spinach, wheat grass, broccoli, wildflowers, cucumbers, and many other fruits and vegetables. They are also great for growing or perking up any houseplant. Grow Lights make excellent choices for cloning and seedling lights since they can be placed in tight spaces without worrying about heat build up. The lights would also be suitable for all stages of plant growth.
Who would use an LED Grow Light?
LED Panel growing systems are used by home gardening enthusiasts, top florists, large nurseries, scientific researchers, universities. Even NASA uses LED grow light technology to grow plants in space!
LED Grow lights are the most efficient units of plants growing lights. It can provide better results than Metal Halide and HPS HID lights but saving 80% of energy. These work on soil or hydroponic methods of growing within any indoor environment. No setup required, just plug and play. Saving your time and money.
Application:
Hydroponic, gardening, Greenhouse Lighting, Seeding, Seedling, Breeding, Farm, Flower Exhibition, Garden, potted plants, etc.
1) Green House.
2) Seedlings and clones.
3) Primary plant lighting.
4) Supplemental plant lighting.
5) Common area planters - malls, lobbies, restaurants commercial buildings or anywhere that plants need more ligh.
Functions:
After application of test equipment, plant light wavelength is ideal for plant growth, flowering, fruiting. General indoor plants flowers, growing over time getting worse, the main reason is the lack of light exposure, through the spectrum required for plant LED light, which not only promote their growth, but also to extend the flowering period to improve the quality of flowers. And the application of this highly efficient light source system to the Green House and other facilities, and agricultural production, we can solve sunlight led to tomato, cucumber and other greenhouse vegetables taste defects decrease the other hand, can make early fruit vegetable greenhouses in winter to the public around the Spring Festival, so as to achieve the purpose of-season cultivation.
1, as a supplementary light, any time of day can enhance the light, you can extend the effective lighting hours.
2, both in the evening or night, can effectively extend and control of plant science needed light.
3, plants in the greenhouse or laboratory, can completely replace the natural light, to promote plant growth.
Packaging Details
Unit Type:

piece
Package Weight:

3.000kg (6.61lb.)
Package Size:

32cm x 32cm x 15cm (12.60in x 12.60in x 5.91in)
Packaging Details
Unit Type:

piece
Package Weight:

3.000kg (6.61lb.)
Package Size:

32cm x 32cm x 15cm (12.60in x 12.60in x 5.91in)
Payment
Our Buyer Protection ONLY protects Payment Methods on AliExpress as below:
Bank Transfer
QIWI
webmoney
Report item
More light bulb led Products
From This Seller
From Other Seller