Item specifics
Brand Name:

Xeltek
Model Number:

600P--500P Upgrade
Product Description
Include Burn Block 11 PCS:
1. 150mil/the narrow SOP8
2. 208mil/SOP wide 8 (double 8)
3. 170mil/SSOP8
4. 300mil/SOP28
5. PLCC44
6. PLCC32
7. PLCC28
8. PLCC20
9. TSOP48/40/32 triple burning blocks (double crimp contacts)
10-11. The other
NOW! Contact us immediately, We will send a Email to you about the SUPERPRO/Xeltek 600P High-Performance Universal USB Programmer Device Support List: about Total Devices: 32292 PCS
Illustration of the list: 93LC46(08bit)@SOIC8 [SA602A] 93LC46(08bit):      Device P/N SOIC8:              Package Name SA602A:             Adapter P/N 
Total Manufacturers  221 
Total Devices  32294          
ABOV              ACE Technology    ACT               ACTRANS           ADESTO            ADVANCE GROUP     AiT Semiconductor                   ALI(Acer)         ALL24SERIES       ALLIANCE          ALTERA            AMD               AMIC              AMS               ANACHIP           APLUS FLASH       ARTSCHIP          ASAHI KASEI(AKM)  ASD               ASI               Asic Microelectronics               ASP               ATC               ATMEL             ATMEL W&M         AUSTIN            AXELITE           BELLING           BENCHMARQ         BERGMICRO         BJX               BMT               Bookly Micro      BRIGHT            CATALYST          CBC Microelectronics                CERAMATE          CETC58            CFEON             CHINGIS           CHIPMAST          CHIPON            CHIPSWINNER       CKD Technology    CORERIVER         CWI               CYGNAL            CYPRESS           CYROD             DALLAS            DENSE-PAC         DEUTRON           E-CMOS            EFST              ELECTRONIC ARRAYS                   EMTC              EON               EOREX             ESMT              ESTEK             E-TRAND           EVERSPIN          EXCELSEMI         EXEL              FAIRCHILD         FIDELIX           FIRST-RANK Technology               FORCE TECHNOLOGIES                  FORWARD           FREESCALE         Fremont Micro Devices               FUDAN             FUJITSU           GATELEVEL         GENCORE           GENERAL(GI)       GENERALPLUS       GENERIC           GIANTEC           GIGADEVICE        GOAL              GREEN-ENGINE      GREENLIANT        GREENWICH         GTM               HAIER             HARRIS            HITACHI           HOLTEK            HONGKONG          HOPEFIND          HUAJIE Technology                   HYNIX             HYUNDAI           IC Microsystems   ICE               ICMIC             ICSI              ICT               IDT               IK Semiconductor  IMT               INTEGRAL          INTEL             INTELSIL          INTERSIL          ISSI              K-LINE            KODENSHI          LATTICE           LG Semicon        LINKSMART         LITAO             LIZE              LYONTEK           MACRONIX          MAGNACHIP         MAXCOM            MAXIM             MAXWELL           MEGAWIN           MICON             MICROCHIP         MICROCHIP(SST)    MICRON            MITSUBISHI        MOSEL-VITELIC     MOSMIC            MOSTEK            MOTOROLA          MT                MY-MS             NANSI             NANTRONICS        NATRONICS         NEC               NEXFLASH          NJRC              NOVATEK           NSC               NTE               NUMONYX           NUVOTON           NXP               OKI               ON Semiconductor  PCT               PHILIPS           PJ                PMC               PORTEK            POWER-RAIL        PSS               PTC               QISDA-CUSTOMER    QIXIN             Quick Pulse       RAMTRON           RATO              RAYDIUM           REALTEK           RENESAS           RICOH             ROCKWELL          ROHM              SAIFUN            SAMSUNG           SANYO             SEEQ              SEIKO             SGS-THOMSON       SHARP             SIEMENS           SIERRA            SIGNETICS         Silicon Laboratories                SIMTEK            SMOS              SONIX             SONY              SPACE ELECTRONICS[SEi]              SPANSION          SSSC              SST               SST-CUSTOMER      SSU               ST                STC               SUMMIT            SUNMOON           SUNPLUS           SYNCMOS           SYNERTEK          SYNTEK            TECHCODE          TEKMOS            TEMIC             Terra Semiconductor                 TI                TMC               TOSHIBA           TURBO IC          UMC               UNIGEN            VERSACHIPS        VLSI              WELTREND          WHITE ELECTRONIC DESIGNS            WINBOND           WING Shing        WSI               XELTEK            XICOR             XILINX            XINNOVA           XUMARS            YMC               YSS               YXLDZ             ZHENGXIN          ZMD               
218 vendors and 30,493 programmable devices.
This product uses SUPERPRO/6000 kernel consistent with the SUPERPRO/6000 speed, with 48 universal pin driver circuit, support the device with SUPERPRO/500P similar (device support list date).
The speed of the reading and writing process unbeatable will surpass SUPERPRO/500P. Program the average speed increased by 2 to 10 times more.
48 universal pin driver circuit, compatible SUPERPRO/500P, 501S adapter.
Direct support for a variety of voltage from 1.2V to 5V devices.
More advanced waveform drive circuit ensure extremely high the programming success rate. With IC manufacturers approved algorithms, both low voltage devices, used devices guarantee a high programming yield or low-quality devices. The Programming the result selectable high and low dual voltage check, to ensure that the result of persistent.
The online mode PC via USB2.0 port (high-speed) control programmer, convenient debugging for R & D.
ISP function online programming through ISP download cable.
Automatic detection chip wrong plug and pin connection is bad, to avoid damage to the device.
Improve the over-current protection, to avoid damage to the programmer.
Rich software features to streamline operations, improve efficiency, and to avoid making mistakes, and caring for the user. Project (Project) of the various operations of the user object devices, set including device models set file loading, the setting of the configuration bits, the batch commands stored in the project file, each time you run Back setting into operation, effectively reducing misuse probability. The project file can set a password to prevent data leakage. The batch (Auto) command allows the user to erase, blank check, programming, calibration, encryption and other commonly used commands at any sequence into a single step command. Once the chip is properly inserted into the socket CPU production mode automatically start the batch command at any sequence. The standard serial number generated and inserted into the function and accept customized special serial number generator. Log files to facilitate quality tracking.
Support for Windows XP/Vista/Win7 operating system.
| | | | |
| --- | --- | --- | --- |
| Chip Model | Programming + check (s) | Compared with SP3000U, | Type |
| AT28C64B | 0.8(P)+0.1(V)= 0.9(s) | 1.2(P)+0.8(V)= 2.0(s) | 64Kb EEPROM |
| 24AA128 | 2.7(P)+1.8(V)= 4.5(s) | 5.0(P)+4.0(V)= 9.0(s) | 128Kb Serial EEPROM |
| QB25F640S33B60 | 29.0(P)+14.4(V)= 43.4(s) | 55.2(P)+41.4(V)= 96.6(s) | 64Mb Serial EEPROM |
| AT89C55WD | 2.5(P)+0.4(V)=2.9(s) | 3.3(P)+1.0(V)=4.3(s) | 20KB FLASH MCU |
| S25FL064A | 43.9(P)+14.7(V)= 58.6(s) | 72.8(P)+41.4(V)= 114.2(s) | 64Mb SPI EEPROM |
| PIC16F876A | 10.1(P)+0.8(V)= 10.9(s) | 22.1(P)+06.2(V)= 28.3(s) | |
| PIC18F442 | 5.1(P)+1.1(V)=6.2(s) | 13.6(P)+06.7(V)=20.3(s) | |
Specifications:
Device support: EPROM, Paged EPROM, parallel and serial EEPROM, serial PROM, FLASH, FPGA configuration BPROM, NVRAM, SPLD, CPLD, EPLD, HUB, Firmware MCU, MCU ( the device list shall prevail ), operating voltage 1.2-5V devices.
Package: DIP support, SDIP, PLCC, JLCC, SOIC, QFP, TQFP, PQFP, VQFP, TSOP, SOP, TSOPII, PSOP, TSSOP, SON, CSP, SCSP, ...
Communication interface: USB2.0
Offline mode: does not support
Specification of power supply: the input AC 100-240V, 50\/60HZ; the output DC 12V\/2A power consumption: 15W
Host size: 178*130*40 mm; weight:
Packing size: 320*300*85 mm; packaging gross weight: 1.8 kg
Standard configuration:
The host, a power cable, USB2.0 a, software CD ( contains: install the software, user manual electronic version), warranty card.
Optional: adapter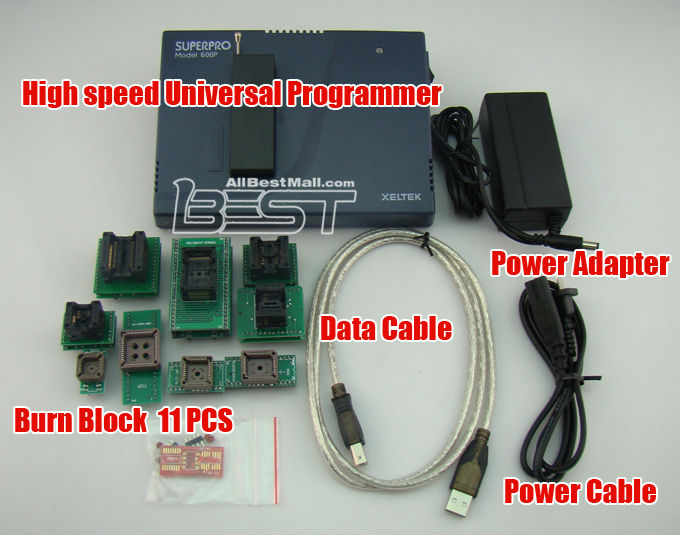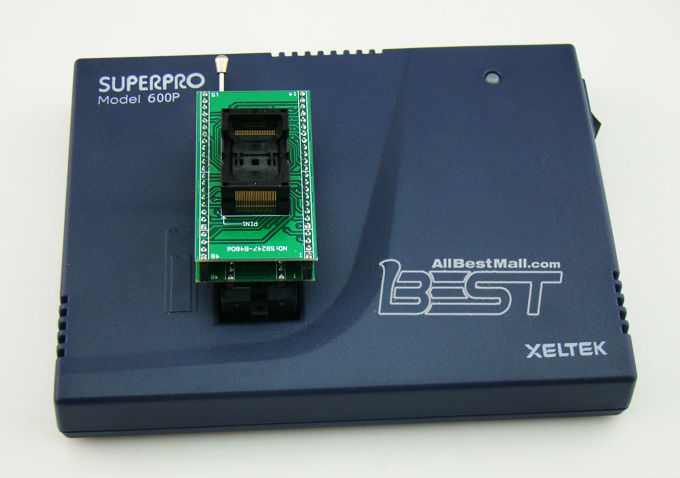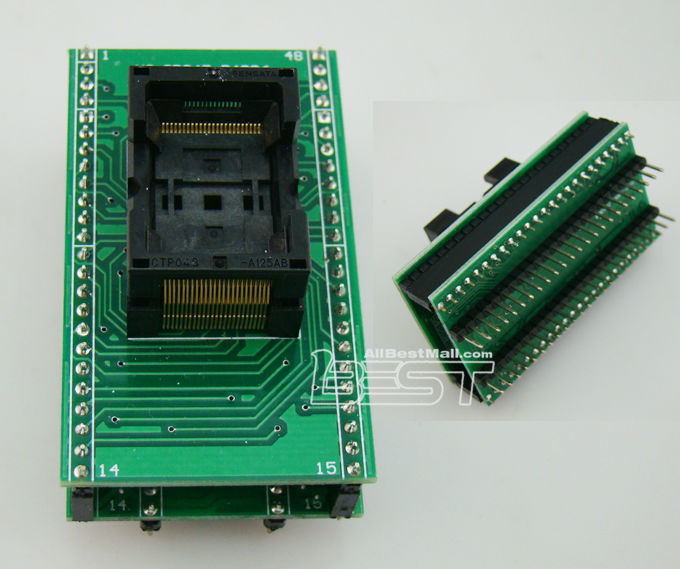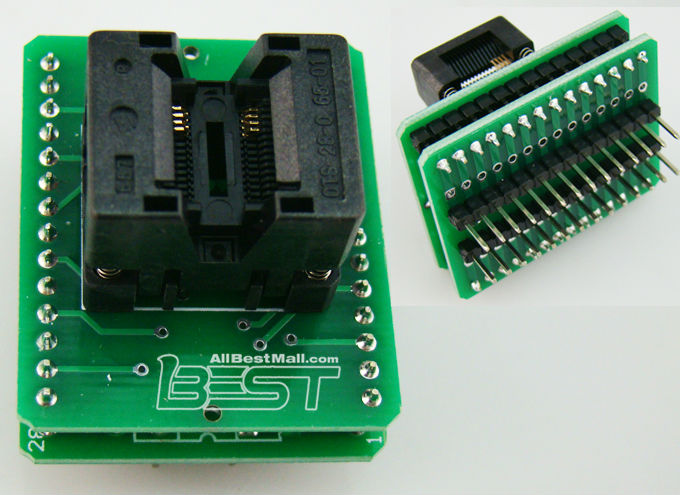 Packaging Details
Unit Type:

piece
Package Weight:

1.900kg (4.19lb.)
Package Size:

35cm x 32cm x 9cm (13.78in x 12.60in x 3.54in)
Packaging Details
Unit Type:

piece
Package Weight:

1.900kg (4.19lb.)
Package Size:

35cm x 32cm x 9cm (13.78in x 12.60in x 3.54in)
Payment
Our Buyer Protection ONLY protects Payment Methods on AliExpress as below:
Bank Transfer
QIWI
webmoney
Report item
More block usb port Products
From This Seller
From Other Seller