Item specifics
Brand Name:

laptop cpu Fan for Acer Aspire 5750 5755 5350 5750G 5755G P5WS0
Type:

Fan
Application:

Processor
Heatsink Material:

Copper & Aluminum
Model Number:

laptop cpu Fan for Acer Aspire 5750 5755 5350 5750G 5755G P5WS0 P5WEO
Condition:

brand new
Place of Origin:

Guangdong, China (Mainland)
voltage:

5V
Product Description
Welcome to Nicole's Shop, Contact me if u have more demands, enjoy your shipping!

1. Laptop cpu cooler fan for Acer Aspire 5750 5755 5350 5750G 5755G P5WS0 P5WEO
2. Voltage: 5v, 2w
3. Condition: brand new

Remark: all fan are according to laptop model and cable connetor, brand of fan maybe different when u receive, because of the changeing of stock qty, Thank you for your understanding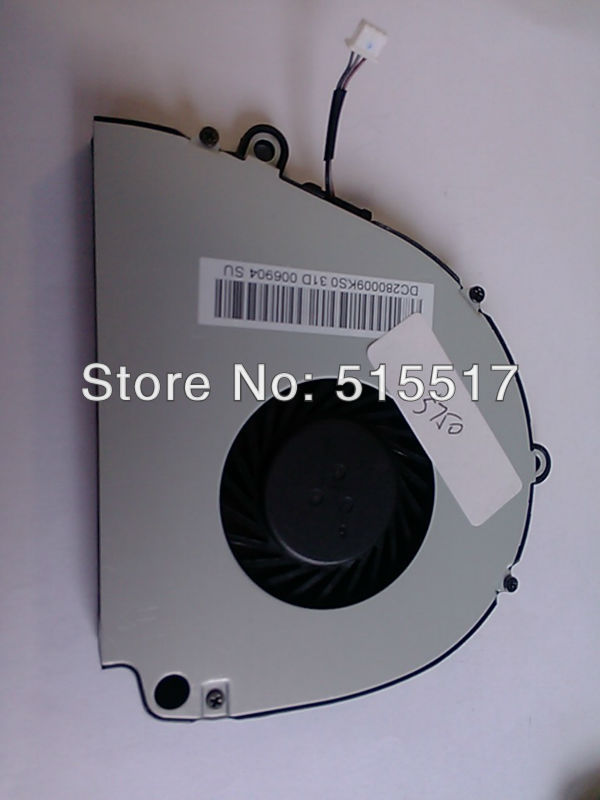 Shipping and delivery details:
1) - DHL: 3~7 days (remote area should pay more for deliver, we are going to change shipping way, if yours is remote area)
-EMS: 7~15 days(usually it is 7~15 days, but for holiday it maybe delay)
-HK post: 15~30 days, FREE SHIPPING FOR ALL OVER THE WORLD
-China post: 15~35 days, it is unstable
2) -Items will be 100% checked by our professional inspector before shipping
-Package will be solid and will be checked carefully before sent out
3) -The price is free shipping price. the shipping way is depend on seller.buyer did not pay more for different shipping.
4) - If the weight of order less than 2 kilograms,we will choice China Post Air Mail .if it is more than 2 kilograms .we will choose others as shipping way.
if you have different ideas or better suggestion ,be free to leave message .
Warranty and terms:
-Warranty is 3 Months under normal use,the warranty period is a year from the date of original purchase.
-NOTE:Return policy is exchange only, buyer must pay return shipping fee for item.

Here are some cpu fans as your reference, contact me!
cpu fan cooler for Lenvov V470 MG60070V1-C060-S99 5V 1.5W 2344
cpu fan cooler for MSI VR600X DFB450805M10T F673CCW 5V 0.4A 2W 9
cpu fan cooler for 054509VH-8A DC 5V 1.2W 24
cpu fan cooler for GB0575PHV1-A DC5V 7
cpu fan cooler for GB0506ADV1-A DC5V 37
cpu fan cooler for ZB0506AUV1-A DC5V 30
cpu fan cooler for MSI Wind U90 U100 U110 U120 U130 hp ProBook 5310m
cpu fan cooler for GATEWAY ZA8 GB0506PDV1-A DC5V 3
cpu fan cooler for DC280006YF0 DC5V 17
cpu fan cooler for MG45070V1-Q000-S99 DC5V 1.9W 11
cpu fan cooler for ZB0508HV1-6A DC5V 0.38A 17
cpu fan cooler for ZB0508HV1-6A DC5V 0.38A 83
cpu fan cooler for ZB0507PGV1-6A DC5V 0.7W 3
cpu fan cooler for APPLE MacBook Pro 13" ZB0506AUV1-6A DC5V 1.7W 24
cpu fan cooler for GC05010VH-A DC5V 5
cpu fan cooler for Lenovo N220 V100 Hp 6930P SUS X51 X51R X51RL MacBook GB0506PGV1-A DC5V 0.38A 60
cpu fan cooler for Lenovo N220 V100
cou fan cooler for Apple MacBook 13.3 A1181 GB0506PGV1-A DC5V 11
cpu fan cooler for MSI GB0504PGV1-A DC5V 22
cpu fan cooler for GC053507VH-A DC5V 224
cpu fan cooler for ZB0507PGV1-6A DC5V 0.26A 8
cpu fan cooler for DELL Precision M4400 E6500 Series
cpu fan cooler for ACER TravelMate 5100 5520 5600 5710 Aspire 7100 9300 9400 Series ZB0507PGV1 DC5V 47
cpu fan cooler for GB0506PGG1 DC5V 72
cpu fan cooler for DELL Studio XPS 1340 M1340 Series ZC056012VH-6A DC5V 0.34A 337
cpu fan cooler for ZB0506AUV1-A DC5V 15
cpu fan cooler for GB1208PHV1-A DC12V 12
cpu fan cooler for Acer Aspire One AOA150-BbR Aspire One AOA150-Bw GC053507VH-A DC5V 11
cpu fan cooler for MG80140V1-Q000-F99 DC5V 21
cpu fan cooler for MG75160V1-Q000-G99 DC5V 14
cpu fan cooler for Q084001DS5U46 152
cpu fan cooler for DC280006YSO 36
cpu fan cooler for acer Aspire One AOA150-Bw Series GC053507VH-A DC5V 6
cpu fan cooler for TC002-09001 DC5V 12
cpu fan cooler for MG55150V1-Q090-S99 DC5V 6
cpu fan cooler for GB1209PKB1-A DC12V 3
cpu fan cooler for GB0504PGV1-A DC5V 6
cpu fan cooler for ZB0507PGV1-6A DC5V 5
cpu fan cooler for MG450700V1-Q040-S99 DC5V 634
cpu fan cooler for DQ5D588H202 ZB0508PHV1-6A 3
cpu fan cooler for ZB0508PHV1-6A DC5V 0.38A 3
cpu fan cooler for GC05010VH-A DC5V 102
cpu fan cooler for GC055010VH-A DC5V 76
cpu fan cooler for GC053507VH-A DC5V 264
cpu fan cooler for ACER ONE AO751H FAN GB0535AEV1-A DC5V 0.8W 252
cpu fan cooler for ZB0506PGV1-6A DC5V 64
cpu fan cooler for MG62090V1-Q020-S99 DC5V 1.1W 14
cpu fan cooler for GB0506PGV1-A DC5V 25
cpu fan cooler for GB0504PGV1-A DC5V 71
cpu fan cooler for TOSHIBA L100 GB0506PGV1-8A DC5V 1
cpu fan cooler for GB0507PGV1-A DC5V 7
cpu fan cooler for GC056015VH-A DC5V 52
cpu fan cooler for GC054509VH-A DC5V 42
cpu fan cooler for ZC055010VH-6A DC5V 87
cpu fan cooler for MG53100V1-Q000-G99 DC5V 11
cpu fan cooler for GB0507PGV1-A DC5V 13
cpu fan cooler for DFS451200MBOT DC5V 0.4A 9
cpu fan cooler for ZB0507PGV1-6A DC5V 38
cpu fan cooler for GB0507PGV1-A DC5V 24
cpu fan cooler for MG55100V1-Q080-S99 DC5V 77
cpu fan cooler for Dell Vostro 500 GB0507PGV1-A DC5V 11
cpu fan cooler for GB0555ADV1-A DC5V 226
cpu fan cooler for MG55100V1-Q080-S99 DC5V 12
cpu fan cooler for GC054509VH-A DC 5V 47
cpu fan cooler for GB0507PGV1-A DC 5V 29
cpu fan cooler for GB0507PGV1-A DC 5V 1.9W 11
cpu fan cooler for MG5510V1Q010-G99 DC 5V 2
cpu fan cooler for GB0555PHV2-A DC 5V 17
cpu fan cooler for GC054509VH-A DC5V 80
cpu fan cooler for ZC056515VH-6A DC5V 0.37A 27
cpu fan cooler for Dell Latitude D520 D530 DFB551305MC0T DC5V 0.5A 1
cpu fan cooler for GB0507PGV1-A DC5V 25
cpu fan cooler for GC057012VH-A DC5V 122
cpu fan cooler for GC055010VH-A DC 5V 16
cpu fan cooler for ZC0506PGV1-6A DC 5V 44
cpu fan cooler for ZB0509PHV1-6A DC 5V 27
cpu fan cooler for MG55150V1-Q060-G99 DC 5V 11
cpu fan cooler for HP 860 HP870 HP760 L840T HP880
cpu fan cooer for Lenovo Y330 Y330M Y330G GC056510VH-A DC 5V 61
cpu fan cooler for HP Presario V5000 V5100 V5200 GC056015VH-A DC 5V 28
cpu fan cooler for ACER 5580/3262 GC055515VH-A DC5V 8
cpu fan cooler for DELL 1014 /Alienware Area-51 M15X CPU Cooling Fan ZB0506PGV1-6A DC5V 0.30A 204
cpu fan cooler for GB0555ADV1-A DC5V 6
cpu fan cooler for MG70120V1-Q000-G99 DC5V 11
cpu fan cooler for ZB0507PGV1-A DC5V 1.6W 8
cpu fan cooler for GB0575PGV1-A DC5V 59
cpu fan cooler for MG55100V1-Q040-S99 DC5V 23
cpu fan cooler for GC054509VH-A DC5V 0.195A 236
cpu fan cooler for MG70120V1-Q000-G99 DC5V 3
cpu fan cooler for ZB0507PGV1-6A DC5V 6
cpu fan cooler for Toshiba F30 Series GC054509VH-A DC5V 34
cpu fan cooler for ASUS Z53 Z53X Z53J IBM X200 GC055010VH-A DC5V 15
cpu fan cooler for GB0506ADV1-A DC5V 7
cpu fan cooler for Apple Macbook Pro 15" MG62090V1-Q030-S99 DC5V 15
cpu fan cooler for GC053507VH-A DC5V 61
cpu fan cooler for ZB0506PGV1-SA DC5V 0.30A 13
cpu fan cooler for GB0507PGV1-A DC5V 12
cpu fan cooler for GB0507PGV1-A DC5V 15
cpu fan cooler for GB0507PGV1-A DC5V 1
cpu fan cooler for Dell Inspiron 11z CPU FAN MG35060V1-Q000-G99 DC5V 327
cpu fan cooler for IBM ThinkPad W700 GC057014VH-A DC5V 1.1W 58
cpu fan cooler for Q08340D44117 345
cpu fan cooler for ZB0507PGV1-6A DC5V 50
cpu fan cooler for GC054509VH-A DC5V 0.6W 35
cpu fan cooler for MG55150V1-Q040-G99 10
cpu fan cooler for ZB0506AUV1-A apple pro 13.3 DC5V 500
cpu fan cooler for MG841130V1-Q000-G99 DC5V 34
cpu fan cooler for TOSHIBA Satellite A500 A505 GB0575PHV1-A DC5V 1
cpu fan cooler for APPLE MACBOOK 15"(L green line)fan GB0506ADV1-A DC5V 60
cpu fan cooler for GB0506PDVH-A DC5V 1
cpu fan cooler for APPLE MACBOOK 15"(L green line)fan GB0506ADV1-A DC5V 40
cpu fan cooler for GB0506PGV1-A DC5V 7
cpu fan cooler for K9A150TA002-09001 5V 12W 107
cpu fan cooler for acer 4810T MG55100V1-Q051-S99 DV5C 0.9W 375
cpu fan cooler for GC055515VH-A 5V 86
cpu fan cooler for DellLatitude5420 E5420 E5420m DFS400805L10T DC5V 0.45A 500
cpu fan cooler for 613349-001 HP 6440b 6445B 6540B 6545B 5V 0.4A 500
cpu fan cooler for ACER 7741ZG F92G DC 5V 0.5A DFS551205MLOT 5V 0.5A 201
cpu fan cooler for Dell Latitude 5520 E5520 E5520M DC 5V 0.4A 5.5CFM DFS470805WLOT 5V 0.4A 448
cpu fan cooler for Dell 15R M5010 N5010 DC5V 0.5A CN-03T25W-72744-0C9-00TR-A00 integration
5V 0.5A 500
cpu fan cooler for MF60150V1-B000-S99 DC5V 3
cpu fan cooler for MG45070V1-Q010-S99 DC5V 2.1W 5
cpu fan cooler for MG45070V1-Q020-S99 DC5V 2.0W 7
cpu fan cooler for ACER AS7736Z-4088 DELL 1464 APPLE MACBOOK PRO A1286 MF60100V1-Q010-G99 DC5V-0.37A 2
cpu fan cooler for MF60100V1-Q010-G99 DC5V 0.37A 1
cpu fan cooler for MG75150V1-C000-S99 5V 195
cpu fan cooler for MG75150V1-C010-S99 DC5V 285
cpu fan cooler for DFS601505HB0T 5V 0.5A 69
cpu fan cooler for DFS601605LB0T 0.5A DELL Dell M6399 5V 0.5A 15
cpu fan cooler for ZB0508PHV1-6A 0.38A DELL M6400 5V 0.38A 26
cpu fan cooler for Apple MacBook Pro 15" left MG62090V1-Q030-S99 5v 1.1w (a couple with -line NO.144- MG62090V1-Q020-S99 right ) 346
cpu fan cooler for MSI FX610 DC5V 0.4A F98D 5v 0.4a 500
cpu fan cooler for HP CQ510 CQ511 CQ515 CQ516 CQ610 CQ615 DC5V 0.5A DC5V 0.5A 1
cpu fan cooler for DellVostro 1014 1015 DC5V 0.5A DC5V 0.5A 16
cpu fan cooler for Dell N5030 DFS481305NC0T 5v 0.5a 500
cpu fan cooler for APPLE PRO 15" right GB0506ADV1-A DC5V 5V 99
cpu fan cooler for ZB0507PGV1-6A ACER 2930 5V 0.6W 168
cpu fan cooler for FOXCONN FSFA4M HP MINI2102 NFB50A05H FSFA4M 13
cpu fan cooler for Apple pro 16" MG-45070V1-Q010-S99 49
cpu fan cooler for MG45070V1-Q020-S99 pro 17 5v 2.1 86
cpu fan cooler for MF40050V1-C040-G99 ONE 532h 5V 2W 45
cpu fan cooler for NEC LaVie LL900- DC5V 1.1W DC5V 1.1W 37
cpu fan cooler for Dell XPS L501X L502X L701X L702X DC5V 0.5A DC5V 0.5A 223
cpu fan cooler for HP DV7-4000/ Hasee A560P CPU FAN 5V 0.5A 500
cpu fan cooler for APPLE MacBook Pro 17" MG45070V1-Q210-S9A 5v 2.0w 35
cpu fan cooler for APPLE MacBook Pro 15" MG62090V1-Q020-S99 right L black line 5v 1.1w (a couple with -line NO.129- MG62090V1-Q030-S99 left ) 500
cpu fan cooler for Benq R45 DC5V 0.4A GC055510VH-A DC5V 0.4A 198
cpu fan cooler for Apple MacBook Air 11" A1370 DC5V 1.5W MG50050V1-CO1C-S9A 5v 1.5w 127
cpu fan cooler for Dell Vostro3400 3500 V3500 V3400 V3450 DC5V 0.4A CN-0J6KH0-72744-OBK-00F6-A00 5V 0.4A 132
cpu fan cooler for dell E6410 E6510 F9A7 DC5V 0.5A DC5V 0.5A 500
cpu fan cooler for apple pro 17" right MG60120V1-B000-G99 DC5V 0.2W DC5V 0.2W 105
cpu fan cooler for Acer Aspire 4710 5050 4315 4310 4920 DFB501005H30T DC5V 0.4A 10131
cpu fan cooler for APPLE MacBook Pro 13" A1286 1018
cpu fan cooler for MSI AVERATEC 2100- FD38-CW DC5V 0.4A DC5V 0.4A 558
cpu fan cooler for apple mac 15(left) MG62090V1-Q020-S99 DC5V 1.1W DC5V 1.1W 265
cpu fan cooler for MSI AVERATEC 2100(short line) FD38-CW DFB451005M70T DV5V 0.4A DV5V 0.4A 456
cpu fan cooler for MSI AVERATEC 2100 FDD5-CW DFB451005M30T DC5V 0.4A DC5V 0.4A 368
cpu fan cooler for HP DFB601505HA DC5V 0.5A DC5V 0.5A 1187
cpu fan cooler for ASUS X48 mainboard /ASUS X48 motherboard YD124515MB DC12V 0.15A DC12V 0.15A 339
cpu fan cooler for ASUS X48 mainboard /ASUS X48/ YD124515MB DC12V 0.15A (for desktop) 12v 0.15a 339
cpu fan cooler for acer EasyNote F7305 F7065 CB45106360 5V 0.35A 5V 0.35A 1988
cpu fan cooler for DELL M4500 DFB601505M30T F9Q7 DC 5V 0.5A 2.5W DC5V 0.5A 2.5W 519
cpu fan cooler for IBM X200 GC55010VH-A K95269 5V 0.75W 0.15A 419
cpu fan cooler for APPLE MacBook Pro 17" A1280 234
cpu fan cooler for Latitude E5510 CN-01DMD6-72744-06M-03YQ DC5V 0.5A DC5V 0.5A 627
cpu fan cooler for DELL LATITUDE E5400 E5500 DFS531305M30T DC5V 0.5A DC5V 0.5A 73
cpu fan cooler for APPLE/ iMac G5 A1195 17 Cooling Fan B1208PHV1-A DC12V=4.2W 13.MS.B3320.F.GN DC12V=4.2W 3777
cpu fan cooler for APPLE Apple iMac G5 17"B1275PKV1-A 13.MS.B3856.F.FH 12v 4.2w 1030
cpu fan cooler for APPLE IMAC G5 B1206PHV1-A DC12V=2.6W 13.MS.B2868.F.GN 12v 2.6w 3829
cpu fan cooler for dell 1735 MG55100V1-Q040-S99 DC5V=1.8W DC5V=1.8W 408
cpu fan cooler for hp 2530P 103
cpu fan cooler for Aspire one 532H MF40050V1-Q040-G99 DC5V=1.25W DC5V=1.25W 538
cpu fan cooler for Aspire one D150 229
cpu fan cooler for acer 3820TG 14
cpu fan cooler for dell 1735 DC5V 0.75W DC5V 0.75W 118
TCL-K10/TCL DFB450805M10T F675-CCW 5v 2w 0.4a 456
cpu fan cooler for DELL 120L DFB601005M30T FD19-CCW DC 5V 0.4A 2W DC5V 0.4A 2W 55
cpu fan cooler for DELL E6510 F962 DV5V DV5V 152
cpu fan cooler for BENQ R22 R22E R23 R23E LA0404001 5V 0.25A 5V 0.25A 112
Packaging Details
Unit Type:

lot (5 pieces/lot)
Package Weight:

1.000kg (2.20lb.)
Package Size:

15cm x 18cm x 17cm (5.91in x 7.09in x 6.69in)
Packaging Details
Unit Type:

lot (5 pieces/lot)
Package Weight:

1.000kg (2.20lb.)
Package Size:

15cm x 18cm x 17cm (5.91in x 7.09in x 6.69in)
Payment
Our Buyer Protection ONLY protects Payment Methods on AliExpress as below:
Bank Transfer
QIWI
webmoney
Report item
More fan mini Products
From This Seller
From Other Seller