Item specifics
Item Type:

Massage & Relaxation
Product Description
LOW LEVEL LASER THERAPY FOR HIGH BLOOD PRESSURE / HYPERTENSION LLLT
Hypertension or high blood pressure is identified with cardiovascular diseases, a bane of many people over the age of 40.
Almost all hypertensive users of the LNH-WRIST bracelet portable laser therapy device over a few months' period have reported decreased blood pressure readings. Some have reported that it was a problem that had plagued them for decades that they had not been able to address even with medication.
Although high blood pressure could have various causes, persistent high viscosity and red blood cell aggregation are key risk factors. Intranasal light therapy is supported by studies to reduce the risk of these factors.
Typical before- and- after pictures of aggregated RBC subjected to LLLT blood irradiation treatment.
From the visual evidence, it is apparent that RBC aggregation is reversed after the blood stream is illuminated with red light, supported by the measurement in Timon Liu et al's randomized, double-blind study.
Details:
High Blood Pressure Laser Treatment Apparatus

The function and treatment theory of laser medical instrument as below:

1. Reducing blood viscosity through laser blood irradiation.

2. Improving blood oxygen carrying capacity through laser blood irradiation.

3. Reducing blood-fat and total cholesterol through laser blood irradiation.

4. Quickly and effectively correct the abnormity of lipid metabolism and maintain the equilibrium level of the lipid metabolism in the human body through laser blood irradiation.

5. Therapeutic efficacy control on ischemic cardio-cerebrovascular diseases.
Despite the many published studies that identify high blood pressure with high blood viscosity and RBC aggregation, little attention has been given to developing a therapy that would result in the reversal of blood viscosity and RBC aggregation. Some argued that the medical experts have been unwilling to accept this information or exhibit a lack of interest because of the premise that high blood pressure is a disease entity although the causes are not clearly identifiable and can be attributable to natural factors such as aging.
Specific study on LLLT intravenous irradiation therapy on hypertension
A study that specifically used this method of therapy to test its effectiveness in reducing high blood pressure has found it to be effective. The method focused on reading the systolic blood pressure on 3 groups: normotensive (25 subjects with readings of less than 120 mmHg), pre-hypertensive (50 subjects with readings of 120-139 mmHg) and hypertensive stage 1 (50 subjects with readings of 140-159 mmHg). All groups were treated for 30 minutes with LLLT irradiation method described above deploying low level laser light with 630 nm wavelength continuously powered with 2.5 mW. Pulse rate, systolic, diastolic, and pulse pressures were measured before, after and 15 minutes after each treatment. Mokmeli S, Bishe SH, Kohe KH, Shakhes M. Intravascular laser therapy (IVL) in pre-hypertension and hypertension conditions. Paper presented at The World Association of Laser Therapy (WALT) conference. 2008.
The results were as follows: There was no statistical difference for the pulse rate, systolic rate, and diastolic blood pressure in the normotensive group. However, there was significant difference in the readings for the pulse rate, systolic and diastolic blood pressure in the pre-hypertensive group as well as for the hypertensive group.
In conclusion, the non-invasive low level laser irradiation method as described above is effective in reducing arterial blood pressure. The authors suggested that it can be combined with anti-hypertensive drugs in pre-hypertensive and hypertensive patients as a modality of treatment. It is also a safe method for normotensive patients even though it appears not to improve the blood pressure readings.
The principle is the same: illumination of the blood stream with low level laser of similar wavelength and dosage management. The theory is that the effect of these modality parameters is similar with LNH-Wrist protocol. The major difference is that the intranasal method combine with the wrist bracelet simutaneous stimulations fully leverages cutting edge semi-conductor technology to greatly miniaturize the needed equipment and adjust the power to today scientific knowledge, delivering the profound improvement in user experience.
Why the technology works – the evidence
As discussed above, a common factor among hypertension patients is high blood viscosity and high RBC aggregation. Blood irradiation therapy with red laser light reverses these abnormalities. In a landmark randomized, double-blind, placebo-controlled study, Timon CY Liu et demonstrated with statistical significance that intranasal LLLT reduces blood and plasma viscosity, and red blood cell aggregation.Liu TCY, Cheng L, Su WJ, Zhang YW, Shi Y, Liu AH, Zhang LL, Qian ZY. Randomized, Double-Blind, and Placebo-Controlled Clinic Report of Intranasal Low-Intensity Laser Therapy on Vascular Diseases. International Journal of Photoenergy. 2012; ID 489713. Although the tests are conducted with lasers, there are sufficient basis to assume that non-laser light of similar wavelength should achieve equivalent efficacy. This provides convincing support that intranasal light therapy can play significant role in reducing high blood pressure for most patients since blood viscosity and aggregation are key factors behind high blood pressure.
Further, as discussed earlier too, vascular walls also dilate (vasodilatation) to allow blood with these problems to maintain its rheological properties, addressing a common problem of aging.
Other studies
Other studies are not as directly relevant but provides additional support that LLLT has the effect of lowering high blood pressure. One study reports that an LLLT treatment on 42 men significantly lowered systolic, diastolic and mean arterial pressure. Total peripheral vascular resistance also decreased. A good hypotensive effect was achieved in 90.4% of the cases. In another study, the effects of a low level laser on the control of blood pressure were tested via energy administered via the medulla oblongata. The results from a group of 30 patients suffering from hypertension were positive in 80% of the patients. A study cited by several websites referring to a study by Umeda, published in Laser Therapy, 1990; 2:2:59.
Conclusion
In conclusion, credible scientific bases and evidence support LLLT irradiation of the blood for lowering high blood pressure. We can achieve this with the traditional intravenous irradiation of the blood or through a more convenient modern method by illuminating the nasal cavity and left arm blood vesels – the results are the same.
Application Range not limited to High Blood Pressure:

Hyperviscosity, hyperlipemia, hypertension, tunnel carpien syndrome, alergies, diabetes, ischemic heart and cerebral vascular disease caused by cardiovascular and cerebrovascular diseases.

Therapeutic principle:
1. Laser medium: GaAlAs Semiconductor
2. Laser wavelength: 650nm
3. Terminate laser medium quantity: 5PCS.
4. Single laser medium terminate output voltage: ≤ 5mw
5. Terminate output laser control: 3 grade for adjustment.
6. Fixed time range: 10 minutes to 60 minutes, and six grade for adjustment.
7. Battery voltage: 3.7 to 4.2V
8. Lithium ion battery output voltage: 5.5V
9. Instrument power consumption: < 1 W

Function and performance:

Single-chip microcomputer (SCM) is adopted in the LNH-WRIST, which will provide stable and reliable performances.
The LNH-WRIST has simple, intelligent and energy-saving design which ensures convenient use.
The LNH-WRIST is compact and portable, thus it can be used for treating whenever and wherever needed.

Maximum of 60 minutes laser therapy a day. Once or twice treatment a day, and 30 minutes for each time.

Features:

1. Very effect in treatment, laser irradiate two parts or acupoints of human body at the same time, it has been sole proprietor in the market.
2. A laser stabilizer specially added to perform with more stability.
3. Our semiconductor laser devices are used by high quality import laser head, which has the long life-span.
4. Products owned five patents protection.
5. Humanistic and scientific design to fit human physiological curve and ergonomics.
6. Medical use of high capacity lithium battery for the energy-saving.
7. Large LCD screen display the time, date and calendar, also work as a watch, it is multiple functions design.
8. Using high-class and durable metal enclosure which is conducive to heat diffusion for the power stable.
9. Time and power are adjustable, very smart memory system.
10. Two output modes: Pulse and Continues, which have manual and automatic switch available.
11. Pluggable laser wire, more convenience in use and easier maintenance.

Caution:

1. Do not make direct view or observe the laser beam from the product via any optical instrument.
2. Keep out of approaching by children to prevent latent danger to their eyes.
3. The aged or sensitive patients should begin from the low-power and short-time treatment. The power could be increased step by step when the body adapts the treatment. Once or twice treatment a day, and 30 minutes for each time.
4. The product is forbidden for pacemaker users since it may interfere with the functions of pacemaker.

LNH-WRIST offers Integrative Protocol for those who suffer from sore hands, numbness, pain in the fingers, burning sensation in the hands, wrists throbbing, tingling, pain in your arms, neck pain, and for some patients stenosis of the carpal tunnel and finally for those who have had surgery on the wrist but still suffering from pain.

Patients, like you, can now benefits from the technological advancement of soft laser.

Recommended Protocol: Apply on wirst the LHN-Wrist every day for chronic pain and every other day for acute pain until full recovery.

Rapid benefits and results with LNH-Wrist. You can where your Wrist Lasers Bracelet any where, any time. Intergrate rechargeble batterie give you the hours of therapy autonomy on the go: home, work or while driving at work.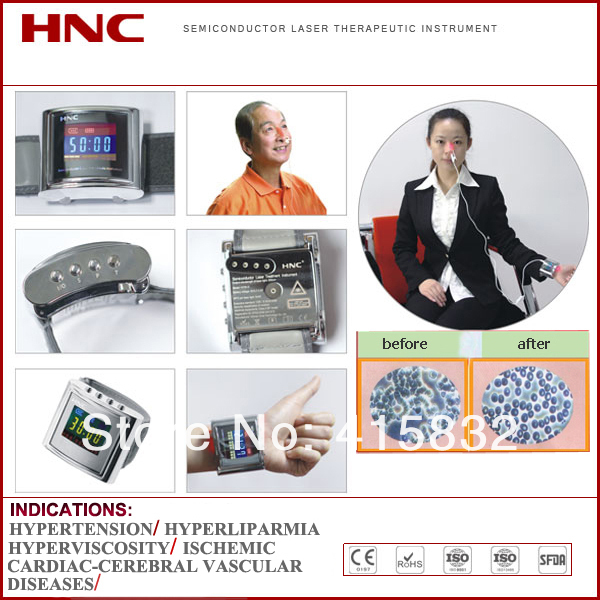 Packaging Details
Unit Type:

piece
Package Weight:

2.000kg (4.41lb.)
Package Size:

26cm x 16cm x 30cm (10.24in x 6.30in x 11.81in)
Packaging Details
Unit Type:

piece
Package Weight:

2.000kg (4.41lb.)
Package Size:

26cm x 16cm x 30cm (10.24in x 6.30in x 11.81in)
Payment
Our Buyer Protection ONLY protects Payment Methods on AliExpress as below:
Bank Transfer
QIWI
webmoney
Report item
More laser massage Products