Item specifics
Output Type:

Single
Output Power:

801 - 1000KW
is_customized:

Yes
Type:

DC/AC Inverters
Brand Name:

GH
Size:

39*20.3*11.3CM
Input Voltage:

120~230V AC
Output Voltage:

10.8-28V
Output Frequency:

50Hz/60Hz(Auto control)
Weight:

2.0KGS
Model Number:

GHMG1000
Product Description
MPPT Function 1000W Micro On Grid Tie Solar Inverter Pure Sine Wave Output 120~230V AC Input 10.8-28V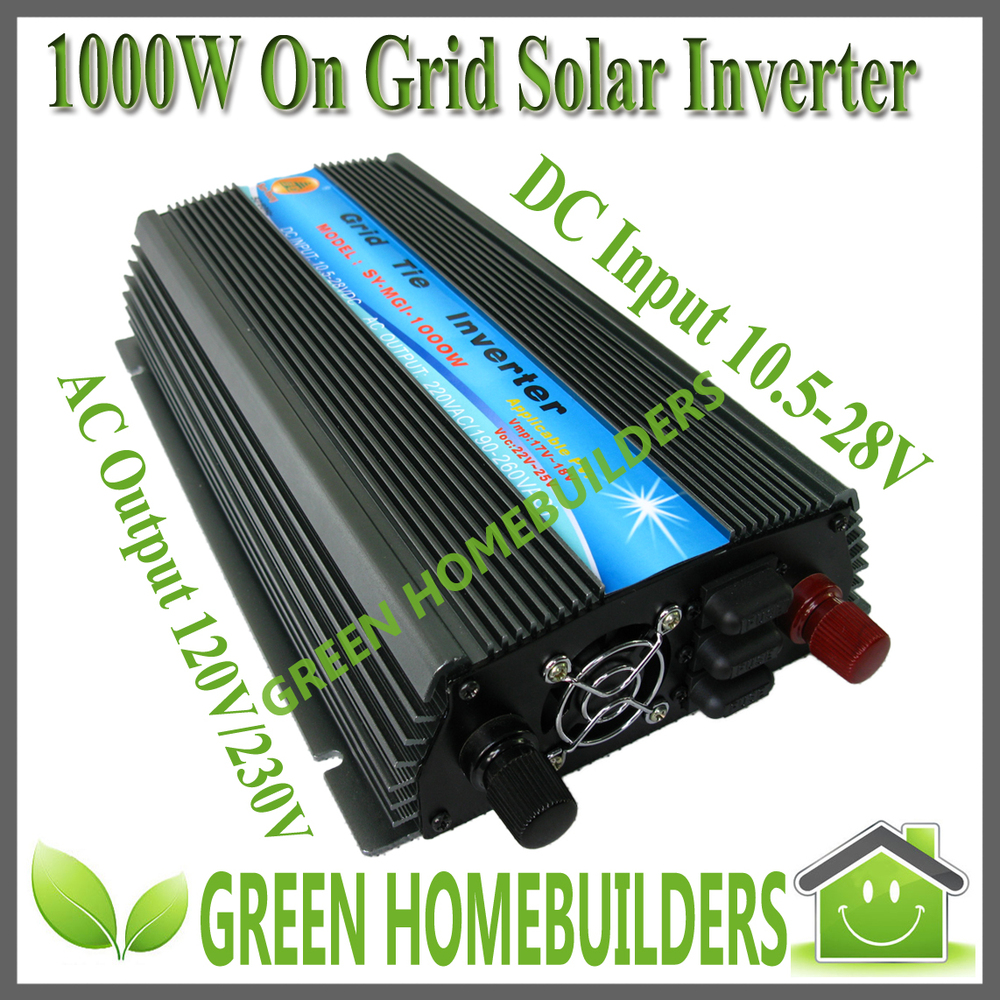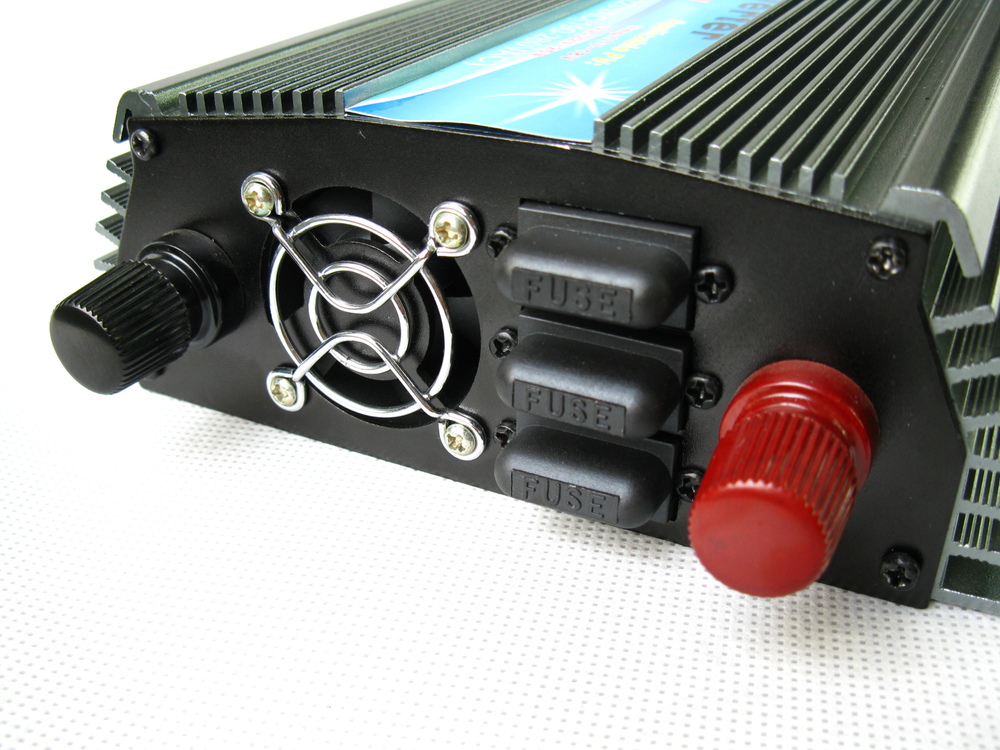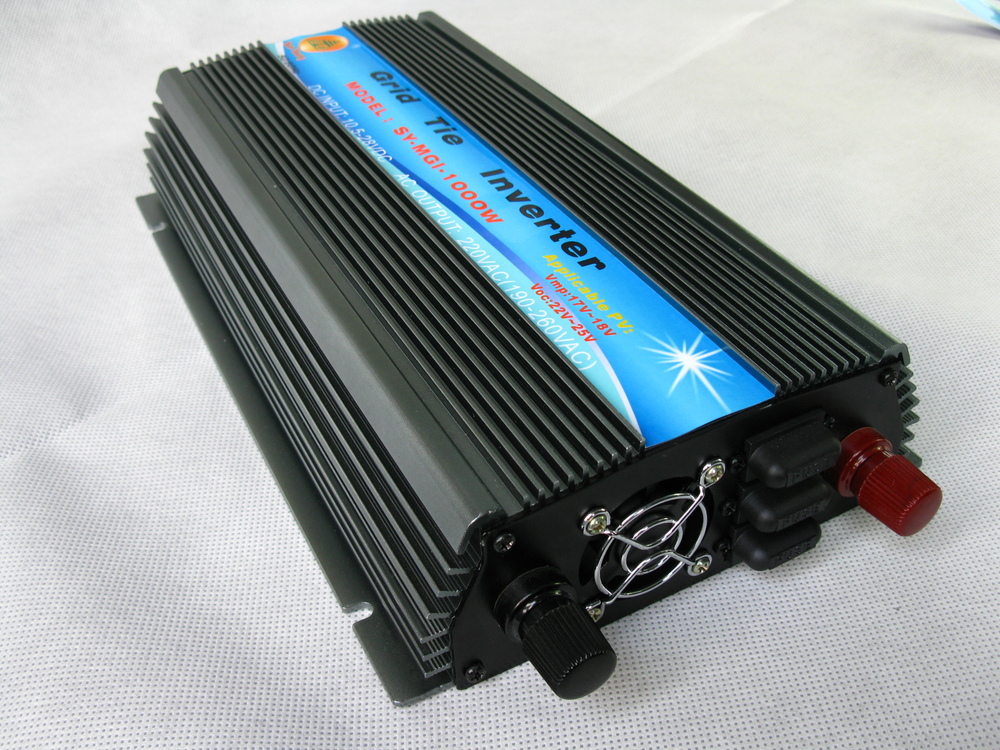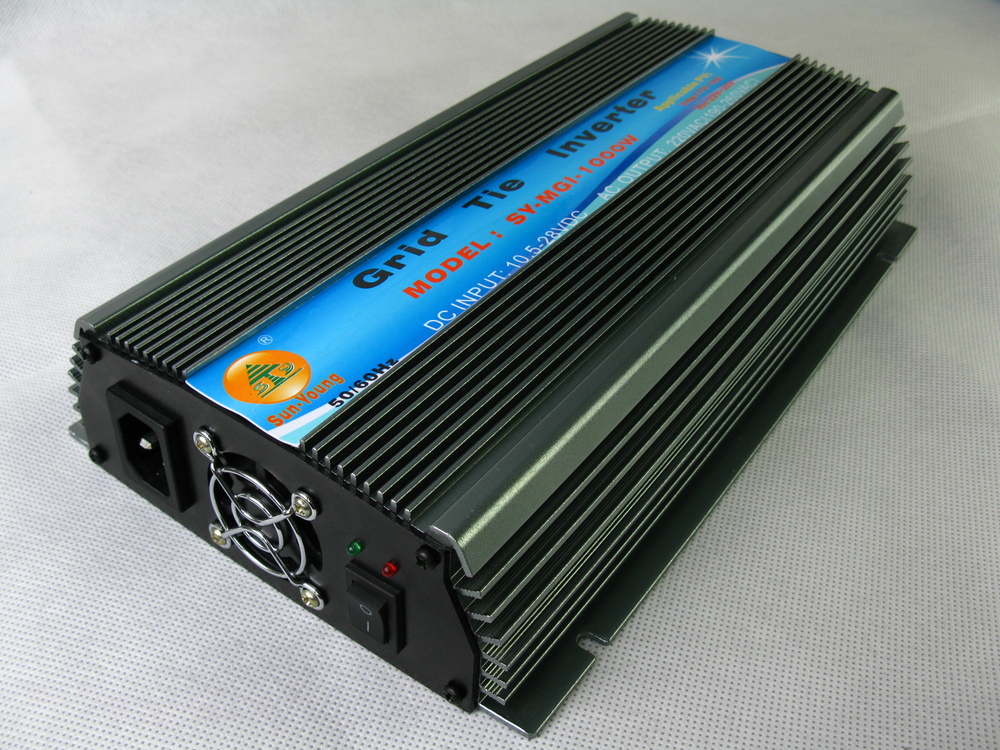 System Function
Connect to DC Power Resource directly and Direct-output Power Grid
DC power resource refers to devices included solar panels, batteries and wind power generators with AC/DC controller, etc. All DC power supply output voltage fit with inverter input voltage setting range which is 10.8-28VDC.
Power grid refers to single phase civil electricity utility grid. Such as 110V(90-140V)and 220V(190-260V)single phase civil electricity utility grid.
Grid tie microinverters can connect to power grid directly and uploading electric power directly because of inverter output current wave form is pure sine wave which is same as civil electricity grid.
There must be electricity on power grid and connectivity is first necessity of inverter operating. When there is power outage or fault of power grid, inverters will be not operating. And it is the biggest difference between grid tie inverter and off-grid inverter.
l AC 0 Angle Phase High Precision Auto-detection
MCU process for high-precision detection and analysis after AC 0 angle phase pass through isolation amplifier and input into MCU, phase shift rate is less than 1%, and finally achieving high-precision of cophasal modulation AC combined Output.
l Synchronous High-frequency Modulation
In process for grid connectivity, usually approach with cophasal angle for grid(ie, when total current of inverter and grid is 0, combined current by switch). But our inverter approach for grid with same frequency and same phase is DC to AC first, then rectified AC current into pulse electric which is half-frequency 100Hz, finally combined pulse electric modulation with current of grid and then fed into power grid.
l Pure Sine Wave Output
Adopting Sinusoida PWM process for pure sine wave output which is same wave form of grid. No interference for grid.
l Superstrong Shadow Resistance
Adopting high frequency conversion operating, less transmission loss will be. In cloudy days or inadequate sunshine days, if only there is 3W-5W output from power supply and input into inverter, inverter can be operate AC conversion. But of cause, output is proportional input. The more input power the more output power and vice versa. Inverter can operate in such low input power supply, itindicate inverter power conversion operating times can be up more than 8 hours every day, and this is an advantage which is large power inverter cannot be compared with.
l Maximum Power Point Tracking (MPPT)
Output of solar array had characteristics of nonlinear. Output affected by sunrays, ambient temperature and loadings, and output power of solar array can be maximized at a certain output voltage only. Solar array output power operating at peak voltage output which we called MPP-maximum power point. For more effectively operate for solar array, important for track down max output power of solar array. Smart microinverter MPPT operating principle: in a specified period, MPU actively adjustable for PWM duty ratio regularly, changing output current of solar panels and leading to output voltage changing, checking output voltage and output current of solar panels, computing output power of solar array, then track down max power point managing by maximum power point tracking strategy.
l APL (Power Automatically Locked)
When MPPT track down the max power point, inverter will be operating of locking in max power point automatically, so as to keep operating max power output of DC power supply device within a corresponding period and achieve more stable output power.
l Automatically Adapt To Different Power Loading
Adapt to different power loading because of Synchronism in same frequency between inverter output and power grid. Such as inductive load, resistive load, soluble load.
l Constant Current, Constant Power, Current Limiting Protection
Synchronism in same frequency between inverter output and power grid, follow up power grid and take power grid as strong backup to achieve constant current, constant output power, without any overload and any over-current.
l Automatically Turn Off and Stop Output When Fault of Grid(Islanding Protection)
When there is fault or outage of electricity power grid, inverters will be turn off automatically and stop operating within 0.5 second.
l High-Frequency High Conversion Rate
Adopting magnetic core which import from Japan for inner transformer. High conversion and less loss make higher efficiency of output.
Parameter Table
Model

200W

300W

400W

500W

600W

800W

1000W

Input Data(DC)

Recommended Input Power

240Wp

360Wp

480Wp

600Wp

720Wp

960Wp

1200Wp

Maximum Input Current

20A

25A

30A

35A

45A

60A

70A

Maximum Input Power

200W

300W

400W

500W

600W

800W

1000W

DC Voltage Range

10.8-28V

MPPT Volatge Range

15.5-16.5V

Output Data(AC)

Maximum Output Power

200W

300W

400W

500W

600W

800W

1000W

Normal Output Voltage

230V(170~260VAC)/110V(90-140VAC)

Normal Frequency

50Hz/60Hz(Auto control)

Power Factor

>97.5%

Total Harmonic Distortion

<5%

Phase Shift

<1%

Efficiency

120V(90~140VAC)Verseion

Peak Efficiency

>89%

>88%

>86%

>85%

>84%

>82%

>80%

Stable Efficiency

>88%

>87%

>85%

>84%

>83%

>80%

>78%

Efficiency

230V(190~260VAC)Verseion

Peak Efficiency

>89%

>90%

>87%

>86%

>85%

>83%

>80%

Stable Efficiency

>88%

>89%

>86%

>85%

>84%

>81%

>79%

Stand-by Power

<1W

Mechanical Data

Dimensions(L*H*W)

21 x 16.5 x5.3CM

31 x 16.5 x5.3CM

Protection

Islanding; Short-circuit; converse connection; Low Voltage; Over Voltage; Over temperature Protection

Ambient Temperature Range

-25-65

Work Environment Humidity

0%~90%RH non-condensing

Grade of Waterproof

Indoor design

Show

LED

Cooling

Cooling Fan

Features&Compliance

PV Compatibilty

36cells(18V solar panel,Vmp:18V,Voc:21V)

EMC

EN61000-6-3:2007 EN61000-6-1:2007

Grid Disturbance

EN 50178+EN 62109-1+VDE0126-1-12

Grid Detection

DIN VDE 1026 UL1741

Certificate

CE

N/A

Package

Net Weight

1.3KGS/PCS

2.0KGS/PCS

Gross Weight

2.0KGS/PCS

2.7KGS/PCS

Inner Box (L x W x H)

30*20.3*11.3CM

39*20.3*11.3CM

Carton(L x W x H)

42*31.5*35.5CM

42*40.5*24.2CM
Installation and Connection
Installation
1. Red terminal: Connect DC positive, black terminal: Connect DC negative as per Figure 1.
2. AC socket: Connection to the mains. The AC cord to the inverter 3 foot outlet, then the AC cord to home 3PIN AC outlet as per Figure 1.
3. Switch: properly connected; turn on the switch, the inverter to work.
Figure 1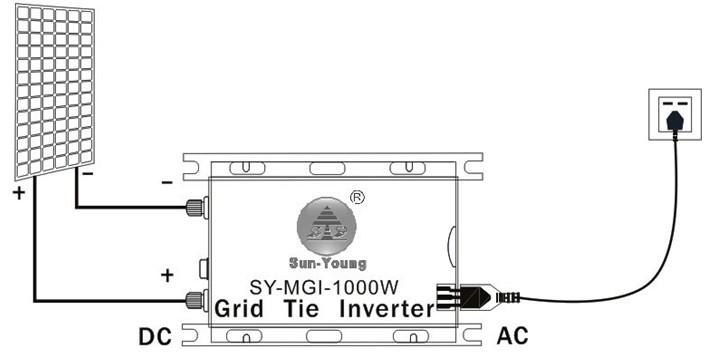 Application of hybrid system:
Figure3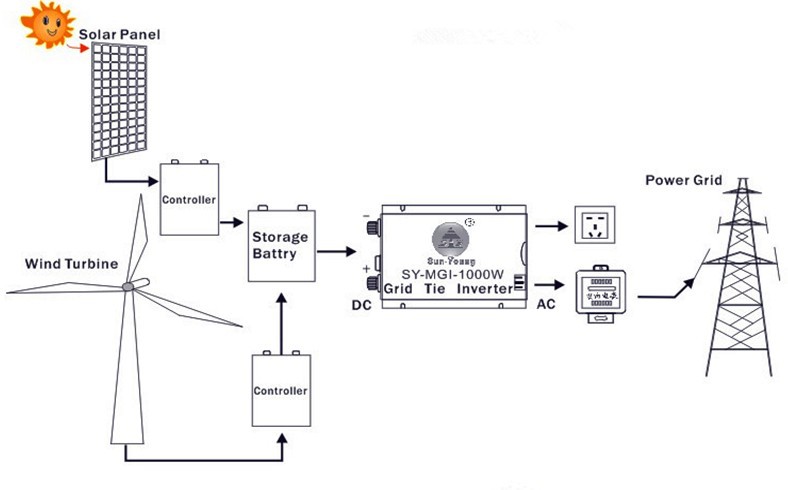 tackable connection (The purpose of small power inverter become high-power inverter)
In order to achieve higher power use requirements, the use of this product can be stacked, such as: 5 grid inverter 300W of stack used is equal to 1500W, and the number of open stacks(No Quantitative Restrictions). Used as shown in Figure 4: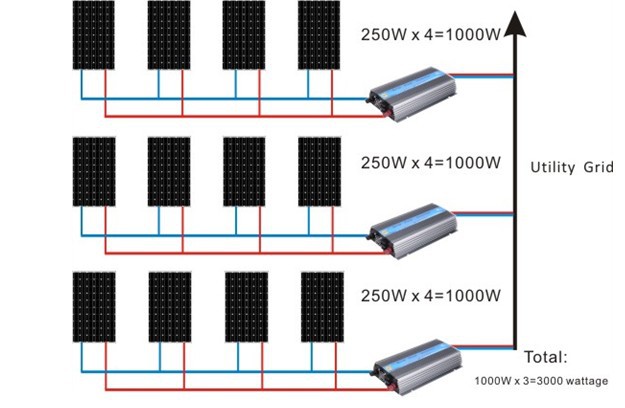 LED Indicator
1. Red LED indicator lights up under any conditions as listed below:
a. Low-voltage protection(DC input voltage lower than Min. input voltage of inverters )
b. Over-voltage protection(DC input voltage higher than Max. input voltage of inverters)
c. Over-temperature protection (inverters will be shut down for power output when the temperature of body of inverters higher than 65-75.)
And inverter will be automatically restart up when the temperature of body of the inverter down to 40-50
d. Power grid fault protection (when 110VAC or 220VAC grid power outage and/or tripped.
e. Islanding protection: inverter will be automatically shut down for power output when disconnect with power grid.
2. Green LED Indicator Operation:
a. Green LED flash: adjusting for power output, MPPT operating for tracking.
b. Green LED long light: indicates inverter locking-in Max. output power operation status.
3. Please note that above operations only run at grid-connected status.
Troubleshooting a non-operating Smart microinverter
WARNING!
Only qualified electrical professionals can do the trouble shooting of the Smart microinverter system.
WARNING!
Do Not disconnect the microinverter from its PV module when the inverter is still operating. Disconnect the inverter from the PV module during running may damage the microinverter and bring electrical hazard to the person nearby.
WARNING!
Disconnect the AC grid first before disconnecting the inverter from the PV module.
To troubleshoot a non-operating Smart Microinverter, follow the steps below in order:
1. Verify the utility voltage and frequency are within ranges shown in the in section Technical Data of this manual.
2. Check the connection to the utility grid. Verify utility power is present at the inverter in question by removing AC, then DC power. Never disconnect the DC wires while the microinverter is producing power. Re-connect the DC module connectors and watch for three short LED flashes.
Safety Instruction
l Do not use Smart micro inverter in a manner not specified by the manufacturer. Doing so may cause death or injury to persons, or damage to equipment.
l Perform all electrical installations in accordance with all applicable local electrical codes.
l Be aware that only qualified personnel should disassemble and repair the Smart Micro inverters and non-qualified personnel should not install and/or repair.
l Do not attempt to repair the Smart Micro inverter; it contains no user-serviceable parts. If it fails, contact our customer service to claim a return merchandise authorization and start the replacement process. Tampering with or opening the Smart Micro inverter will void the warranty.
l If the AC cable connector on the micro inverter is damaged or broken, do not install the unit.
l Before installing or using the Smart Micro inverter, read all instructions and cautionary markings in the technical description and on the Smart Micro inverter System and the PV equipment.
l Connect the Smart Micro inverter to the utility grid only after you have completed all installation procedures and after receiving prior approval from the local electrical utility company.
l Be aware that the body of the Smart Micro inverter is the heat sink. Under normal operating conditions, the temperature is 15°C above ambient, but under extreme conditions the micro inverter can reach a temperature of 75°C. To reduce risk of burns, use caution when working with micro inverters.
l Do NOT disconnect the PV module from the Smart Micro inverter without first removing AC power.
l Keep away from children, no touching, no playing so as not to electric shock when using.
l Please installed in place of low humidity and well-ventilated so as to avoid inverter overheating, as well as clear around the inflammable and explosive materials.
Warranty
Warranty Conditions
Warranty Period: 15-year limited warranty period.
Warranty Time Start: From the date of bill of lading.
Warranty Evidence: The bill of lading date, product(s) serial number(s), and product(s) model number(s), and a completed warranty card.
We grants an implied warranty of 1 year to the inverter from date of purchase for repair or replace the Defective Product free of charge includes freight cost. Furthermore, We provides an additional limited warranty for 14 years for repair or replace the Defective Product free of charge but non-free of freight charge. For warranty questions, please contact your retailer or installer. If your device has a defect or malfunction during the warranty period, please also contact your retailer or installer.
Warranty claims are excluded for:
• Alterations or repairs to the unit without prior authorization
• Improper use of device
• Improper and non-standard installation
• Improper operation
• operating the equipment with defective safety devices
• Impact of foreign objects and force majeure (lightning, surge, storm, fire)
• Inadequate or nonexistent ventilation of the device
• disregarding of safety regulations
• shipping damage
• The Product has been improperly stored or was damaged while in possession of the Dealer or end user;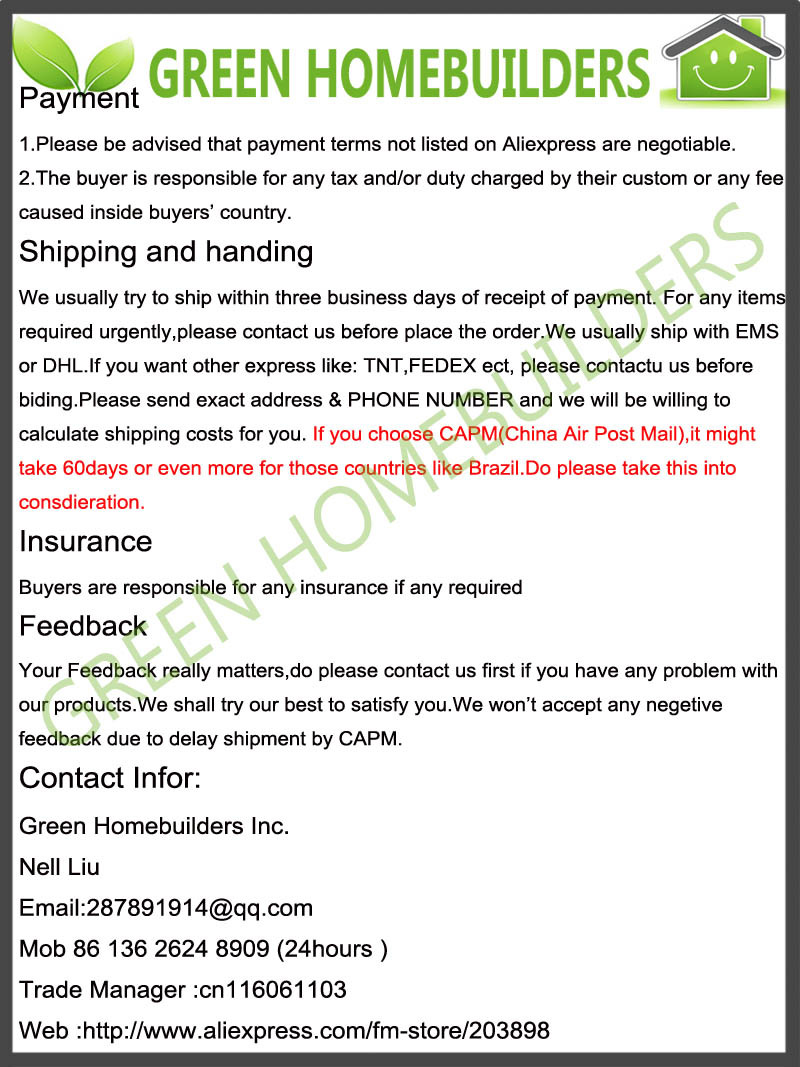 Packaging Details
Unit Type:

piece
Package Weight:

2.700kg (5.95lb.)
Package Size:

42cm x 41cm x 25cm (16.54in x 16.14in x 9.84in)
Packaging Details
Unit Type:

piece
Package Weight:

2.700kg (5.95lb.)
Package Size:

42cm x 41cm x 25cm (16.54in x 16.14in x 9.84in)
Payment
Our Buyer Protection ONLY protects Payment Methods on AliExpress as below:
Bank Transfer
QIWI
webmoney
Report item
More tie Products
From This Seller
From Other Seller