Item specifics
Item Type:

Wristwatches
Place of Origin:

China (Mainland)
Dial Window Material Type:

Plastic
Movement:

Digital
Style:

Fashion & Casual
Gender:

Unisex
Condition:

New with tags
Dial Display:

Digital
Feature:

Auto Date,Repeater,Perpetual Calendar,Alarm,Chronograph,Water Resistant,Complete Calendar,Multiple Time Zone,Slide rule,LED display,Voice recorder,GPS,Stop Watch,Back Light
Band Material Type:

Plastic
Product Description
Color: black, yellow, blue: time to market (years) battery capacity: 2010 450 (mAh)
Model: MQ266A fuselage: 512 k memory home screen colors: 260000 colors
Brand: domestic home screen size: (inches) network standard 1.33: GSM, four frequency
Data services: bluetooth, GPRS operating system: no brand areas: domestic mobile phone
Memory card: TF (cl) card after type: one year warranty OEM: can be OEM
Mobile phone type: applicable gift-giving occasions: mobile TV advertising promotions, business gifts, holiday, housewarming, birthdays, awards, fairs camera pixels: 300000
Commodity type: new standby time: 65 (H) : watch type
Product parameters
1: support network connection GSM850 four band, 900/1800/1900 MHz (GPRS)
At 2:30 high-definition pictures
3: pure screen design, pure screen touch Gao Qingbing
4-1. 44 inches flat panel display resolution of 128 x128
5: brilliant UI, fashion watches can change different strap color
6: support MP3 music playback, 3 gp/MPEG4 format video playback
7: support T - Flash card, the maximum support 4 g
8: support handwritten touch screen function
9: photography, video recording, entertainment and recording function
10: support model, three kinds of calls hands-free, wired and wireless bluetooth earphone
11: diversiform colour collocation, fashion dazzle colour of individual character
12: support for multiple languages
13: support FM radio function
Product features
1. The camera
2. Play MP3 music
3. MP4 video playback
4. Write a touch screen
5. Bluetooth
6. FM radio
7. GPRS
Accessories accessories: ordinary wired headset
Data line 2 pieces of high capacity battery
In both Chinese and English manual charger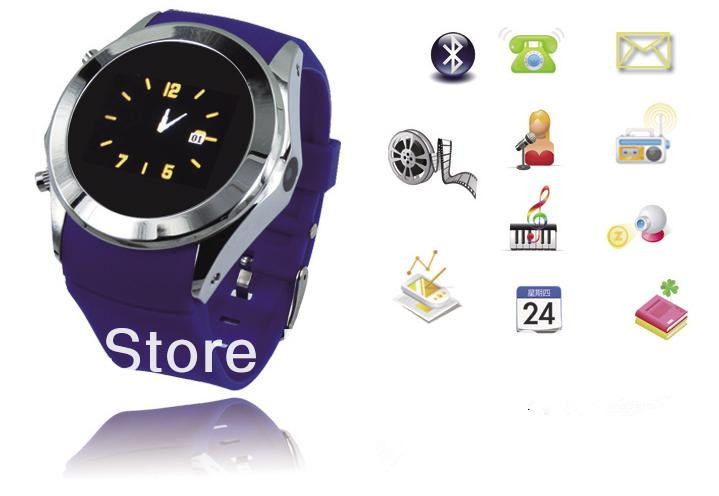 Watch small classroom knowledge
1, please don't put the watch, and magnetic objects close to each other;
2, in case of water (air) should immediately send pits cleaning, lest machine core rust;
3, if the table back protection chip or attached with labeling, please put them off before use, otherwise the sweat will infiltrate inside the bottom paper, cause the table back rust;
4, please do not contact will watch all kinds of solvents and chemicals, otherwise the watchcase strap later discoloration due to erosion and corrosion;
5, watches (quartz) only in room temperature of 5 ° C ~ 35 ° C range can be stable running accurately, more than 50 ° C temperature can make the battery leakage or shorten the battery life. Please do not put table for a long time in the low temperature - 10 ° C environment, because the air conditioning can lead to time go slow or fast, when the watch back
(1) prevent SWEAT (time! - RESISTANT) : very easy to understand, just inside to prevent SWEAT ran to the table;
(2) general waterproof (WATER - RESISTANT) : is the occasional encounter WATER it doesn't matter, for example, you give the flowers some WATER carelessly into his hand, need not nervous, picked clean was no problem, in short, is to prevent accidental small splash in life;
(3) 30 meters waterproof (30 m, 3 ATM, 3 bar) : watch on a table with the words "30 m", this is water-resistant and can be used for daily wash and dress or use in the rain, but mainly to prevent movement by dust and moisture damage. 30 meters waterproof, is the interpretation of professionals, area per square centimeter can bear the pressure of 3 kg, about equivalent to a depth of 30 meters under stationary state of stress, the equivalent of three atmospheres of pressure. For our consumers, we just remember 30 m, is water-resistant ?
Friendship remind:
1, any water-resistant not suited in contact with hot water, steam, such as wash hot water bath, sauna, etc.);
2, try to avoid temperature changes in the environment, temperature can make the table moisture condensation in the air, causing the water and water mist condenses in the table to appear. Such as a watch with the fog, please as soon as possible to watch professional maintenance department for cleaning and maintenance;
3, watches, after all, is a precision instrument, please take good care of use. Good habits can make your love life growth, bad habits will let love table shorten service life.
How to correctly use waterproof watch
Watch waterproof attachment table mirror, back cover, waterproof aprons and reached the top where the corresponding scale. On the bottom cover all water-resistant "waterresistant" or "waterproof" ? in English
Currently, consumer is in formal business can be divided into three categories: buy waterproof watch with waterproof watches, daily life with daily life and strengthen waterproof watch diving with a waterproof watch. Daily life use waterproof watch: can prevent sweat, accidentally touched the drops of rain or when washing a face, but does not apply to a bath, swimming, diving, etc. Daily life with improved waterproof watch: can use Yu Changchang used water work or sports (swimming, surfing, etc.) or snorkeling. Diving with a waterproof watch: available in snorkeling or scuba diving. In addition, according to the needs of different depth, the waterproof watch is divided into air diving with waterproof, saturation diving with waterproof and professional diving with waterproof function.
Waterproof watch of choose and buy, pay attention to see about ?
waterproof performance. Therefore, general and water-resistant must not wear to go swimming, take a shower. Is to wash the dishes, washing clothes, cooking also want to pay attention to, don't make the water splash onto the table or make water vapor into the people in the table, otherwise it will make the table ? parts in water
Now any waterproof watches, both indicate how many meters of prevention, can be in hot water (40 ° c). There are two reasons:
1, the water molecules in the case of the temperature increase permeability greatly strengthened, and all the waterproof watch is designed based on the cold water.
2, according to the heat bilges cold shrink, in the hot water under the condition of some components of the watch will be different levels of inflation, which resulted in increased possible aperture.
Watch the water after simple several processing methods
Way a: watches, such as after soaking by water, can use a few layers of toilet paper or easy absorption of moisture of cotton napped fold table was tight, about 15 centimeters in a 40-watt incandescent lamp nearby, bake for about 30 minutes, the water vapor in the table to water vapor. To avoid the wrist watch table close to the fire baking directly, lest make the table subjected to thermal deformation.
Method 2: watch the table itself, pan out, anti wear in wrist, two hours after the water vapor can be offset. If the water is serious, it is better to immediately send watch shop clean oil, remove a full movement of nutrients, to prevent rust zero device.
Method 3: with granular silica gel and has water wrist watch together in a tightly closed ?
The maintenance of the quartz watch
(1) to avoid strong shock:
Watches are shockproof function, still should avoid the impact of sudden, so the exercise, it is best to watch.
(2) don't close to magnetic objects:
Watch parts for metal products, although have the magnetic device, but in magnetic objects, easy to make the time, so had better put less in radio, TV and other electrical products.
3. Please do not make the watch close to solvent:
Mercury, makeup with spray, detergents, glue or paint, or watch case, strap later decoloring, spoiled or damaged.
(4) from camphor material:
Camphor has the function of decomposing oils, grease is broken down, easy to watch part of failure.
Don't often open the bottom cover (5) :
To avoid water and dust floating in the air, in part, a failure.
6. Stay away from the water and steam:
Watches are waterproof, waterproof parts may still be loose over time, which caused a moisture rust parts, not work, so swimming bath, non-professional waterproof watch need to take off.
7 watches collection mode:
Don't put in pockets and bags, in order to avoid the tiny chip cloth, dust into the watch, or perfume, cosmetics of the volatile oil and condensate from watch parts corrosion oxidation. When you don't wear for a long time should be placed in a cool, dry box.
Don't often open the bottom cover (5) :
To avoid water and dust floating in the air, in part, a failure.
Today go to bed when take off the watch:
Fiber and cotton sheets, and to be inside of outside temperature changing, all easy to damage the watch.
Pet-name ruby avoid rapid temperature changes:
As a result of the watch case is composed of a variety of different materials, the temperature change rapidly to affect different parts of the watch waterproof performance.
EMS ZTM DHL quickly reach your hands
Packaging Details
Unit Type:

piece
Package Weight:

0.800kg (1.76lb.)
Package Size:

30cm x 20cm x 10cm (11.81in x 7.87in x 3.94in)
Packaging Details
Unit Type:

piece
Package Weight:

0.800kg (1.76lb.)
Package Size:

30cm x 20cm x 10cm (11.81in x 7.87in x 3.94in)
Payment
Our Buyer Protection ONLY protects Payment Methods on AliExpress as below:
Bank Transfer
QIWI
webmoney
Report item
More stainless steel wrist watch Products
From This Seller
From Other Seller