Item specifics
Item Type:

Stickers
Item Height:

1.65 cm
Sticker Placement:

Head
Brand Name:

Yatour
Model Name:

YT-M06+YT-BTM+YT-REMO
Item Width:

6.5 cm
Item Length:

9.2 cm
Available Car models1:

VW Audi Skoda Seat BMW Mini Benz Smart Citroen Peugeot
Available Car models2:

Renault Fiat Ford Volvo Acura Mazda Nissan
Available Car models3:

Toyota Lexus Scion Honda
Available Car models4:

Alpine Becker Blaupunkt Clarion-Suzuki JVC Pioneer Sony
Certification:

CE FCC
Model Number:

YT-M06+YT-BTM+YT-REMO
Special Features:

MP3/WMA Players
slots:

USB SD AUX bluetooth
function::

steering wheel control,cd quality sound,hands free phone call
and:

A2DP bluetooth music playback, plug and play,no damage to car interior
Product Description
Yatour Bluetooth module(YT-BTM)+Remote control(YT-REMO)+Digital Music Changer(YT-M06-XXX)
Please tell us the Item NO. you need and the car model and the radio type you have so that we can send the right item for you
Below are catalog list for YT-M06:
All YT-M06 offered after September of 2012 will be with built-in bluetooth slot, which is used to connect optional Bluetooth Module (YT-BTM). That means it will supports all USB/SD/AUX/Bluetooth connections in one module.
Standard

Item No.

Simplified

Item No.

Special for

Search Keywords

1999-2003 VW/Audi/Skoda/Seat/Ford 8pin

YTM06-VW8

2004-2011 VW/Audi/Skoda/Seat 12pin

YTM06-VW12

VW12pin with splitter cable

2004-2011 VAG with existing CD changer

YTM06-VW12D

YTM06-VW10

1991-2000 BMW/Mini/Rover 17pin round

YTM06-BMW1

2000-2006 BMW/Mini/Rover 40pin flat

YTM06-BMW2

1991-2006 BMW 3pin+6pin trunk CD

YTM06-BMW4

Smart/Fiat/Lancia Grundig 8pin

YTM06-SMT

1994-1998 Mercedes Benz10pin

YTM06-MB

97-04 Peugeot/Citroen 8pin van-bus

YTM06-RD3

05-11 Peugeot/Citroen 12pin can-bus

YTM06--RD4

YTM06-REN8

Renault 12pin(requires extra 6USD)

REN12 (requires extra 6USD)

09-11 Renault quadlock12pin

YTM06-REN12 (requires extra 6USD)

05-11 Fiat/Alfa/Lancia blaupunkt 8pin

YTM06-FA

94-04 Europe Ford/Lincoln

YTM06-FRD1

03-11 Europe Ford quadlock Visteon

YTM06-FRD2

2001+ European Suzuki/Fiat/Opel 14pin

YTM06-SUZ2

94-00 Volvo (SC headunit)

YTM06-VOLSC

99-07 Volvo (HU headunit)

YTM06-VOLHU

05-11 Toyota/Lexus 6+6 small

YTM06-TOY2

05-11 Toyota/Lexus 6+6 with CD changer

YTM06-TOY2Y

98-04 Toyota/Lexus 5+7 big

YTM06-TOY1

Toyota Aygo

TOY3

05-12 Toyota Aygo/Citroen C1/Peugeot 107

YTM06-TOY3

YTM06-HON2

2006-2011 Honda/Acura with CD changer

YTM06-HON2Y

2001-2010 Goldwing GL1800

YTM06-HON2F

YTM06-HON1

2002-2008 Mazda without Navi

YTM06-MAZ1

New Mazda(requires extra 7USD)

MAZ2(requires extra 7USD)

2009-2012 Mazda3/5/6/CX7/RX8/MX5

YTM06-MAZ2 (requires extra 7USD)

2000+ Nissan without built-in CD changer

YTM06-NIS

YTM06-HYU8

Alpine M-bus, 98-05 Honda/Acura with CDC

YTM06-MBUS

YTM06-AINET

YTM06-BEK

Nissan Micra/Blaupunkt with DMS symbol

YTM06-BLAU

Clarion CE-NET/Suzuki/Subaru

YTM06-CLAR

YTM06-JVC

YTM06-PION

YTM06-Sony

YTM06-SAN
Check detail application list of each model via following page:
(www.ycarlink.com/1456_Digital-Music-Changer-Yatour-YT-M06-.htm)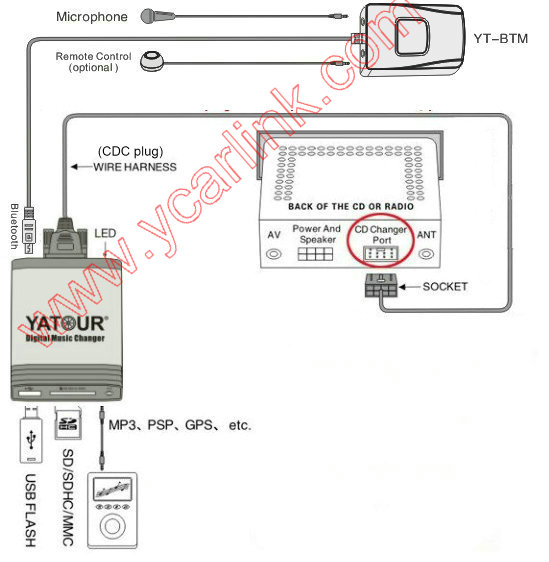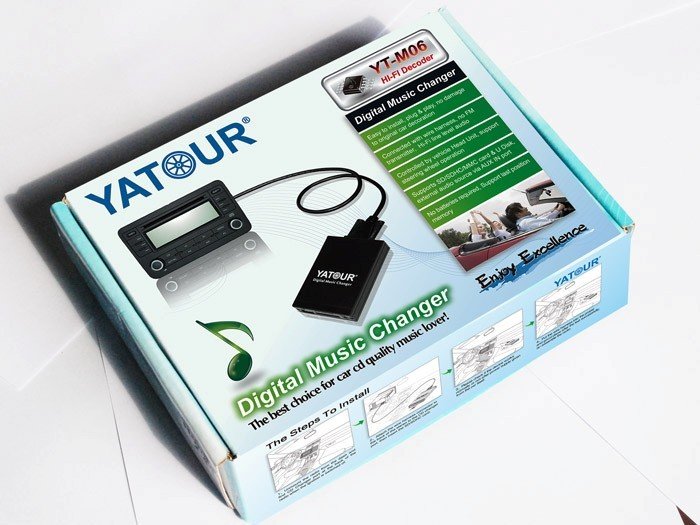 Digital Music Changer(YT-M06)

Size:
l Module size: 92 x 65 x 16.5mm
l CDC plug length:95cm; AUX cable length: 50cm
l Packing box: 210 x 150 x 60mm
l Module weight: 90g;
l Gross weight:300g;
l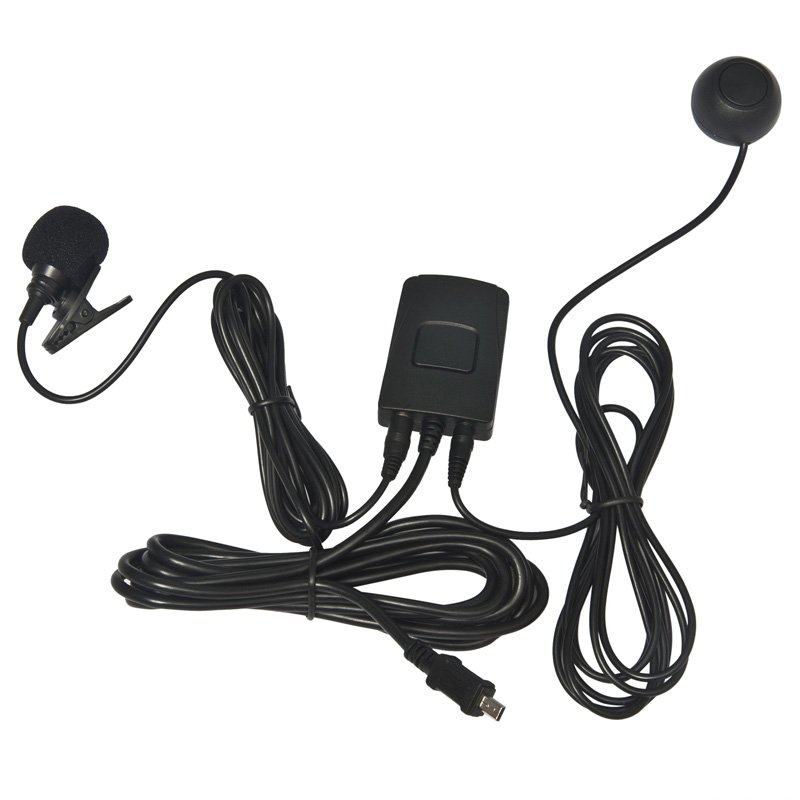 Introduction:
This is a Audio car kit. It is a replacement of CD changer. It can be easily installed and used. The installation and usage are the same as CD changer's installation and usage, Simply plug in USB disk/SD card, you can play audio through car audio system and enjoy music in your car.
Specification:
l Voltage Input : 12V DC
l Signal-to-Noise : 95DB
l Max. Current : 600MA
l Max. Voltage output : 12V
l D/A Device : 24BIT 192KHZ
l Total Harmonic Distortion : 0.01%
l Frequency Response : 20HZ-20KHZ
l Working Temperature : -10C- 80C
Features:
1. Plug&play,CDC alternative
2. Connected with wire harness, not FM signal controlled ,Hi-Fi guanranteed
3. Controlled by vehicle Head Unit,support Steering wheel operation
4. With imported Hi-Fi Decoding Chip,perfectly support MP3 and WMA tracks
5. Supports SD/SDHC/MMC card/U Disk/Card Reader/Hard Disk
6. Supports external audio source(MP4 PSP Mobile Phone) via AUX in port
7. Playlist function same as multi CDs
8. Supports Last Position Memory(LPM)
9. Vibration and interference proof
10. Easy to install,no damage to original car decoration
11. Specific,not universal.Different solutions for different car models or car radios
12.With bluetooth slot to connect bluetooth hands free car kit(YT-BTM)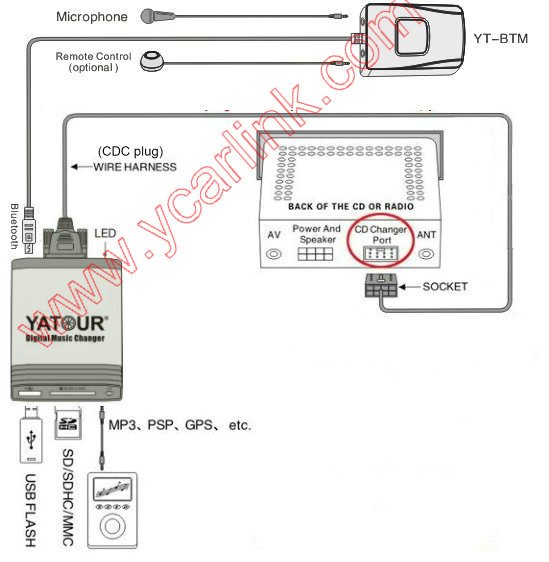 Supported memory cards and USB sticks:
1.Max 8GB ;
2.2GB is most recommended;
3.Supports up to 15 folders on Toyota Range models
4.Overloading the memory card or stick (with too many folders or files) may cause problems with display of CD and /or track number and may also cause intermittent performance.
5.Using music files formats other than WMA and MP3 may also cause intermittent performance.
6.Sometimes,to remove defect on software of car audio system, you may need to disconnect the battery or remove the fuse to reset the car audio system
7.Please format USB stick or SD card with FAT16 or FAT32 format before you save files and folders in USB/SD
8.You have to set up folders's name as CD01,CD02,CD03,?.; the playback order of songs is in line with their created date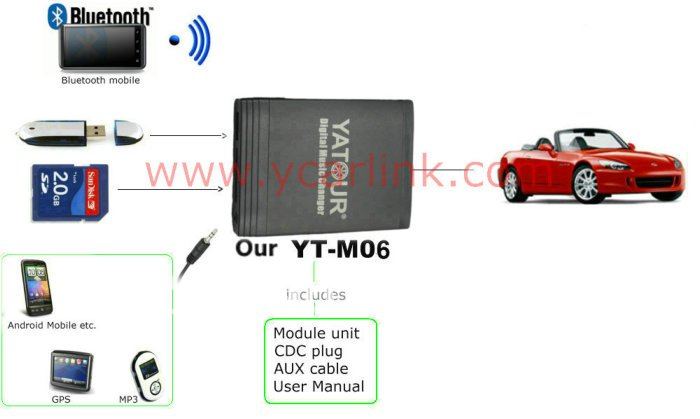 YT-BTM and YT-REMO as below:
Yatour Bluetooth module kit (YT-BTM)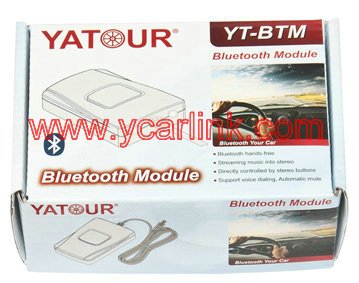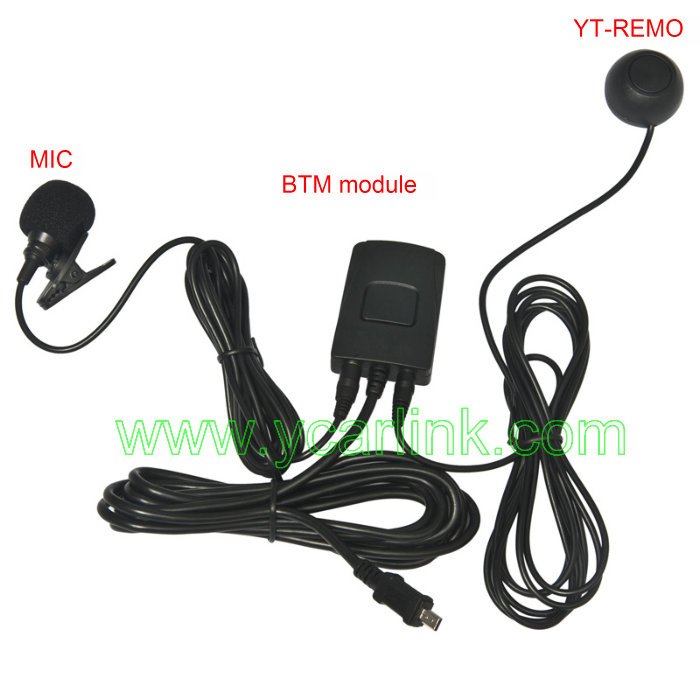 Size:
l Packing box: 150 x 105 x 60mm
l Gross weight:150g;
l 100units/big carton
includes:
Module Unit*1(2 meters long)
3.5mm Microphone*1 (2 meters long)
Remote Control Unit*1 (Optional, 2 meters long)
User Manual*1
Introduction:
This is a universal additional kit for YT-M05 and YT-M06, integrates Bluetooth Hands free (HFP) and Bluetooth Audio playback (A2DP) music streaming into your car stereo system. It offers much better sound quality than AUX audio input offers.It supports operations of Answer/Hang-up phone call and Pause/Play A2DP playback via button on YT-BTM or Seek+ button or Fast Forward button of radio.

Features:



1. Hands free phone call via factory car stereo system.
2. Wireless Bluetooth A2DP music streaming into factory car stereo system.
3. Controlled via YT-BTM button,YT-REMO button, car radio button and Steering wheel button.
4. Excellent quality sound from radio speaker and from microphone for HFP and A2DP.
5.LED indicator continuously displays the working status of YT-BTM
6. Automaticly pauses when a phone call is made or received, then resume once the call has ended (Requires pressing CD button to resume A2DP playback on YT-M05).
7. Supports connected with only one Bluetooth device each time.
Supports Bluetooth enabled devices like iPhone,Android phone,other bluetooh mobile ,bluetooth enabled GPS,etc.
8. Bluetooth distance limitation: 6-8 meters.
9. Bluetooth pairing needs to be performed only once.
After pairing is completed ,your phone will automatically connect to YT-BTM upon ignition start (whether radio on or off) or once your phone is back into discoverable distance.
10. No need to disconnect other audio sources to use Bluetooth.
Once YT-BTM is in use, other audio sources (USB/SD/iPod/AUX) will be automatically paused (except AUX) and muted.
11.Supports Bluetooth Voice Dialing .
Special for mobile phones supporting voice dialing over Bluetooth
12.compatible with Bluetooth version 2.1, and downward compatible with lower Bluetooth version
Installation Guidance:


1. After finishing installation for Yatour YT-M06 or Yatour YT-M05,connect YT-BTM to bluetooth port of YT-M06 or YT-M05. Mount the YT-BTM module away from metal structures in the dash and as close to the phone as possible.
2. Then connect our microphone to microphone port of YT-BTM.Choose a proper mounting location for the microphone either on the upper part of A-pillar on driver side or near centre rear view mirror or head liner console control panels region. Avoid mounting the microphone by the side windows to eliminate extra noise. Please also avoid mounting behind visor to avoid blocking voice from reaching the microphone.
3.Carefully route the microphone cable down into the dash where the YT-BTM module is installed.Carefully arrange plugs at last.
4.Turn on the car stereo and switch to CD mode, then start to pair your mobile phone with YT-BTM.

Notice:
If users already have Remote Control Unit (YT-REMO), Bluetooth module could be hidden under radio panel or glove box etc, and only Remote Control Unit?s small head is placed and seen on radio panel or A pillar or any other positions easily touched bydriver, and carefully arrange plugs at last.
Simply pair it with any Bluetooth enabled mobile phone, and it will allow you to make and receive calls hands free through your car stereo speakers. Also provides a separate microphone for added convenience and optimum sound quality. Music playing automatically pauses when a call is made or received and then :
1.Automaticly resumes when call is ended on YT-M06;
2.Resumes via pressing radio CD buttons on YT-M05
Supports Bluetooth version 2.1 and lower version
Compatible with most Bluetooth-enabled phones

Instruction Manual download : img.mysoocuu.com/photo/ycarlink/catalog/20120810015407_1810.pdf
FAQ:
1.Is YT-BTM able to work independently?
No, it has to be used together with YatourYT-M06 or YT-M05.
2. Can I use my own microphone to replace YT-BTM?s microphone?
It is not recommended to use customer?s own microphone,because a different microphone with different gain factor may reduce sound quality greatly.
3.If the radio is off, can YT-BTM work?
No, if the radio is off or if it is not under CD mode, YT-BTM will not work normally. But if there is a call coming, customers can immediately turn on the radio and switch to CD mode, and YT-BTM will work normally.
4. How to adjust sound volume of YT-BTM?
YT-BTM currently does not offer independent sound volume adjusting function, customers can directly control sound volume through car stereo system.
5. How many mobile phones can be connected to YT-BTM at the same time?
YT-BTM currently can allow being connected with only one mobile phone at one time.YT-BTM requires disconnecting one mobile phone so as to reconnect to another mobile phone.
6. When a call comes in, will the playback of USB/SD/AUX/iPod be mute automatically?
When a call comes in, YT-M05 iPod playback and YT-M06 USB/SD playback will automatically stop and be mute. AUX playback of YT-M05/YT-M06 will only be mute but not stop as AUX playback is not controlled by Yatour interface.
Note: For DHL remote area, we can not afford remote area fee(40USD),so we will send by EMS or registered regular mail
Check if your area is DHL remote area
For Russia,Belarus,Ukraine,Kazakhstan and south America area, we will send via EMS or registered regular mail for easier customs clearance
Delivery speed for multi shipping ways of our store

Destination Areas

China Post Air Mail

EMS

Hong Kong Post Air Mail

DHL/Fedex

Russia/Ukraine/Belarus/Kazakhstan etc.

15-45days

10-30 days

15-45days

not available

Brazil/Agentina etc.

15-45days

10-30 days

15-45days

not available

USA mainland

7-20 days

4-10 days

7-20days

2-7days

Spain/Italy/France/Netherlands/Sweden/Poland etc.

9-25days

7-20days

9-25days

3-7days(not available for remote area)

Turkey/Israel etc

15-35days

7-20days

15-35days

not available
If you can not waiting for slow delivery, please don't choose
China Post Air Mail
or
Hong Kong Post Air Mail
when you purchase
Check full Application list of YT-M06 below:
Notice: YTM05-XXX has same application as YTM06-XXX,.For example: YTM05-TOY2 has same application as YTM06-TOY2 does.
Packaging Details
Unit Type:

set
Package Weight:

0.600kg (1.32lb.)
Package Size:

21cm x 15cm x 7cm (8.27in x 5.91in x 2.76in)
Packaging Details
Unit Type:

set
Package Weight:

0.600kg (1.32lb.)
Package Size:

21cm x 15cm x 7cm (8.27in x 5.91in x 2.76in)
Payment
Our Buyer Protection ONLY protects Payment Methods on AliExpress as below:
Bank Transfer
QIWI
webmoney
Report item
More cd player changer Products
From This Seller
From Other Seller