Our shop is closed, to rectify, will show nearly with a new imageand a new website to you.
Please looking forward to us!!!
This Store did not WORK!!!!
New Onlineshop!
http://www.aliexpress.com/store/235768
TauraBabe Thanksgiving Days March 25-31
Thanks for everyone supporting our brand—TauraBabe.We decide to give our customers some surprises as gifts.
1,Top 10 who Maximum you spending in our onlineshop,some gifts of US$50-100 to you.
Congratulation the following~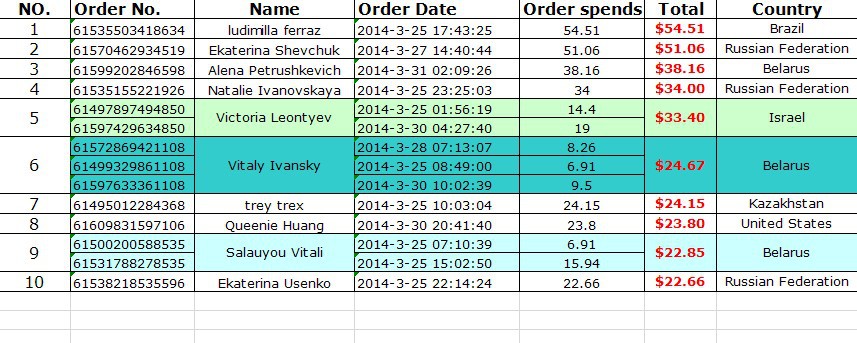 If you miss the Acitivity No.1,you can also enjoy
Activity
the No.2 and No.3.Welcome~
2,Attention us at Facebook,
https://www.facebook.com/felcia.lee.1
@ us and give us more your feedbacks via pictures and words.We will choose 5 of you and send you some surprises as prizes by random.
3,Please tell your friends more about us and your friends should shop from our onlineshop during this thanksgiving days.When she or he shop from us,please mark who suggest you(mark the aliexpress username) in the order.It is best that you can follow us at Facebook,it is good for us to contact you when you are choosen.We will choose 5 of you and send you some surprises as reward by random.
It is a pity that no one mark it for the Activity No3 .So We will make this activity extend the time from
21th to 30th in April
.Hope you can enjoy it!
Attention us! Follow us! Feedback us!
IMPORTANT that Shopping from us!
That is chance for you getting items without any fee,it is a chance for us to help you!
At last,congratulation the above Customers from the form,we will send the gifts to you in several days and we will contact you !All best to you!!!Hope you can visit and shop rrom us again!