Welcome to our store!
Lovely Home Hardware is concentrated on supplying first-class furniture knobs and handles at most fair prices and fastest shipping speed. Our featured products at present are natural granite knobs, semi-precious stone knobs, granite handles, granite pulls and gemstone pulls for cabinets, cupboards, closets, drawers, dressers, wardrobes, bookcases in kitchen, bathroom, private bar and other living areas. They are a perfect combination of natural stone and metal accessories, which adds a feeling of vintage, luxury and uniqueness to your furniture and home.
Unique Feature of Stone Knobs and Pulls
(1) They are made of purely natural granite, marble, travertine, crystal, agate, jasper, jade, onyx, etc, which will make you feel closer to nature.
(2) Each knob and pull has a unique texture that comes from a special rock on the earth. There are no two identical ones in the world.
(3) They are obviously an unrivalled match with stone countertops, bench tops & vanity tops.
(4) The delicate handicraft for stone knobs and pulls is a show of your noble taste.
(5) They are more durable and will get a sense of history as time goes on.
We sincerely hope to provide a nice shopping experience for you. If you need any help, please contact us online or send a message to us. Our customer service representative is always pleased to be at your service.
Our Advantages and Promises

(1) We have 10 years'experience in making and selling stone knobs and pulls worldwide.

(2) All the styles and colors we are supplying have proved to be the most classic and popular ones.

(3) All our stone handles are directly supplied from our own factory & warehouse, no middle cost added.

(4) Every item at our store is strictly tested and we guarantee a 100% inspection for any order shipped out.

(5) We've made a water-proof disposal for the stone of each product in order to resist the dirt and oil stain.
(6) Matched & standby mounting screw(s) are included with each order totally free, no extra charge for them.
(7) All photos displayed are 100% real. But please allow possible slight differences due to the natural texture of stone and different display device.

(8) We're keeping enough stock in our warehouse so that we can ship every retail order in 1-2 business days upon receipt of the payment.

(9) For most regions, customers can enjoy the Express service(DHL, FedEx, Toll, Aramex, DEX, SF Express, EMS,etc.) at 3-4 business days to door. We also provide international post shipping selection if customers can wait at least 15 days to receive the order.

(10) We've never used lacquers or waxes to make knobs and pulls shiny. All the stone parts of our products are polished, so the pattern and sheen on our stone knobs and pulls are natural and lasting.

(11) We guarantee totally free replacement if there is any defect, shortage or breakage in our products within 3 business days upon receiving the true and detailed message and pictures from customers.
(12) We've applied for a patent certificate for this new product in 2007 and got approval in September, 2008. Enclosed here for your reference. You can order rest assured.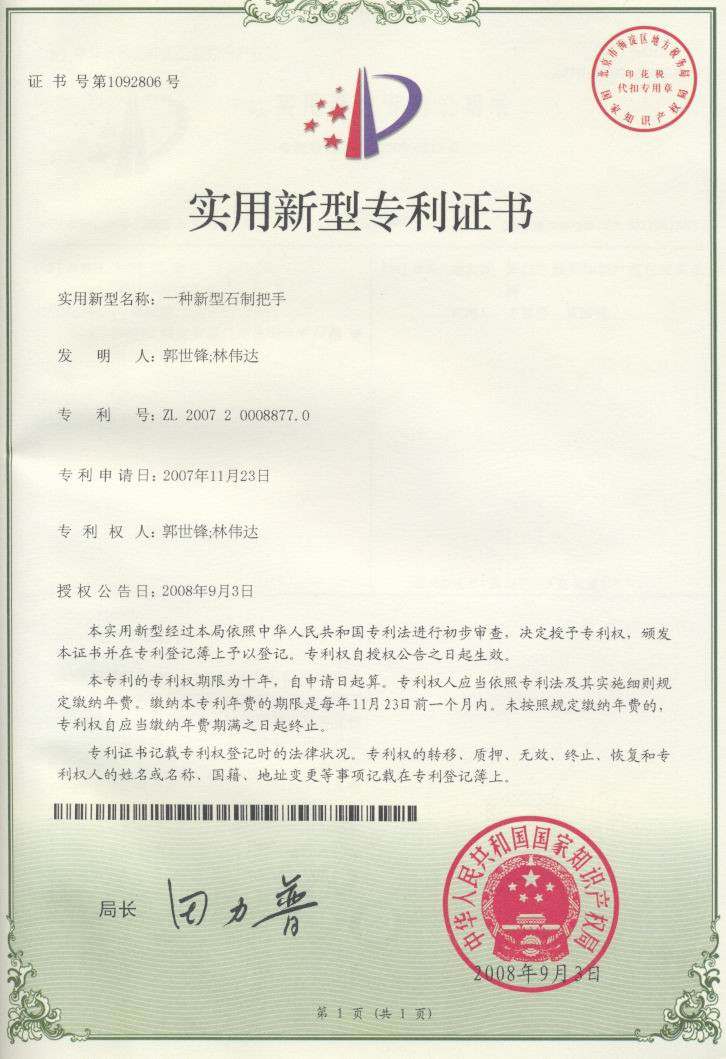 Return Policy
(1) Please check the package upon receiving. If the package is obviously damaged during the transportation, please refuse to sign for the parcel and then contact us promptly by email.
(2) Please open and inspect all merchandise within 2 business days upon receipt of the parcel.
(3) If an item is damaged or defective or if incorrect product is received, you must take a couple of clear photos for these items & the original packaging and then notify our customer service representative by email within 3 business days upon receipt. The representative will instruct you how to proceed. Otherwise, they are invalid to be replaced or refunded.
(4) We will ship replacement items ASAP totally free. If you opt to return the damaged, defective, or incorrect item(s) without receiving replacements, we'll give a full refund but the return shipping from your place to our shipping address will be at your own charge. Worth mentioning, the items must be returned in original condition before the refund is fulfilled.
(5) Sometimes you are not happy with the ordered items due to your own mistake in sizes, colors, finishes, etc. If you want an exchange for other items at the same value or want to refund for all the items, you need to return the received goods within 30 days upon delivery and the shipping freight back and forth will be at your own expense. When we get the returned commodity in good condition, we'll ship the new items or refund the commodity value to you within 3 business days.
(6) Special order items and made to order items cannot be cancelled or returned.
(7) Lovely Home Hardware owns the right to refuse any returns for the damages caused by the force majeure such as fire, water flood, earthquakes, unsteady of power and other natural disasters.
We understand the frustrations you might have, but please contact us before opening any dispute or leaving any neutral or negative feedback. We will spare our efforts to solve any problem to your satisfaction.
How to Save Big Money
If you take interest in any of our products, please don't hesitate to click both buttons " Add to Store List" above and "Add to Wish List" below the item respectively. Once there is any promotion at our store, you will be notified automatically. It is a good way to help you SAVE big money!

Advice and Reminder
1. We've cut profits as possible as we can and all the products at our store are now supplied free shipping. You can choose to ship by post or by Express according to your own time frame and shopping target. If you like to buy in piece instead of in lots, we sincerely recommend a brother store: Imperial Cabinet Knobs .
2. If the order quantity you want is several pieces less than or more than integer lots, you can contact us to change the price accordingly. For example, if the item is 3pcs/lot, but you need 22pcs, you can order 7 lots or 8 lots and ask us to adjust the price for you. We'll add the cost of 1pc or reduce the cost of 2pcs before you make the payment.
3.If you want to mix a few items in one or several lots, you can also order one of these items by lot and leave a message for the mixed details(model number and quantity each). For example, if you want to order 1pc 1MK32 Santa Cecilia, 1pc 1MK32 Giallo Veneziano and 1pc 1MK32 G682 as samples, you can just order 1 lot(3pcs) 1MK32 Santa Cecilia and tell us what you really want.
4. All our knobs and handles come with necessary screws and fixtures. The matched screws of both CK32 and 3MK40 whole granite style knobs are 30mm long, and those of all the other styles are 25mm long. If you need special screws in different sizes, please be sure to remark or leave a message when you place the order.
5. Some styles such as CK32, 5MK32, 3MK40, 4MK45, SPMK40, SPTP124 won't be produced any more once they are sold out. For the hot sale items, our warehouse will replenish stock aperiodically when they are in short supply. But the batch production will take at least 15 days. So please don't hesitate too long when you really wanna order something.
We constantly strive to provide excellent products and customer service to meet all our customers' satisfaction. Sincerely invite you to leave a positive feedback to us. Just be generous to take one minute to show your testimonials. Thanks a lot!