About US
we are dealing with Wholesaling Ethnic Jewelry and Handicrafts over years.
Our mission is to bring our Customers Original items from Tibet,Nepal,at resonable prices, with fast and efficient service.
Tibetan Jewelry is one of our most popluar product lines,and we love to bring new and interesting hand jewelry to you! such as Tibetan Amulet Pendant, Prayer Box(Tibetan call Ghau,Gau),Tibetan rings, Nepal hand 925 silver are our featured items.
Tibetan Buddhism Offering is our another feature---Singing Bowl, Prayer beads Mala,Prayer Flags(Tibetan call Longda),Prayer Wheel etc. Welcome to our another shop: www.aliexpress.com/store/908080
We are keeping our Tibetan jewelry and Crafts offerings, And also enlarge other Ethnic Exotic products, from Miao,Serindia(Silk Road Belt),Thailand, etc.
We ship worldwide,many shipping ways are optional to you.
Bulk buy, pls contact us for better discount.
If any question, pls contact us without hesitate, we are always happy to help.

Tibetan Culture (1)
'Om Mani Padme Hum', enduring six words Mantras symbols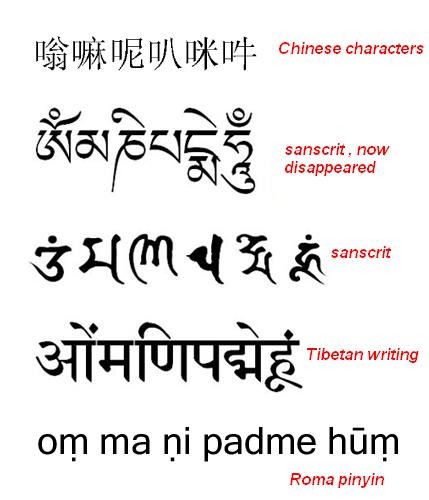 With its roots in Sanskrit, "Om mani padme hum" is not only a Tibetan Buddhism prayer, but also a healthy voice production exercise. The chant is common to the Lotus sect of Tantric Buddhism and originated in the holy song sung by the Born-in-Lotus Buddha (Guru Padmasambhava) during his search for nirvana. Later it was made into a repetitive chant by Buddha Avalokitesvara (Guanyin Bodhisattva).

"Om mani padme hum" can be interpreted as follows: While chanting "om", one should try to become one with the Buddha. "Mani" means a treasure-begetting wish, which reportedly resides in the brain of the Dragon King and can attract all kinds of treasures. "Padme" means lotus, indicating that Buddha's dharms is as pure as a lotus. "Hum" indicates that one must rely on divine energy to achieve Buddhahood.
In Tantric Buddhism, "Om mani padme hum" is considered the source of all things. By chanting it over and over, one can achieve everything and attain nirvana and Buddhahood. Therefore, it is popular with Tibetans, who are likely to chant it at any time. They have also carved and painted the words in many places to express their hopes and to worship the Buddha Avalotitesvara.
"Om mani padme hum" is also a method of voice production.

"Om" is the lead and the source of source of wisdom and happiness. Arising from acupoint Qihai, it rises to the larynx and comes out the nasal passages as a drone. The sound rises into the head, whirls in the mouth and fills the seven orifices (i.e., mouth, nostrils, sinuses and auditory channels). If there is something wrong with your eyes, let Qi out while keeping your eyes open. If you have rhinitis, let Qi out through one nostril only. Direct Qi up to the head and release it downward when you have a headache or migraine.

"Ma" is an open guttural sound. When pronouncing it, one closes and then opens the lips. The sound vibrates in the larynx, acupoint Tiantu gets numb and then the arms and palms become numb. It can treat cough, laryngitis and scapulohumeral periarthritis.

"Ni" is an apical sound. When pronouncing it, one should fold the arms over the breast. The sound vibrates in the chest, goes to the palms and makes acupoint Laogong numb. It can treat palpitation, pneumonosis,
"Pad" is a labial sound. When pronouncing it, one closes and then opens the mouth. The palms face the stomach. Intrinsic Qi enters from the front of the Dantian point and comes out the back. One can feel warmth at Mingmen and on the back. It can treat lumbago, nephritis and spondylitis and nourish muscles and tendons.

"Me" is a sublingual sound. Pronouncing it, one opens the mouth slightly. Intrinsic Qi goes through the belt channel. One should feel the lower abdomen vibrating. It can treat hepatitis, enteritis, stomach-ache and diarrhea.

"Hum" is a cerebral sound. When pronouncing it, one opens the mouth only slightly. Qi goes down the legs and directly reaches acupoint Yongquan. It can treat skelalgia and arthritis.
"Om mani padme hum" corresponds to parts of the human body. It demands soft, extended pronunciation in a low voice. Generally speaking, "Om mani padme hum" can strengthen the body, prevent and cure diseases, and prolong one's life.