HOT Sale Spiderman wall sticker for kids room
Semi-transparent Windows Sticker
100% NO QUESTIONS ASKED MONEY BACK GUARANTEE
All the wall sticers would be send out in 5~7 days;

Packing: all of wall stickers would be roll up for packing,easy packing,roll tight,pack with soft material,not including the hard tube.

For custom size,it would cut into several parts with less than

550mm width

.

Most of country would be receive in 21~30 days.Russia and Euro only 15~25 days.USA is 11`19 days.

For personalized wall sticker,different size,the price is different

.For example,it is only 89 USD free DHL shipment for 5.6 square meter to USA.If you need personalized wall sticker,please kindly contact for the best price.
The price is count by every 0.1 square meter.1 square meter = 1 x unit price;1.1 square meter = 1.1 x unit price.

WhatsApp: 0086-1353-8748-056

Store discount: Every Saturday
Wall decor become more and more important for home decoration.Wall stickers can really transform a room,We love printing wall decals for you and bring your creative and stylish ideas into your life. Create a one-of a-kind store for your space that start once upon a wall.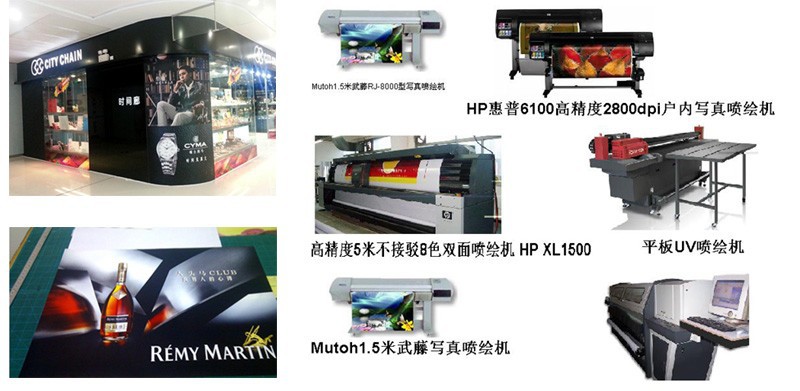 Colorwoo Wall Stickers would easy your home decoration
Easy to apply, easy to remove without leaving any sticky residue.
Easily adhesive straight to the wall, door, mirror or any smooth surface you want.
Made with Super quality environment friendly , removable and waterproof PVC material.

It could safe the money to purchase the glass with image,and it could renew your Furniture by the most easy and cheap way.
It could spend the little money to improve your home decoration and store / restaurant decoration.

You could change the design of your home,store / restaurant every season.

Colorwoo stickers for wall and glass interior decals.
It apply for living room,rest room,infant / nursery / kids /children room,dinning room,study room,bathroom,passageway,leisure area,Store / Shop / Supermarket decor,display hall/exhibition sign & decor.
Wholesales & retail all kinds of Colorwoo wall stickers,Colorwoo wall decals. Colorwoo wall stickers is waterproof and removable.
The Interior Wall Murals ( Wall Stickers ) is a smart solution to business decoration. It is removable, reusable and won't damage your wall.
About Personalized Wall Stickers
Compare with the fix size wall sticker,the personalized is thick.
Strong recommend spay some water before stick onto the windows / Glass/ Fridge/Closet for easy take away the air bubble.For wall sticker,It could spay some water on the wall sticker for easy wall mounting.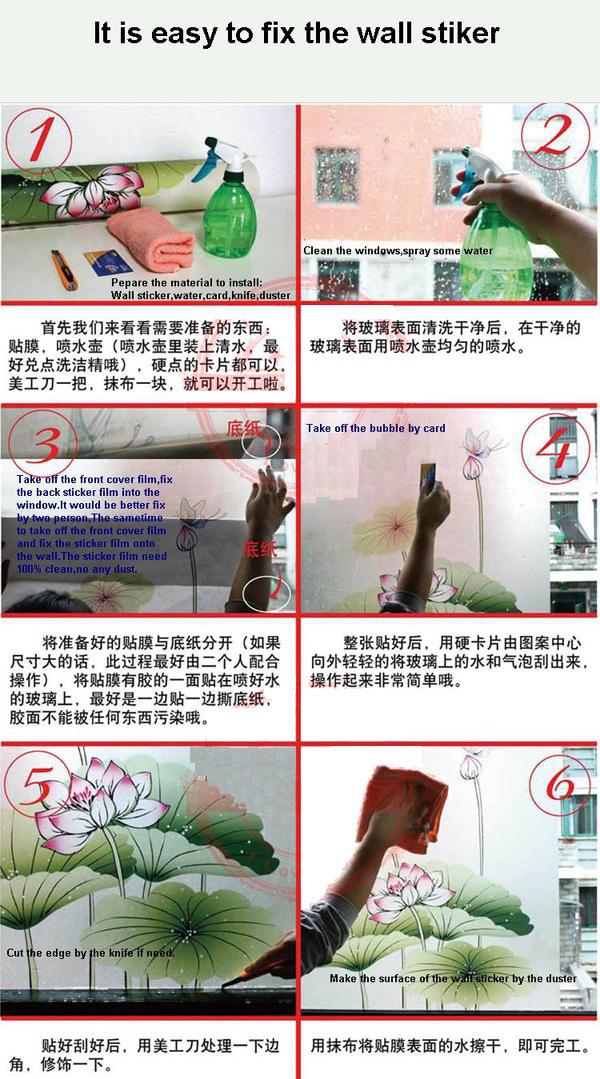 WALL STICKERS
Wall stickers,also known as a wall decals, wall tattoo, or wall vinyl, is a vinyl sticker.
Which is affixed to a wall or other smooth surface for decoration and informational.
Four Type could be choice to the personalized wall stickers:
Transparent / Semi-Transparent / Not Transparent with white Gum / Not Transparent with Black Gum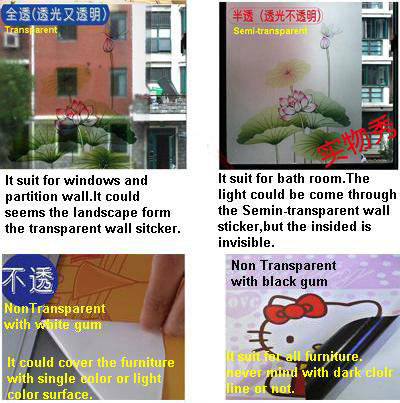 USE
Vinyl decals have various uses. Vinyl decals were originally only used for sign making
But they have recently been added to interior decorators portfolios and have also become well known as a Do-It-Yourself home decorating option.
Decals can be used on windows, walls or tiles as branding, advertising, or decoration.
They may also serve as a tool to inform people that there is a glass door or window.
SORT
According to the image,there are cartoon wall stickers,plant wall stickers,switch wall stickers,figure wall stickers,architecture wall stickers,letter wall stickers.
According to the use of environment,there are living room wall stickers,rest room wall stickers,infant / nursery / kids /children room wall stickers,
dinning room wall stickers,study room wall stickers,bathroom wall stickers,passageway wall stickers,leisure area wall stickers,
Store / Shop / Supermarket decor wall stickers,display hall/exhibition sign & decor wall stickers.
7 surface suit for Colorwoo Wall Stickers,3 surface not suit for Colorwoo Wall Stickers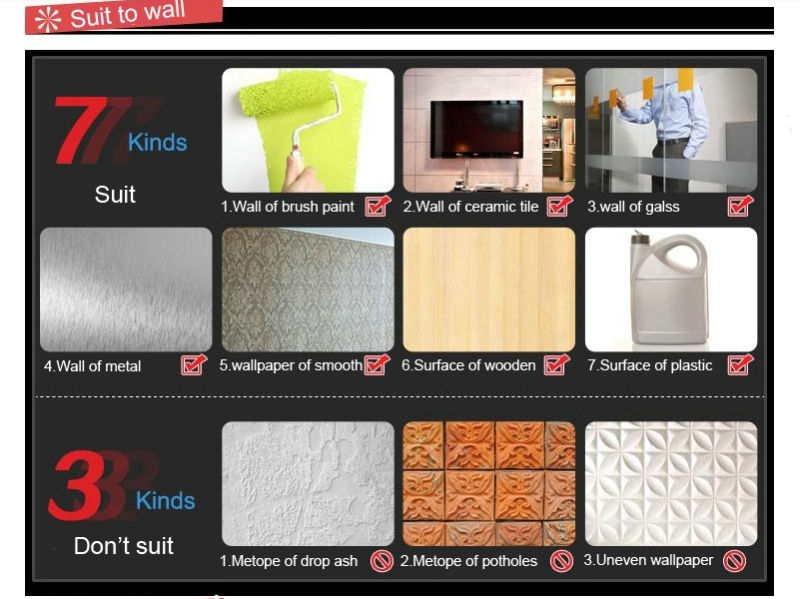 The advantage of colorwoo wall stickers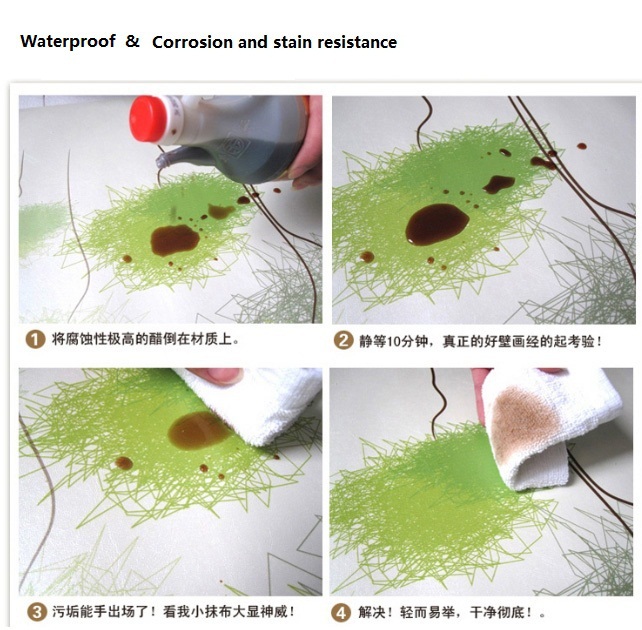 How to order the personalized wall stickers:
1).Choice the image you like form our store,you could send us your custom image as well;
2).Tell us the size you like (The max lenht for international shipment is 600mm ~ 900mm.For large size,it need to cut into two parts or three parts )
3).Tell us the efect you need. (Non transparent / Semi-transparent / Trnaparent )
For wall sticker,we strong recommend the non transparent;
For windows sticker,we strong recommend the semi transparent to let light through the windows;
4) We would send the draf image to let you confirm.
5)We would quote the price and the freight for you,please kindly confirm the shipment way.
6)You could send us your image/ photo for print into wall sticker / windows sticker.Chick in
7)The personalized wall stickers would be shipment out in 7~10 days after your order and payment confrmed.