US $2.0 off for single orders greater than US $49.0 .
When you purchase more than one item, please add them to the shopping cart to get the discount.
Time remaining for promotion: 3d 13h 2m 55s
About Us
Company name: Blue Ocean Environmental Limited
Business type: R & D, production, sales and international trade;
Scope of business:
Ozone generator, ozone analyzer, oxygen generator, air compressor, teflon tube, silicone tube, venturi, one-way valve, flow meter, air stone, dryer, cooling fan;
Scope of application:
SPA, home, office, commercial, medical, industrial, military, agricultural...
Product features:
Water disinfection, air disinfection, deodorization, in addition to flavor, in addition to formaldehyde, decoloring, sterilization, remove phenol, cyanide, iron, manganese and reduce COD, BOD;
Mailbox: ozonetek@chinablueocean.cc
Paypal:
info@chinablueocean.cc
Language:
Multifunctional transparent ozone disinfection machine
Stainless steel automatic drying and filter for ozone generator
Ozone generator kit wiring diagram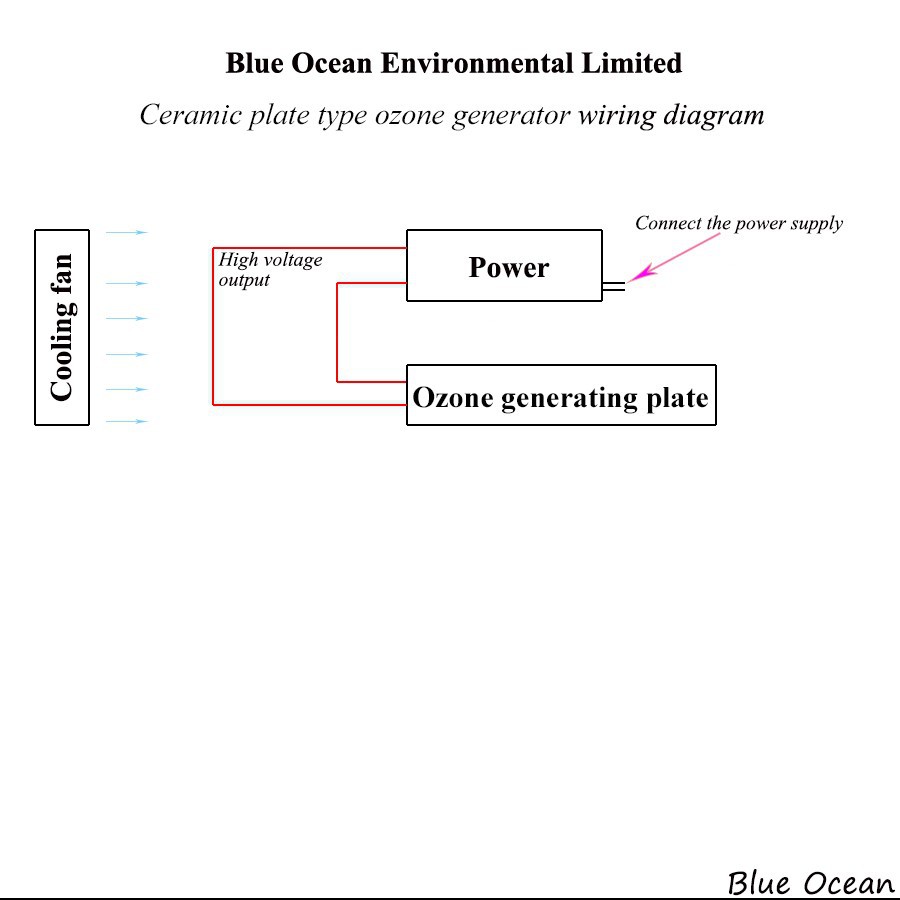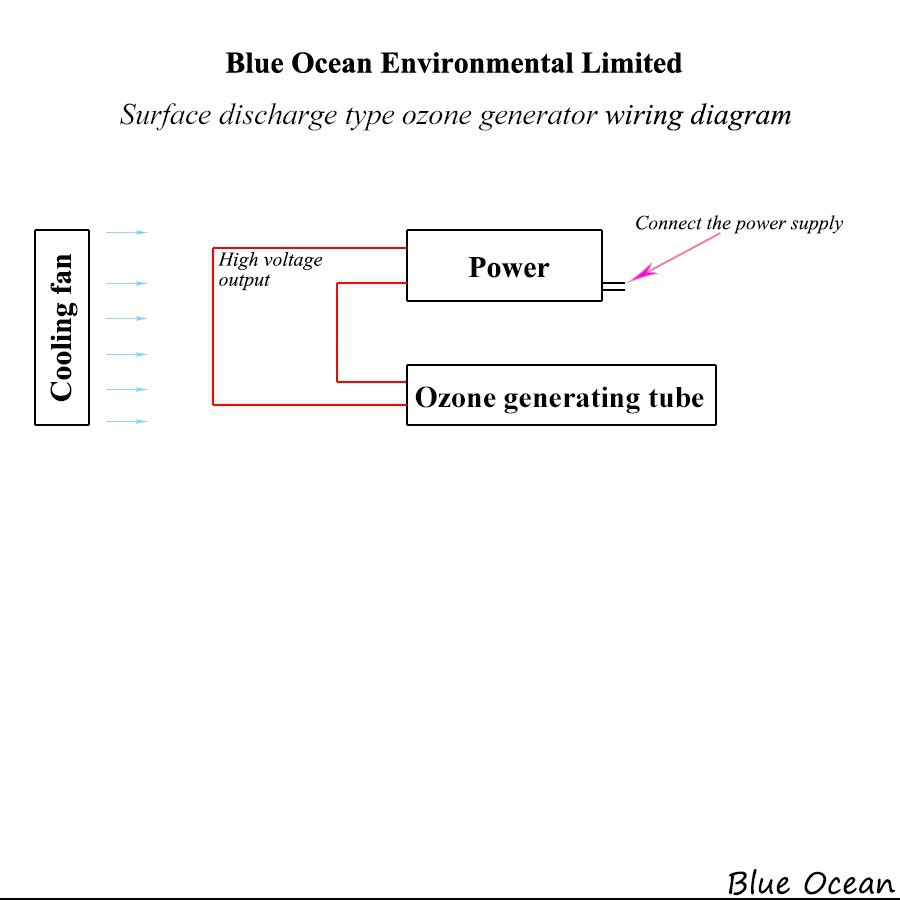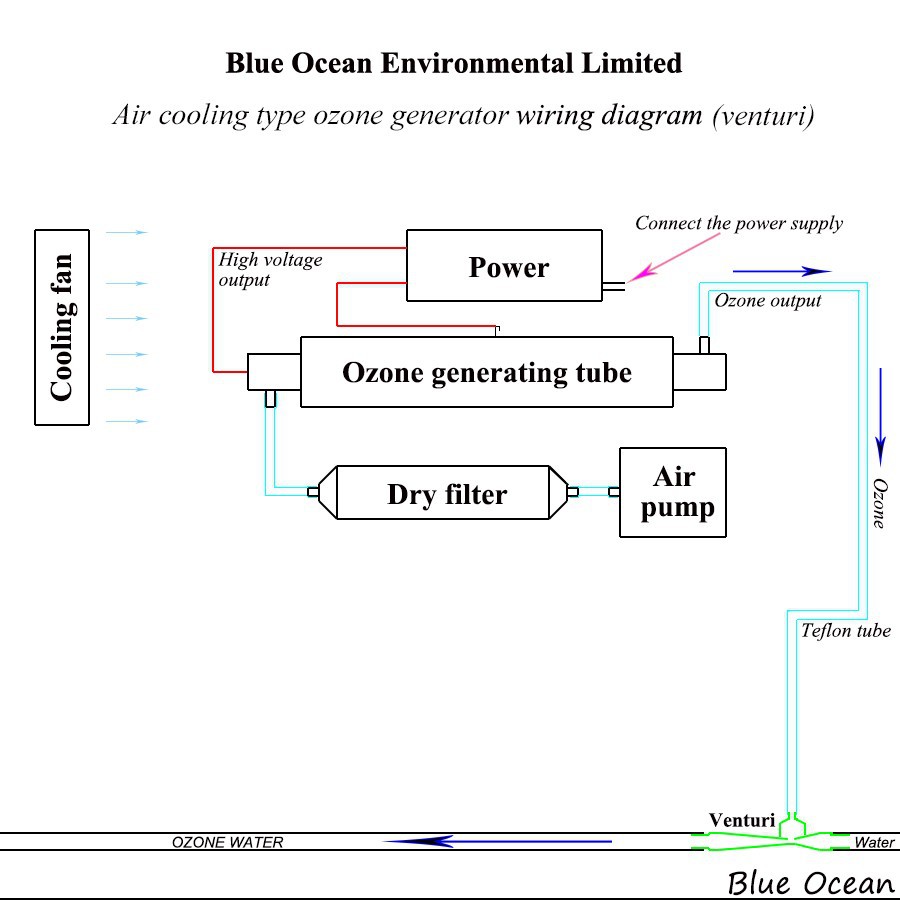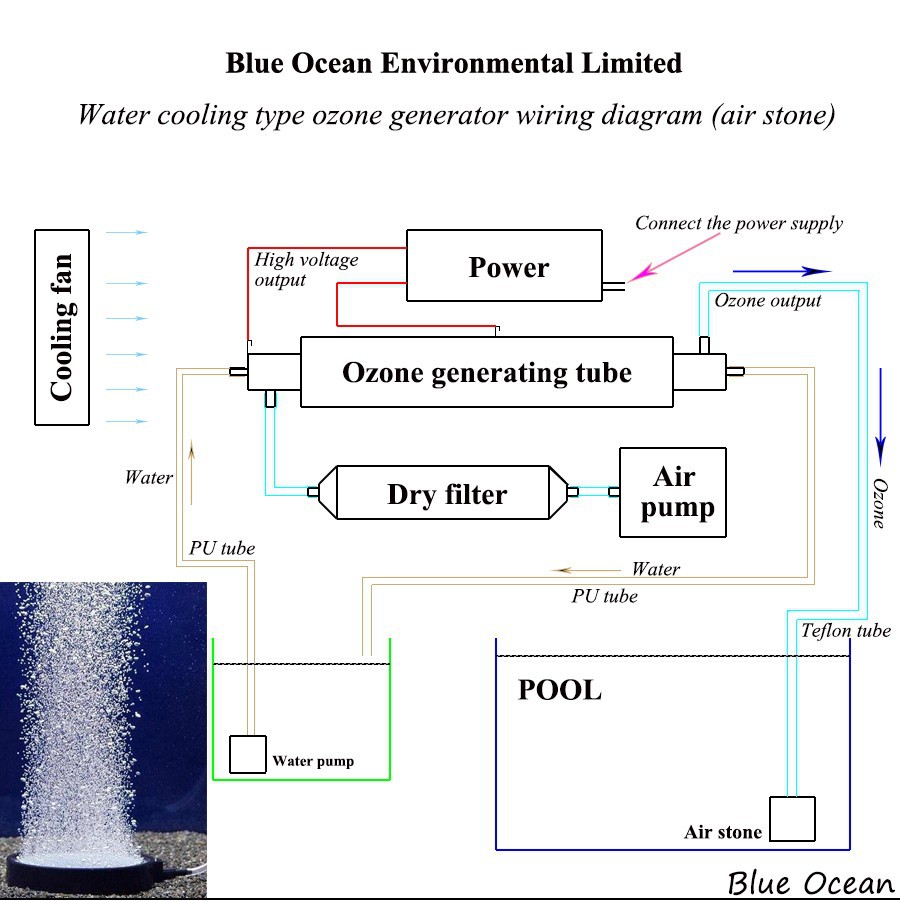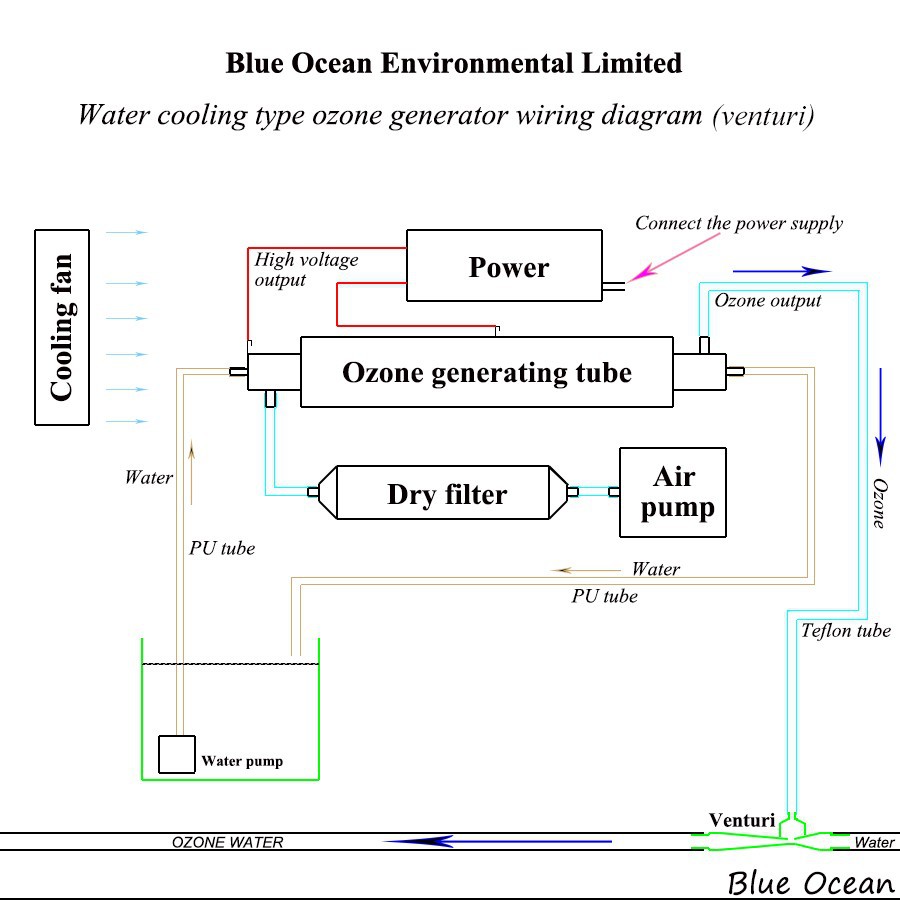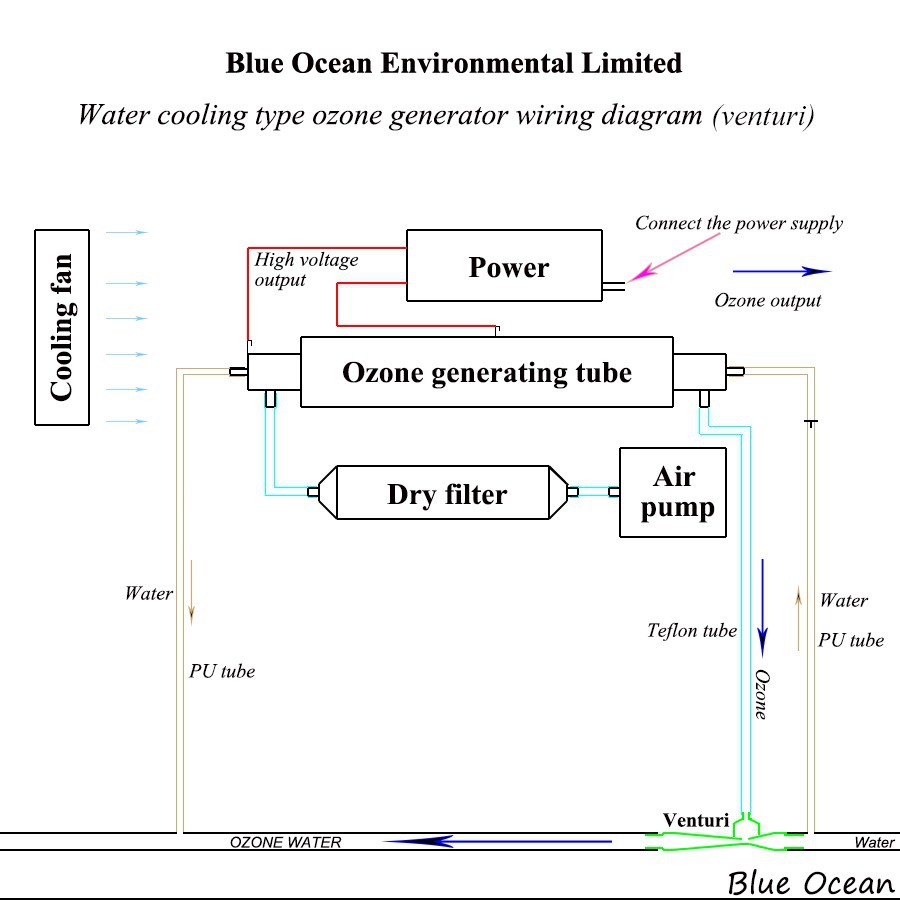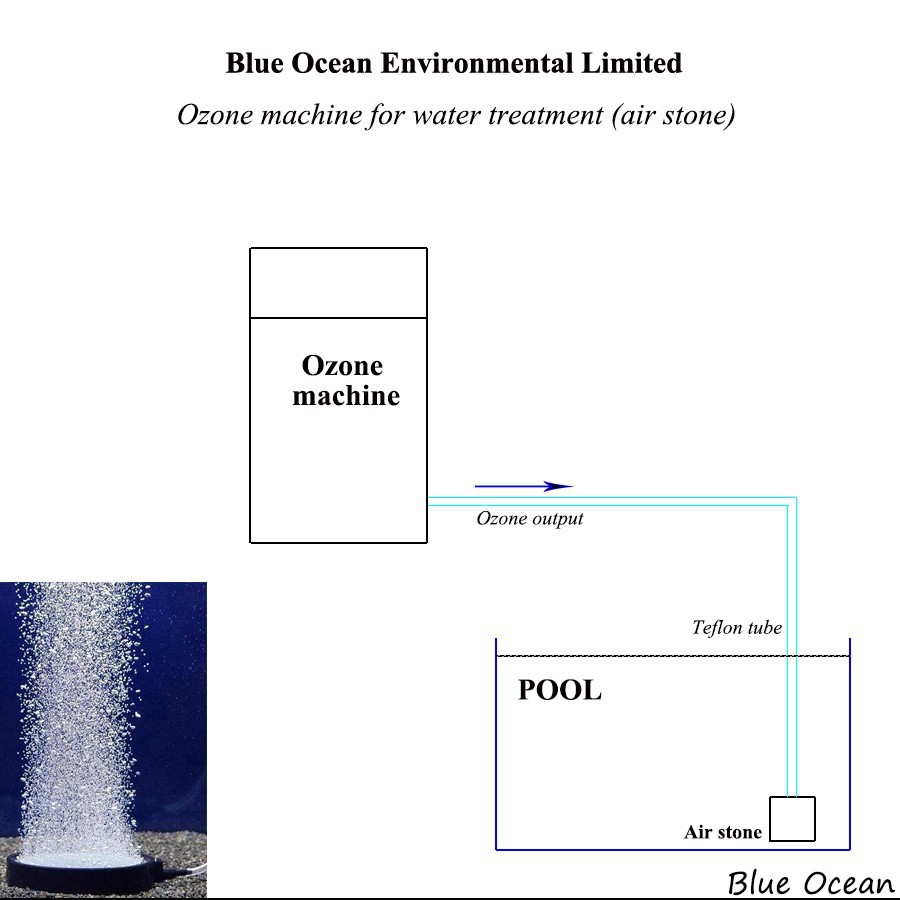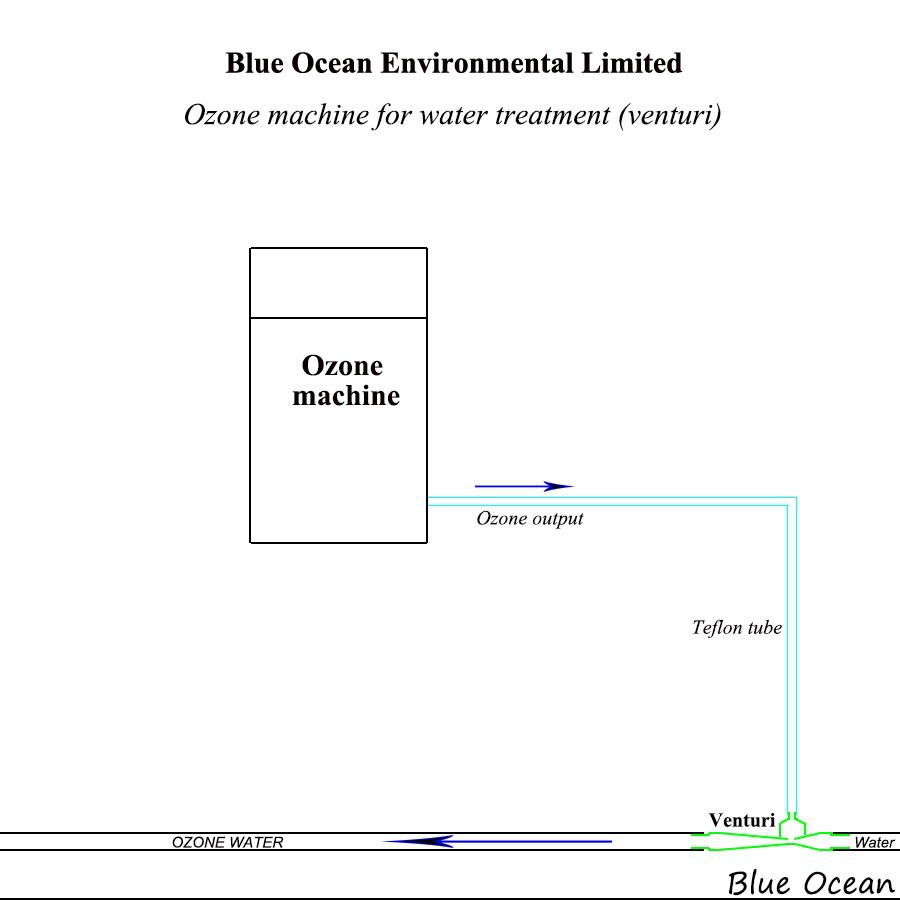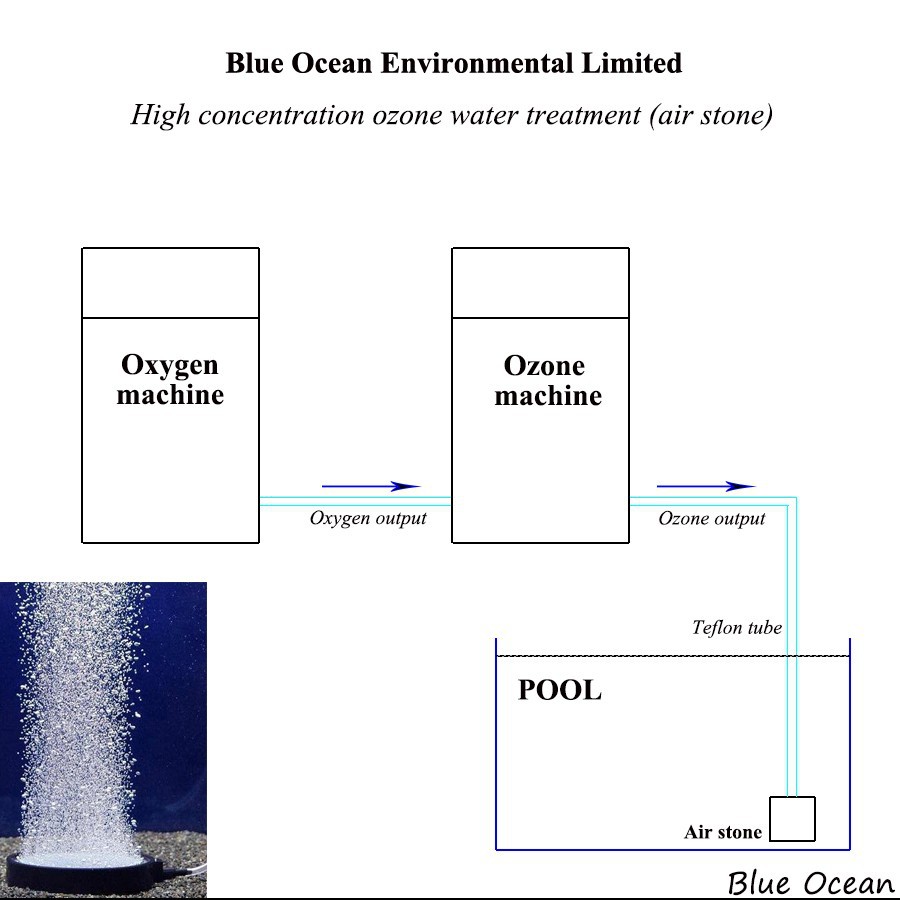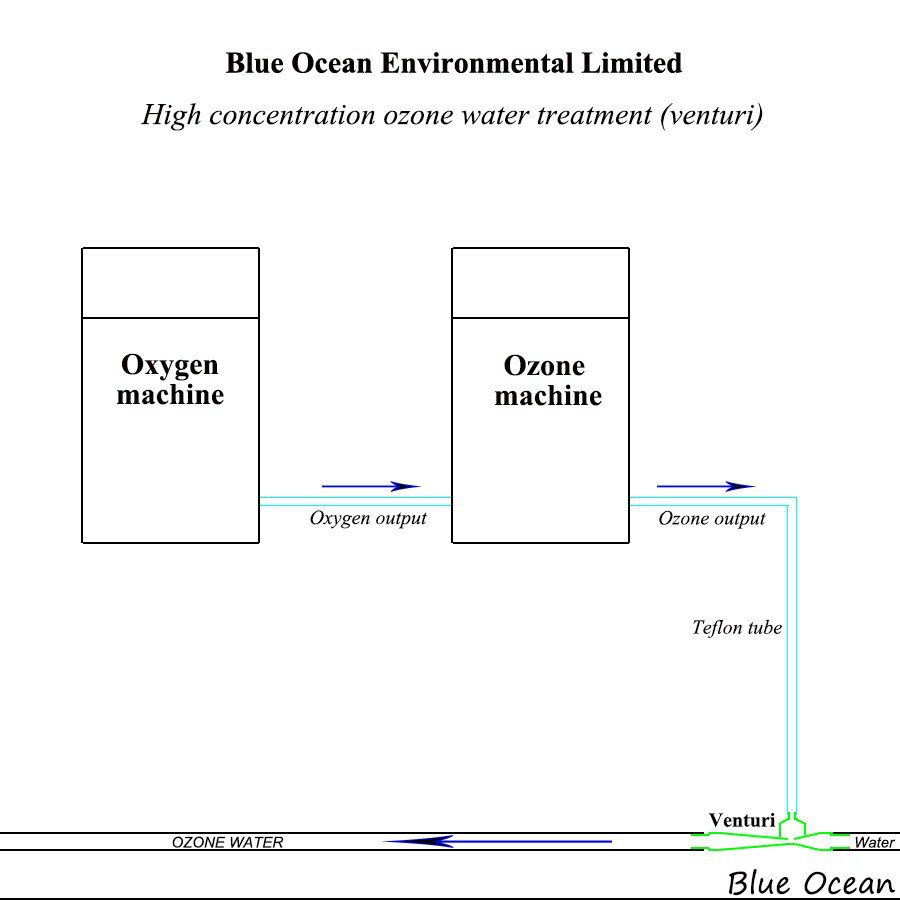 Main function of ozone:
Main function of ozone:
1#: Food purification; To decompose the residual chemical fertilizer, pesticides and other toxic substances in fruits, vegetables and foodstuff; Remove the antibiotics, chemical additives, hormones and other harmful substances in the meat, eggs, kill Halophilic bacteria in the seafood;
2#: Drinking water purification: The tap water after ozone treating is a kind of high quality drinking water; Injecting ozone gas in every 1 liter tap water for 2 minutes, can to remove the residual chlorine, taste and heavy metals in water, and up to the level of sterilization and disinfection. To prevent the formation of trichloromethane (CHCl3), increase the oxygen content in the water to be the ideal of pure drinking water.
3#: Disinfection and Sterilization for dining utensils; Put the washed dining utensils into the ozonated water for 20 minutes to remove residual detergent. To kill Bacteria and virus to instead of the normal disinfection cabinet; avoiding the utensils of infectious diseases, also be used for disinfection for clothing, towels, rags and socks.
4#. Air purification: Hang the ozone exhaust pipe 1.7 meters above, keeping the ozone emission 20--30 minutes to remove indoor smoke and dust, decoration odour. Increase the oxygen content in the air, clean air. Let you enjoy the fresh at home like the air after the rain in forest (applied family, office, conference rooms, entertainment and others public place for smoke or dust or taste removal and disinfection);
5#: fruits and vegetables fresh keeping, mildew proof: inject the ozone gas in the bag of fruits or vegetables for 2 hours, can extand the freshness date 7 days. And also cab be used for mildew proof of vegetable cellar, fruit and vegetable transportation.
The advantages of ozone application in catering industry:
The advantage of Ozone disinfection in the catering industry: flexible, low cost, obvious effect, and without negative effect;
Ozone sterilization method:
1#: Cleaning and Soak in the ozonated water;
2#: Air disinfection and air purifying
The advantage of Ozone disinfection:
1#: Not only can the tableware disinfection, but also has others function which others normal disinfection equipment do not possess (disinfection ability of catering area and kitchen equipment), degradation of harmful residues in fruits and vegetables contain pesticides and hormones in meat products, avoid the occurrence of food poisoning.
2#: Ozone can be directly to the kitchen, dining room, refrigerator, the knife dish rack, breeding, storage room disinfection, and ozonated water disinfection could be used also.
3#: Ozone or ozonated water can be used for plastic, porcelain products which cannot be disinfected under the high-temperature.
4#: Adopt the ozonated water to wash vegetable, fruits and meat could degrade the harmful hormone degradation and the pesticide residues.
Ozone disinfection required for a short time, simple operation, after disinfection without cleaning; the 100 pieces of tableware disinfection (dinner for 8-10 person):
1#: The conventional procedure with others disinfection equipment need about 140 minutes, the process is as follows:
Decontamination (15 minutes) ; Poison cleansing soaking: (90 minutes) ; cleaning (15 minutes); disinfection cabinet (20 minutes);
2#: Using ozone disinfection, generally required 38 minutes only. The process is as follows
Decontamination (15 minutes); cleansing (15 minutes) ; Poison cleansing soaking(8 minutes);
3#: Using ozonated water disinfection require 30 minutes only. The process as following:
Decontamination (15 minutes); Poison cleansing soaking (15 minutes);
There are no harmful residues, and no secondary pollution for environment.
Ozone will automatically decompose into oxygen, no smell, no pollution, and disinfection is complete, good effect.
Application in agriculture:
Application in agriculture:
Ozone is a colorless gas with odor, it will become a kind of strong oxidant when dissolved in water, has strong killing effect on living cells. The ozone generator can change the oxygen in the air into ozone through the corona discharge. In recent years, to carry out demonstration test on greenhouse vegetable pest in Xi'an surrounding greenhouse, and achieved good results;
Advantage:
1#: Safe, high efficient and low cost; Ozone can achieve a multi-purpose, and prevention of diseases for many different disease, and low cost. Compared with spraying pesticide, the ozone is more convenient, efficient, safe, can greatly reduce the use of pesticides. Avoid the farmers use the high toxicity, high pesticide residues, thereby reducing the cost of drug use;
2#: Pollution-free. Ozone is not stable in the dry air, can be quickly change to oxygen, so there will be no pollution, no residue in plants and fruit; it is an important way to realize the pollution-free vegetable production;
3#: Improving quality and increasing production. After testing, malformed fruit of Tomato in greenhouse was reduced obviously after using ozone, the production increased about 20%, and big fruit, good color, taste good;
Usage method.
1#: Seed treatment: Inject the ozone gas into water and stir constantly, to be ozonated water after 10 minutes. The seeds put into the ozonated water 15-20 minutes, can kill the virus seed surface, bacteria and eggs;
2#: Greenhouse pest control; Smoked shed disinfection. Inject the ozone gas in greenhouse 10 days before planting combined with high temperature. The injecting time is not less than 2 hours;
3# Prevention pet diseases of seedbed. Seal seedbed firstly, injecting ozone every 10 square meters for 1 minutes, with airtight fumigation for 10 minutes, then take ventilation 30 minute;
Pest controlling after planting.
Inject ozone continuous per Mu(666 square meter) or 7-10 minutes, and then sealed fumigation for 15-20 minutes, then ventilation for 30 minute; Injecting ozone for pest free green shed every 5-7 days, continuous injecting 5 times; After each 2-3 injecting time, add 5 minutes and finally to be 25 minutes; The fumigation time also increased 5-10 minutes after each 2-3 injecting.
It has been proved by the experience, ozone is good effect to control the following diseases: Botrytis cinerea, leaf mold, early blight, late blight, cucumber downy mildew, blight and greenhouse whitefly, aphids, leaf miner. But there is no effect for greenhouse soil of diseases and pests, because the ozone gas into the soil is too low, the concentration is too low.
Basic principle of pesticide residues dissolution;
Ozone is a strong oxidizing agent, pesticide is a kind of organic compounds, ozone sterilizing water destroyed the chemical bond of organic pesticides, make its lose their effectiveness, to kill various bacteria and virus surface, and achieving the aim of detoxification.
Degrade the remains pesticide in rice, vegetables, and fruits, to extend the storage period.
Use for tableware disinfection, air disinfection, freezer and storage room disinfection, deodorization removal, mildew proof, can kill bacteria and virus effectively, prevent the spreading of the disease.
Ozone is an allotrope of oxygen, as a strong oxidant. The removal effect of reducing pesticide, bacteria is 1.5 times that of chlorine, the sterilization rate 600 to 3000 times faster than chlorine. Ozone decays to be oxygen under the room temperature, the decay period of 15 minutes to 25 minutes.
Ozone transformed into "ecological oxygen" quickly in the water, and has no residue problem
Ozone is efficient, rapid elimination of fungicides. It can quickly decompose the pesticide residues in a short time, and the bacteria, virus is destroyed rapidly.
Ozone not only has the deodorization, decolorization effect, but also change the plant respiration, activation of plant cell differentiation, detoxification, organic impurities and so on many beneficial to human and environmental protection "positive" role;
Through the medium of water, Ozone can effectively reduce and destroy the following in the food: the pesticides, fertilizer, biological hormone residues, various bacteria and the pathogens, to reduce pollution and harm to human.
With the ozonated water to wash vegetable, fruits to can kill bacteria, virus can from the outside to the inside of the chemical fertilizer, pesticide residues, degradation, activation of plant cells, enables you to eat natural taste, nutrient-rich fruits and vegetables, eat more at ease, the pesticide residues can be removed more than 95%, not the loss of nutrients, long preservation time.
To use the ozonated water to soak chicken, meat, frozen fish, frozen shrimp, which can kill slaughter during transport, degradation during feeding absorption biological hormone, antibiotics, hormones and other harmful substances, can also remove the smell, let you eat chicken, fish, meat, eggs, the taste more delicious.
The ozonated water can whiten laundry surface dirt and color dye, can sterilize and decompose the impurity, reduce water pollution; There will be no chemical detergent residues and skin stimulating, prevent skin diseases and athlete's foot and etc.
With the ozonated water to clean the rice, can degrade the residue of chemical pesticides, the steamed rice is delicious, nutritious.
Because the ozone will change to be oxygen and water eventually, there will be no any residue and no pollution to the environment.
With its strong oxidation of ozone, sterilization, easy to break down and no residual properties, so it has broad application prospects in the removal of pesticide residues, sterilization, anti-corrosion.
Products sell like hot cakes