Actually, the answer's simple. If you want a hand-made, reproduction of an amazing piece of art, or if you're looking to turn a photograph into an original painting, 1st Art Gallery is the best, most affordable gallery around. Our painters are experienced, our turnaround time is quick and our prices are low. In fact, you'll get a painting for what some of our competitors charge for a print.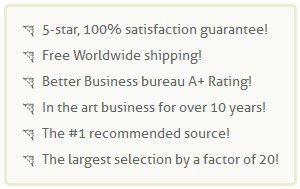 Creating a great piece of art requires time, resources, equipment and most of all, an exceptional artist. At 1st Art Gallery , you'll find a team of some of the finest reproduction artists in the world. Every day, they create works of art that measure up to the standards of the artists that originally painted them centuries ago.

Using only the finest oil paints and canvases, our artists can create a 1st Art Gallery painting in 21 days. This investment in time and attention to detail make our paintings truly one of a kind.


Take a virtual stroll through our gallery and you'll find art created by some of the giants in the art world. We can recreate these works at any size, using the largest art gallery on the planet as inspiration.

Along with delivering high-quality artwork, we also provide a level of service that you'd typically only find through high-end galleries. Contact us whether you're inquiring about choosing a painting, checking the status of an order or requesting a change.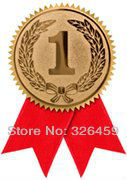 We developed a creative panel to ensure that our high standards met with every piece that leaves our gallery. Each painting is vetted by the panel of our most experienced artists through every step of the painting process. They work with the artists to make sure their reproductions match the color, expression and character of the original. And when the artist is creating a new piece, they help ensure that we?ve captured every detail of our customer's request and of our customer's photography.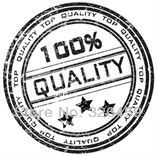 This is a business that's driven by customer recommendations. If you're merely happy with the work you receive, you may tell a friend. If your expectations are exceeded, you'll tell everyone about 1st Art Gallery. That's why, from the materials we use to the artists we employ to the selection we offer, we're driven to be the best.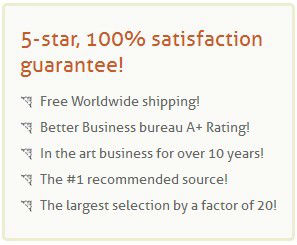 Our 5 Star Market Leader 100% Satisfaction Guarantee includes several layers of buyer protection mechanisms.
The first guarantee happens when, if requested by you during checkout, we email you a photo of your painting. Our guarantee is that we'll revise the painting until it meets your expectations.
Our second guarantee is when you receive the painting; you are free to return it for more revisions or else for a full refund minus our actual shipping cost -- which is, on average, $25 per painting.
We also provide a full lifetime warranty covering manufacturing and material defects for paintings purchased from our store. The warranty covers damage from normal use. Damage caused by incidents such as accidents or inappropriate use are not covered. Depending on the degree of damage to the warranted painting, paintings will either be repaired or replaced. The warranty service is provided free of charge.
Please note that portraits cannot be returned if they have been approved by the customer prior to their dispatch.
Please note that the money back guarantee is not transferable to 3rd parties - you cannot order a painting for someone else only to "discover" that he is not interested and then ship the painting back to us for a refund. Please note that custom orders are not covered by the money back guarantee. Order of portraits (photos turned into paintings) are not covered once approved by the customer for shipping.
As the paintings can only be fully appreciated in person, you cannot cancel an order and request for a refund based on a photograph alone. You must receive the painting first and examine it . If you would like to return the painting for a refund you must send it back to us.