How to be our VIP member to get discount?
1, Click Add to Store List on the left side.
2, Click Here To Get Coupon.
3, We Always Offer Fixed Discount,Such As: $5 Off Per $105 Order.
4, We Usually Offer xx%Off Products.
So, buy with confidence in our store!
Yours: Bag Time (BT) team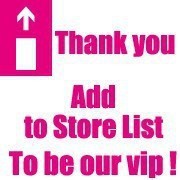 BT qr Code
Search Advice
Selling Rank: