Add to store list

Add to store list To be VIP
Support
1.

Question:what is your minimum order ?
We have no minimun order ,you can purchase any amount ,but the more the cheaper .
2.

Question:how can you provide me express delivery ?
When order more than 200 usd ,please choose "china post"free shipping first,pay it directly .After you pay ,we will send the order by DHL,EMS,or UPS FREE ,only takes 6-9 days to delivery after we ship.
3.

Question:do you provide dropping shipping ?
We provide drop shopping,we can send the order to your customer directly .
4.

Question:do I need to pay extra tax ?
We will declare the parcel as a gift and much small value ,so you need not to pay tax or just a smaller tax .
5.

Question:Do they all have in stock ,can I pay ?
Almost all of them are in stock ,so you can pay it directly.we will let you know when the order out of stock.
6.

Question:Do you accept PayPal payment?
Yes ,we accept PayPal payment
7.

Question: it does not turn black ?
Generally it will keep its color within 1-3 months ,of course ,it need your caressed meticulously maintenance .
8.

Question:Do you ship to xx(your country),what's the processing time ?
Yes ,we ship to worldwide,generally 25-60 days will be delivery .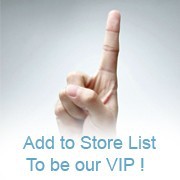 Customer Service
Online Time Monday to Saturday
Beijing Time 8:30 --- 17:30
New York Time 19:30 --- 4:30
London Time 0:30 --- 9:30
Moscow Time 3:30 --- 12:30
Brasilia Time 21:30 --- 6:30