Why should I go for real hair?
Many hair extension brands falsely claim to provide real hair, which leads to disappointment and frustration to hair extension and wig lovers. Tangling and frayed ends is a common problem with synthetic hair making the hair look plasticky and unnatural after some time. Some people also find they are allergic to the synthetic fibers used in such hair.
At HairWeavon, we make it our priority to ensure our hair is real and of the finest quality. You can expect your HairWeavon hair extensions, wigs and clip ins to look and feel real.
Our hair is hand picked with cuticles aligned to ensure it is tangle free. Your HairWeavon hair will feel soft and silky to the touch. It can be styled as you desire with any of your heat tools. It is easy to manage just like it's your own hair.
HairWeavon will save you money in the long run, because our high quality hair extensions will last 2 or more years when cared for properly. Our real hair wigs are also very reasonably priced.
How do i style my curly hair extensions?
To style your curly hair extensions, just add some curly hair mousse and use your hands to tidy hair, no need to brush.
Where does the hair originate?
At HairWeavon, all our hair are ethically sourced, this is important to us and to our customers too. The hair originates from India. In India there is an ancient Hindu tradition whereby people give their hair as offering in temples instead of money, this practice continues today. We have traveled to the temples in India to ensure that the hair is given in a free and ethical way. Once collected, the hair is cleaned to ensure it is safe to wear and then made into hair extensions and wigs.
What does 'Virgin' hair mean?
The texture is completely natural and unprocessed. No chemicals are used in preparing the hair, it is simply washed and sewn into weft or hair extensions.
Can I dye the Virgin Indian Hair to my desired color?
Yes you can dye the hair to your preferred hair color as the Virgin Hair is the most raw hair you can get. Here is a picture of our virgin Indian hair extensions dyed to the very popular ombre hair colour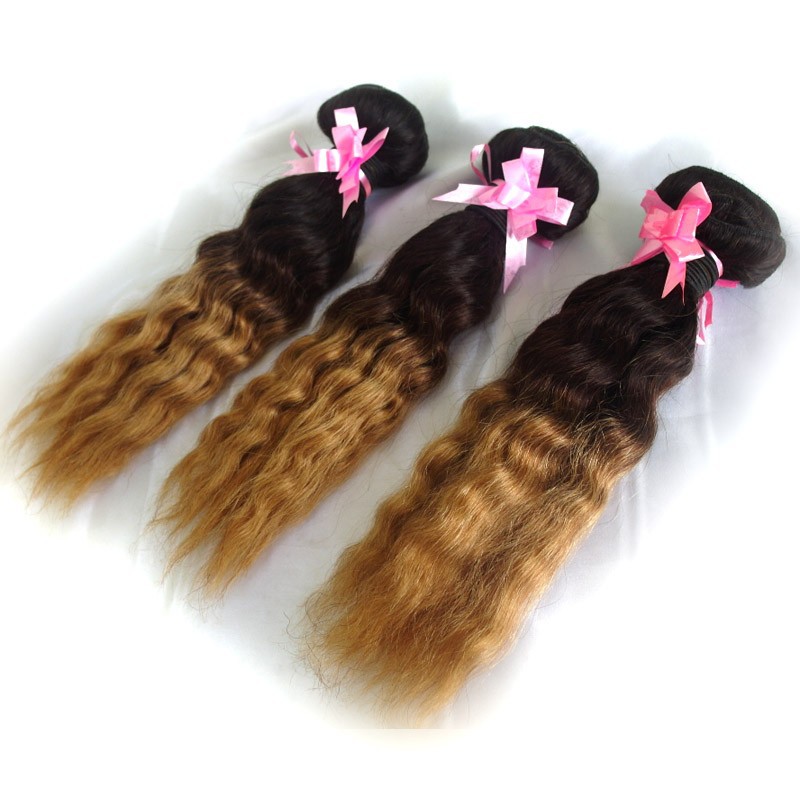 How many bundles of hair extensions do I need for a full head?
All bundles are 100g of hair. All prices are per bundle. Two bundles is enough for a full head, however to achieve a very full look you may use three or four bundles. The model is wearing two and half bundles in this picture

How long should my hair extensions last?
We estimate that the hair can last 2 years or more depending on how well you look after it. See the hair care page for hair care tips.
How is the human hair extensions weaved in?
Here is a video demonstration of how your human hair extensions is weaved into your own hair
What else should I expect when I received the hair in weft form?
The hair may appear dry when you receive it but shampooing and conditioning the hair revitalises the hair, infact the hair will look and feel better over time. See our hair care page for more tips.
What is the best quality human hair to get. Indian hair, Brazilian hair, Peruvian hair?

Virgin Indian hair is hair in its most natural state. It is not dyed or processed in any way. Virgin Indian Hair is available in it's natural color, straight and wavy texture. Clients often ask for Brazilian or Peruvian hair. So called Brazilian and Peruvian hair are not from Brazil or Peru, such hair is often Indian hair, processed hair or hair that is mixed with other synthetic material, hence it doesn't last very long and will be difficult to manage.
Can I dye, straighten, curl or blow dry my hair extensions?
Yes. All HairWeavon hair extensions are real human hair which means you can choose to style it or dye it as you wish. However, we advise that you seek the help of a professional hair stylist to dye the hair. Also avoid the use of extreme heat so that the hair can last longer. To minimize the use of heat, we particularly like the bending roller or Flexi rods.
Here is a video made by one of our customers on how she uses the bending rollers to achieve lovely curls with your Virgin Indian hair
How is the lace wig fitted?
You can use the lace wig kit or adhesive tape. See our page on how to fit your lace wig.
Can I use any shampoo and conditioner for my hair extensions?
We recommend that you use only good quality shampoo and conditioner for your hair extensions. This will help the hair last longer. We recommend the African Essence Shampoo for cleaning your wig and hair extensions for reuse.
Can I swim or exercise?
Yes, Before swimming or exercising, brush your hair using a vent brush and braid the hair in two braids to ensure all the hair is protected. Ensure all of your hair is tucked neatly under your swimming cap. Prolong exposure to salt water or chlorine causes the hair to tangle and become less manageable
Why do my hair extensions have split ends?
It is not unusual for the hair to have split ends just like natural hair on a person's head. Our Virgin Indian Hair is provided in its natural state. Split ends is a good indication that the hair extensions you are getting is real hair.
Should there be variations in the texture of the hair
There may be slight variations in the texture of the hair because it is in its natural state. The virgin hair texture can vary between bundles because different donors may have different hair texture. If you are using multiple bundles, the hair usually blends well.
Is it easy to manage the virgin hair extensions?
It is super easy to manage Virgin hair extensions and style in any way you want, just like your own hair.
Hair Care Tips
When styling your hair
Prior, to installing the hair it is recommended to seal the weft also known as the track of the hair with a weft sealer such as NO Fray and allow it to dry to prevent shedding.
Remind your stylist is the best not to cut the weft when installing and to also to use a looping sewing technique instead of penetrating the weft.
Do not overuse products on the hair. Too much product will create a build up on the hair and will cause the hair to become weighed down. If hair becomes weighed then condition and shampoo with sulfate-free products. Make sure hair is properly de-tangled before washing.
The hair can be colored, ombre or permed. We recommend anti-frizz serum be used after the hair is colored and washed.We suggest you color your hair BEFORE you install it if you're not comfortable with bleaching.
Virgin hair can be brushed, blow-dried, curled and styled in any way you like but use a heat protectant prior to heat styling.
For curly hair, be sure to brush the hair gently always from the bottom to the top daily and apply a leave-in conditioner as well as a curl activator to the hair so it is soft and moist and does not frizz. We recommend leave in conditioner and daily use of serums. If you do not apply a leave in curl conditioner or serum the hair will start to frizz and become dry.
When washing your hair
Completely comb through and detangle before washing. Make sure hairs are being washed in ONE DIRECTION (from scalp to ends) or straight down to avoid tangling.
Always use a moisturizing non-sulfate shampoo and conditioner.
When conditioner is on the hair , leave it on for approximately five minutes, and then comb through the hair starting from the ends. Rinse thoroughly
Squeeze out excess water and let the hair air dry but do not go to bed with WET hair. Hair can be blow dried but excessive heat is not recommended.
After exercising or swimming
Wash the hair immediately after swimming , spa, and excessive exercise. When dirt and sweat accumulate, hair will become tangled and weighed.
Make sure to brush the hair daily with a pronged or wig brush and always starts from the ends and work your way up.
Recommended Products
Shampoos and conditioners
Hawaiian Silky Argan Oil Hydrating Sleek Shampoo and Conditioner
Tresemme Sulfate-Free Shampoo and Conditioner
Garnier Fructis Hydra Charge or Triple Nutrition Shampoo and Conditioner
Serums and Anti-Frizz Products
Garnier Fructis new formula serum with Argan Oil
One n' Only Argan Oil
John Frieda Frizz Ease Extra Strength
John Frieda Frizz Ease Heat Defeat Spray
Weft Sealer
Allure Stop Fraying from (available at wal
COLORS
We have made every effort to display as accurately as possible the colors of our products that appear on the Site. We cannot guarantee that your computer monitor's display of any color will be accurate.
SECURITY & PAYMENT
Your financial & identity protection is our most important priority. That is why we process all payments securely and we do not share, sell or otherwise render any of your information to anyone, unless permissible by applicable law.
RETURNS – REFUNDS & EXCHANGES
All order placed on VirginBrazilianHairLive.com are as-is and there are no refunds or exchanges for any purchase. Due to the nature of the products, the FDA and law requirements state we cannot accept returns for beauty products, open or unopened, including but not limited to, hair products including hair extensions, cleaners, cleansers or modifiers. This is set in place to assure every product our customers receive is brand new and it was not handled by anyone else but themselves. Safety and health is one of our many top priorities.
DUTIES AND TAXES
All prices indicated on this website do not reflect any or all of the international duties, taxes, or other customs charges that the package may encounter when it arrives in its final destination. Please contact the customs agency officials to find out of all applicable taxes and duties (if any). Those charges vary greatly from country to country and will not be covered by us.
RESOLVING YOUR CONCERNS
If you have any concerns with, or do not understand our Terms of Use, contact us immediately before using our site. We will make every effort to address and resolve your concerns.
OFFICIAL AGREEMENT
By using the VirginBrazilianHairLive.com website, you constitute your complete agreement and understanding of the Terms of Use ("Terms and Conditions") listed herein. No hand affixing signatures are required for agreement; simply the use of our Site automatically binds you to these terms and all the terms above. If you do not agree with any part of this agreement, you must cease use of our website immediately, as required by law. Updates to this agreement does not void any User's agreement to these terms; their agreement to these Terms are transferred over from the outdated document to the new modified agreement. This is set in place to assure all Site User's agree with the terms listed herein and the User may browse at their own risk – it is their duty and complete responsibility to check back to these terms regularly for changes made.
FOR ORDERS PLACED IN THE UNITED STATES:
All packages will ship using the United States Postal Service (USPS) www.usps.com
On average orders that are made within the united states will require 7-9 business days after payment has cleared for the packaged to be received (holidays and weekends are not business days). This time frame is just an estimate. This time frame may be different during holidays and promotional/sale dates.
Processing time is 5-6 days Shipping is 2-3 days resulting in a total of 7-9 business days. This is only an estimate based off average shipping times and may be longer or shorter than the 7-9 days mentioned.
Tracking numbers will be posted to all orders after the allowed processing time.
Virgin Brazilian Hair Live is NOT responsible for any packages that have been lost or stolen in the shipping process. We do not reimburse buyers for any packages that have been lost or stolen due to unforeseen circumstances that are out of Virgin Brazilian Hair Live's controll. If you would like to add insurance to your package please call or send us an email before you place your order.
Please place the order on a date that will give you enough time to receive your order before your appointment. Processing time can not be expedited or expressed. However the shipping time can be expressed.
FOR ORDERS PLACED OUTSIDE THE UNITED STATES
Orders placed in other countries please allow 5-6 days for processing and we will post a tracking number to your order. Delivery time will vary with each location.
Orders will be shipped via UPS (www.UPS.com) Shipping rates vary with each location.
Shipping can range from 20$-$65 for international orders.
We are not responsible for any packages lost or stolen in the shipping process. We do not reimburse buyers for any packages that have been lost or stolen due to unforeseen circumstances that are out of our controll. If you would like to add insurance to your package please call or send us an email before you place your order.
NO REFUNDS
For special situations based only upon VBHL's preference an exchange may be possible. In order for you to exchange your hair ALL hair MUST be returned unworn, unaltered with all tags and seals intact. Any alterations will prevent hair exchange.
This includes but is not limited to any hair that has been cut, combed, fingered combed, and brushed. Any hair that has been wet, dyed, bleached or conditioned may not be exchanged
By LAW and Florida Health Regulations VBHL Co. is obligated and required to uphold these standards. We will NOT make any exceptions. ALL SALES ARE FINAL, NO EXCEPTIONS
If we decide to allow an exchange BUYERS are responsible for RETURN SHIPPING COST. VBHL Co. WILL NOT pay or reimburse buyers for any returned shipping fees foreign or domestic.
You may not cancel your order once it has been made. Cancellations are considered refunds and we will not honor any cancellations Based on our discretion we may allow a change of order, if we do allow the order change there will be an order change convenience fee of $20.