About Us
Welcome to

LH Apparel & Accessories Co., Limited
Our company is a manufacturer and trader specialized in the research, development and production of garment accessories with many years' experiences.
We mainly produce custom labels and tags for clothing lines.
But we carry almost everything about garment accessories.
Feel free to look around in our store and come across your surprises.
We understand that price, quality and turn-around time are critical elements for apparel and textile industries. Our products have the highest quality and are guaranteed to contain no oil, water or dust since we have the most advanced electronically controlled weaving machines, which are all MULLER brand imported from Switzerland. In addition to quality, we guaranty that our customers will get the best prices and receive their products promptly.
Our main woven factory is located in Dongguan City, Guangdong Province, which provides very convenient transportation access. All of our products comply with international quality standards and are greatly appreciated in a variety of different markets throughout the world. We have 18 most modern and high-technology MULLER looms, which allows us to produce up to 500,000 pieces a day. We can cut logos in the exact shape specified by customers with ultrasound and laser cutting machines.
With instant reply, best price, high quality, fast turn around and the first-class customer service, we looking forward to your inquiry sincerely.
Customer Service Time
From Monday To Saturday:
Beijing Time: 9:00 --- 18:30
New York Time: 20:00 --- 5:30
London Time: 1:00 --- 10:30
Moscow Time: 4:00 --- 13:30
Paris Time: 1:00 --- 10:30
Rome Time: 2:00 --- 11:30
Sydney Time: 11:00 --- 20:30
Budapest Time: 2:00 --- 11:30
Contact Way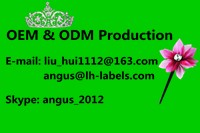 Please Kindly Scan It ^_^