www.ipanda.com
Welcome to IPanda panda channel
Peng Liyuan jointly with the US president's wife Michelle visited the National Zoo giant panda museum
September 25, Mrs. President Xi Jinping wife Peng Liyuan with US President Michelle Obama in Washington to visit the National Zoo giant panda museum. The picture shows the two heads of state Mrs. warmly welcomed by the local Yuying children. Xinhua News Agency reporter Wang Yeshe
September 25, Mrs. President Xi Jinping wife Peng Liyuan with US President Michelle Obama in Washington to visit the National Zoo giant panda museum. The picture shows the two heads of state attended Mrs. panda cub "Babe," the naming ceremony. Xinhua News Agency reporter Wang Yeshe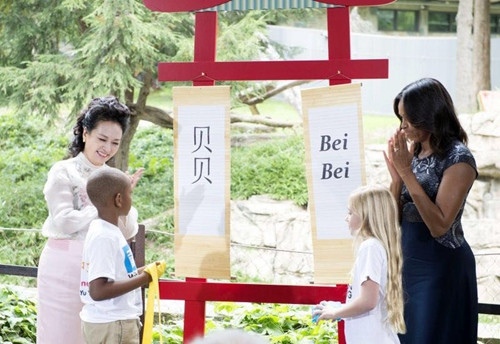 September 25, Mrs. President Xi Jinping wife Peng Liyuan with US President Michelle Obama in Washington to visit the National Zoo giant panda museum. The picture shows the two heads of state attended Mrs. panda cub "Babe," the naming ceremony. Xinhua News Agency reporter Wang Yeshe
25 am local time, Mrs. President Xi Jinping wife Peng Liyuan with Michelle Obama US president to visit the United States in Washington to the National Zoo giant panda museum.

Peng Liyuan after Michelle arrived with by zoo officials and Washington Yuying Children's warm welcome. Peng Liyuan and Michelle enjoy the children childish performances. Then Peng Liyuan and Michelle visited Panda "Tian Tian" and the new-born giant panda cubs, giant panda cub jointly selected the name "Babe" and attended the naming ceremony.

Michel said that the purpose of our meetings today is to strengthen the cultural and language exchanges between the two peoples of the United States. It is also one of the important issues the two presidents met. We want the next generation to have more people active in the United States and in human relations.

Peng Liyuan says pandas connecting link between the two peoples. I am pleased to learn that the American people are very fond of pandas. I believe the two pandas will continue to give the people especially children bring more happiness and friendship.
Welcome to our company again ,looking forward to doing more business with you.....