INCTEL Sales MINI PC, Thin Client, HTPC, Server,Desktop Computer
Major News Bulletin:
The new version of the 1037U proofing today the successful completion of the project , research and development , proofing a success! A new version of multi-functional micro motherboard with Immersion Gold PCB, PCB surface sink that a certain thickness of gold , there will be more reliable quality and stability , improve the quality of bits , regardless of the cost .
While the new version will implement a board wander , our years of design experience will pour all this :
1 double 1000 M card , applicable to a large number of industrial users , soft routing, network transit server. Small file server.
2 Dual USB3.0 interface , suitable for a large number of home users , HD users, to exchange large amounts of data quickly .
3 dual antenna WIFI, using 300M WIFI module , dual antenna super signal support , while providing convenience to the user to ensure reliable signal reception line .
4 dual-drive design , in such a small volume of re- design dual hard drives , high-speed SSDs will use brand high-speed solid-state disk . Supports 1TB notebook hard drive, and will be directly upgraded to SATA 3.0, can support speeds of up to 600M / S SSD . Reached the top of the user experience.
5 dual serial standards up to four serial ports onboard native , but can be implemented RS232 and RS485 conversion. Meet a large number of industrial users .
6 dual display mode , while supporting the HDMI and VGA display output, and can vary significantly synchronized , simultaneous dual display . Meet the requirements of industrial users .
7. LVDS support , dedicated LVDS development , one machine can support the market , advertising, higher education and other industrial users to use one machine .
8.All of the above features everything all over the design just a bit big small plates than mobile phone motherboard, is also fanless design , once again hit the absolute world first . Our design is always beyond your imagination . So far in 2013 has come to an end product development , the cumulative increase in investment has more than 1.5 million dollars per year , with a total investment of more than 2.8 million dollars, cloud terminal industry has more than six times the strength of peers . Next year will be the development focus to high cloud terminal , dual-core, quad-core cloud terminal has been put into research and development.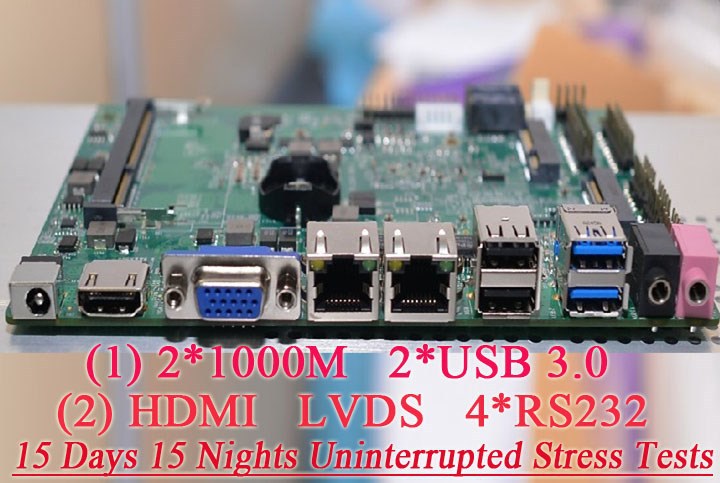 Will come out mass proudction very soon, let us Stay Tuned!!!
1037U version of the need to do 15 days 15 nights uninterrupted stress tests , to ensure that 15 days X24 hours without any problems , no crashes , no dropped calls, no reboot, completely stable to start production, then the next test PASS PCB
1037U -class user experience , sustained proven , a steady stream flood of praise , believe that the new vigor after 1037U will once again set off a new version of the PC era.
Notice : 1037U now selling models with immediate effect all updated MSATA3 0 can support speeds of up to 600M / S prices unchanged . Maintain low prices.
N2800 is actually the low-power version of the 2550.
After two years , we have completed the magnificent turn , the perfect transition . Whether as a partner you've seen , the cloud is moving toward low-margin end products , high sales costs situation. The HD Mini PC is just beginning, for two consecutive years , the United States accounted for the profits arising from the mini computer is twice the sum of the profits of our cloud terminal . With all partners to encourage each other , is the rebirth of the time. Change to rebirth, seize market together with us to complete the magnificent transformation, have a better future!
CE5.0 cloud terminal re- production of thousands of units. Because the master stock, no one can purchase on the market this chip. And we have a long-term exclusive one and keeps half years of the amount of production, exclusive production comes from our unique procurement channels , the original good working relationship with the mass production. After this batch, we will also decided to stop .
Meanwhile exclusive amount of IN-10 will also soon make one last stop after a determined volume production . X300 will continue to be the exclusive production.
While Since now integrated I3 M370 2.4Ghz CPU motherboard production volume is completed .Now the supply is normal. Meanwhile I5 M520 2.4Ghz processor version synchronized production , simultaneous listing suppliers. I3 I5 such high performance processors, large spot.
Carrying more than 10 scientific and technological innovation , improved design , comeback, I series of high-end processors integrated motherboards once again a lot of production, strong courage , do the level of capital investment , the formation of irreplaceable core competitiveness. Only I5 I7 series , bought 20,000 sets of CPU -time inventory , single-product investment cast 3 million dollars, is no more than the enemy brought the highest price. Cost killer in the world is definitely not for nothing. Straddling not only a great success , our position in the cloud terminal also stable, the price of a number of models we can Watch the cost of production counterparts. Once the purchase price of 2.0 dollars to tens of thousands of pieces of cloud terminal master, while the normal price is 2.0 dollars three times . Recent total product architect will go to Taipei , update technology and R & D team discuss the feasibility of the product . Please believe that the future has come , we will plan to design a mini-computer wireless display technology , such as the feasibility of success , please pay attention to the Division announcement. Product patent application has been accepted national patent offices , 1037U EU certification has passed , the U.S. FCC certification under review. Open up a class of product marketing channels in mature markets are efforts.
INCTEL New Arrival Mini PCs, Thin Clients
INCTEL Recommended Mini PC, HTPC, Thin Clients
Contact US INCTEL
Contact Person: Mellissa Lau
Mobile Phone:86-013798509496
Office Direct Line:86-0755-28283753
Email:sales@inctel.com.cn
MSN:laumellissa@hotmail.com
Skype:mellissalau