National Day holiday notice
PS: 1st --7th Oct. is our National Day holiday, we are off work.
We are so sorry for this inconvenience and we would answer you as soon as we are back.
What is battery case ?
1.What is battery case ?
-Battery case is a unique power bank,it has a rechargeable power bank built-in
with a protect case shape.So it is suitable for a certain single phone model.
2.How does battery case work ?
(1)It works similar as a power bank.
(2)If power bank has no power or little power,it can't charge a phone,same to a battery case.
(3)When battery case is little power, charge it firstly.
(4)Connect it to a DC 5V usb port (or your PC) by a compatible usb calbe, case can get charged.
(5)Then stop charging the case by removing the cable.
(6)Insert your phone into case properly and press the power button, case would charge your phone
(transfer power from case to your phone battery).
Note: For a few battery cases, you should press the power button CONSTANTLY for 3-5 seconds, case
can charge your phone.If you press and release the button soon, this way can't work case won't charge
your phone.
(7)When phone is charged, phone battery would get warm in some degree,when you use case to charge
a phone, that is the same.So it is better you don't use your phone when you use case to charge a phone.
(8) charge a battery case
use a battery case to charge your phone
You should do the 2 things separately (one by one), you can't do them simutaneously !
(9)Battery case can't support data sync!
(10) Last but not least: When you browse a title " battery case for iphone 6 plus 5.5" then case is ONLY
ok for ORIGIONAL iphone 6 plus (NOT OK for fake/clone iphone 6 plus).
3.About battery case's power:
(1) If battery case is 4200mah, its true power is about 4000mah.
(2) Battery case can't transfer 100% power to phone battery ( case itself would consume part of power).
(3) Case can transfer about 70-75% power to phone.
When i receive a battery case what should i do ?
When i receive a battery case what should i do ?
(1)When you get a battery case, it can be 10%,20%,50% power anything else.
(2)Check its status before use it:press power button to watch the led indicators.
eg.If there are totaly 4 leds,when press the button 2 leds are static 1 led is twinkleing, case is about 50% power.
(3)Charge case firstly by a correct usb cable (charging port is usually on case's bottom).
(4)How i know a battery case is being charged ?
i-4 leds flash from left to right one by one
ii- some leds keep lighting,the one leds (besides the lighting led)is twinkling.
(5)How to judge a case is full charged ?
-Once all the 4 leds are static blue light (don't twinkle any more),that says case is nearly full. You can keep charging for another
10-20 minutes and then stop it.
(6)When the case is being charged, you can't use it to charge your cell phone battery.
In other words ( charge this case, use case to charge your phone battery) you should do the 2 things separately/individually !!
(7)Our case doesn't support data sync, frankly it is a special power bank.If you would like to update photo/video from your cell
phone to PC, you have to get the phone out of the case firstly and then connect it to PC or you can connect them by wireless wifi.
How to track a pacakge from website?
Tracking website: http://www.17track.net/en/
You can track like this picture.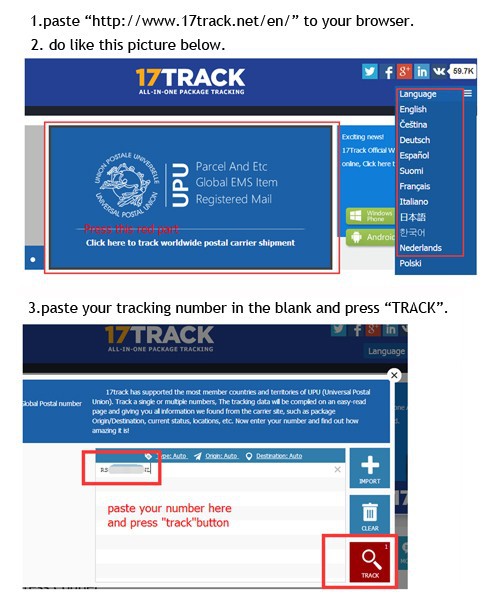 If you have any question welcome to contact us for help.
(1) TM: cn1004254039
(2) E-mail: info@cnedeal.com