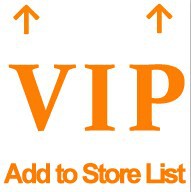 Dear friend, all the products online can choose self-help purchase, we will deliver goods for you as soon as possible, if there are any problems can contact the personnel of the service, we will warmly for your answer, thank you for your support !
Shop to work time:
Beijing time:
AM 10:00-PM 21:00
Pacific time:
PM 20.00- AM 11:00
Brasilia time:
AM 0:00-PM 15:00
Moscow time:
AM 6:00- PM: 21:00
china 2015 New Year holiday:
February 3 - March 3
My dear friends, if you like our store, please add the collection we will thank you very much for your support, wish you a happy shopping !
If you want Wholesale or

want to dialogue with us, please use the platform software or send email to me, thank you !