Discount For You!
You need original gifts for your wedding, party or baby shower?
One of FEIS favors please you very much and you'd like to order 100 pieces or more?
To make your special day more special, now it is possible to get discount based on your oder quantity!
In addition, we have more products to recommend to you. So plan your special day in advance with FEIS!
Please contact us for more information!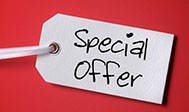 Store News
March 27
A wedding is a ceremony where two people are united in marriage. Wedding traditions and customs vary greatly between cultures, ethnic groups, religions, countries, and social classes. Most wedding ceremonies involve an exchange of wedding vows by the couple, presentation of a gift (offering, ring(s), symbolic item, flowers, money), and a public proclamation of marriage by an authority figure or leader. Special wedding garments are often worn, and the ceremony is sometimes followed by a wedding reception. Music, poetry, prayers or readings from religious texts or literature are also commonly incorporated into the ceremony.