10A LS1024RP EP PWM LandStar Solar light Controller Waterproof With Timer light sensor
History (past 6 months):
Rated

0

/5 based on

2

customer reviews
Feedback
(2)
Item specifics
Application:

Lighting Controller
Maximum Current:

10A
Brand Name:

EP
Model Number:

LS1024RP
Rated Voltage:

12V 24V
Place of Origin:

Beijing, China (Mainland)
Product Description

Solar-Wholesaler, is found by Ningbo Star Solar co., Ltd, we are a professional online shop of all type solar product, such as Solar Panel, Solar Regulator, Solar Inverter, Solar home System, Solar Light, Solar Charger, Solar Refrigerator, Solar Fan, Solar Water Heater, Solar Air Conditioner, Solar Water Pump, Wind Turbine etc.We focus on all type solar product. We have corporation with several solar manufactures from Ningbo, Jiangsu, Jiaxing, Shanghai, Beijing etc.
We offer high quality and cheap price PWM Solar Controller and MPPT Solar Controller. There has JUTA, EP Solar Controller.Such As, CMP12, CM3024Z, CM5024Z, MPPT-10,MPPT-20, MPPT-30, EP solar controller LandStar, SeaStar and ViewStar, And Tracker MPPT Solar Controller.all above types solar controller are widely sell over 50 countries.
How do the Solar Controller Work?
A Solar Controller, or solar regulator is similar to the voltage regulator in your car. It regulates the voltage and current coming from the solar panels going to the battery. Most 12 volt panels put out about 16 to 20 volts, so if there is no regulation the batteries will be damaged from overcharging. Most batteries need around 14 to 14.5 volts to get fully charged.
Not always, but usually. Generally, there is no need for a Solar Controller with the small maintenance, or trickle charge panels, such as the 1 to 5 watt solar panels. A rough rule is that if the panel puts out about 2 watts or less for each 50 battery amp-hours, then you don't need one.
For example, a standard flooded golf car battery is around 210 amp-hours. So to keep up a series pair of them (12 volts) just for maintenance or storage, you would want a panel that is around 4.2 watts. The popular 5 watt panels are close enough, and will not need a controller. If you are maintaining AGM deep cycle batteries, such as the Concorde Sun Xtender then you can use a smaller 2 to 2 watt panel.
LandStar Solar Controller
LandStar series solar charge controller adopts the most advanced digital technique and operates automatically.
The Pulse Width Modulation (PWM) battery charging can greatly increase the lifetime of battery.
Model No
Max Load
Current
Output Volatge
Work
Model
Application
Other Information
LS0524
5A
12V 24V Auto Switch
PWM
Solar System

LS1024

10A
12V 24V Auto Switch
PWM
Solar System
LS1524
15A
12V 24V Auto Switch
PWM
Solar System
LS2024
20A
12V 24V Auto Switch
PWM
Solar System
LS0524R
5A
12V 24V Auto Switch
PWM
Solar Lamp
Light and Timer Sensor
LS1024R
10A
12V 24V Auto Switch
PWM
Solar Lamp
Light and Timer Sensor
LS1524R
15A
12V 24V Auto Switch
PWM
Solar Lamp
Light and Timer Sensor
LS2024R
20A
12V 24V Auto Switch
PWM
Solar Lamp
Light and Timer Sensor
LS1024RD
10A
12V 24V Auto Switch
PWM
Solar Lamp
Light and Timer Sensor,dual Load
LS1524RD
15A
12V 24V Auto Switch
PWM
Solar Lamp
Light and Timer Sensor,dual Load
LS2024RD
20A
12V 24V Auto Switch
PWM
Solar Lamp
Light and Timer Sensor,dual Load
LS1024RP
10A
12V 24V Auto Switch
PWM
Solar Lamp
Light,Timer Sensor,Waterproof
LS1524RP
15A
12V 24V Auto Switch
PWM
Solar Lamp
Light,Timer Sensor,Waterproof
LS2024RP
20A
12V 24V Auto Switch
PWM
Solar Lamp
Light,Timer Sensor,Waterproof
LS1024RPD
10A
12V 24V Auto Switch
PWM
Solar Lamp
Light,Timer,Waterproof,Dual Load
LS1524RPD
15A
12V 24V Auto Switch
PWM
Solar Lamp
Light,Timer,Waterproof,Dual Load
LS2024RPD
20A
12V 24V Auto Switch
PWM
Solar Lamp
Light,Timer,Waterproof,Dual Load
LS1024S
10A
12V 24V Auto Switch
PWM
Solar System
Surface mounting
LS1524S
15A
12V 24V Auto Switch
PWM
Solar System
Surface mounting
LS2024S
20A
12V 24V Auto Switch
PWM
Solar System
Surface mounting
SS1024
10A
12V 24V Auto Switch
PWM
Solar System
Aluminum case,Moisture Proof
SS1524
15A
12V 24V Auto Switch
PWM
Solar System
Aluminum case,Moisture Proof
SS2024
20A
12V 24V Auto Switch
PWM
Solar System
Aluminum case,Moisture Proof
SS1024R
10A
12V 24V Auto Switch
PWM
Solar Lamp
Light and Timer Sensor,Moisture Proof
SS1524R
15A
12V 24V Auto Switch
PWM
Solar Lamp
Light and Timer Sensor,Moisture Proof
SS2024R
20A
12V 24V Auto Switch
PWM
Solar Lamp
Light and Timer Sensor,Moisture Proof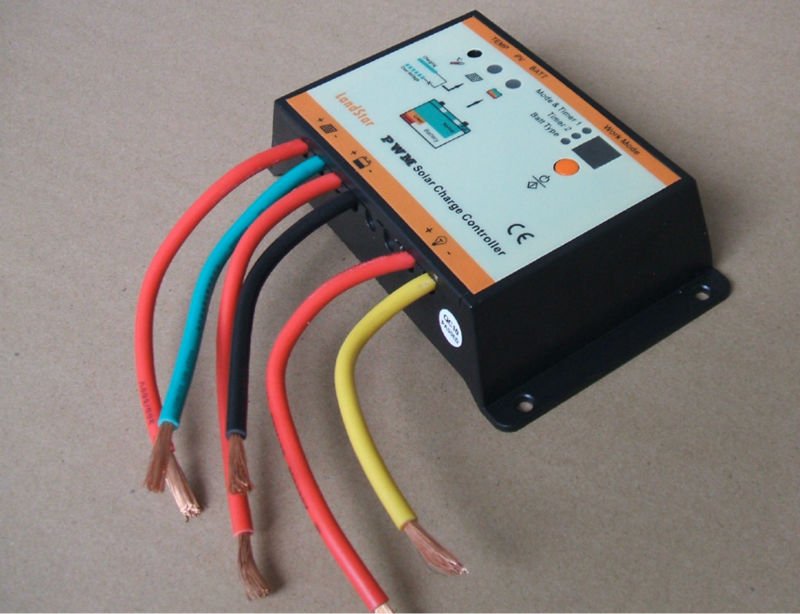 Waterproof 10A 12V 24V LandStar LS1024RP PV Solar Controller Regulators
solar road controller for street light
Dual timer function
Battery type selection
Waterproof IP67
Solar road controller
1. Intelligent System Optimum Controller
2.High efficient Series PWM charging with temperature compensation
3.Compact size
4.Use MOSFET as electronic switch, without any mechanical switch
5.Digital LED menu, only one key solve all setting simple
6.Widely used, automatically recognize day/night
7.Intelligent timer function with 1-15 hours option
8.Unique dual timer function, enhance the flexibility of street light system.
9.Gel,Sealed and Flooded battery type option
10.Load status display
11.Big terminals and big distance between terminals
12.Electronic protection:Overheating, over charging, over discharging, overload, and short circuit
13.Reverse polarity protection : Any combination of solar module and battery
14.Load work mode: Light ON+Dual timer, Dusk to Dawn, Test, ON/OFF
Specification:
| | |
| --- | --- |
| Model | LS1024RP |
| Rated Current | 10A |
| System Voltage | 12/24V auto work |
| Over Load Protection | 1.25 times of rated current for 60 seconds, or 1.5 times for 5 seconds |
| Short Circuit Protection | 3.5 times of rated current |
| Self- consumption | Max.6mA |
| Working Temperature | -35°C to +55°C industrial |
| Equalize Charging Voltage | 14.6V;x2/24V |
| Boost Charging Voltage | 14.4V;x2/24V |
| Float Charging Voltage | 13.8V;x2/24V |
| Boost Reconnect Charging Voltage | 13.2V;x2/24V |
| Temperature Compensation | -30mV/°C/12V |
| Under Voltage Warning Voltage | 12.0V;x2/24V |
| Low Voltage Disconnect Voltage | 11.1V;x2/24V |
| Low Voltage Reconnect Voltage | 12.6V;x2/24V |
| Terminals | 6 mm2 |
| Enclosure | IP30 |
Packaging Details
Unit Type:

piece
Package Weight:

0.400kg
Package Size:

15cm x 20cm x 20cm