Manual Tornado Potato Cutter Stainless Steel twist Potato Slicer China Patent Spiral Potato Cutter(with CE)
Get US $5.00 off for single orders greater than US $200.00.
When you purchase more than one item, please add them to the shopping cart to get the discount.
Time remaining for promotion: 8d 2h 29m 44s
Item specifics
Type:

Fruit & Vegetable Tools
is_customized:

Yes
Brand Name:

chinapotatocutter
Material:

Metal
Feature:

Eco-Friendly
Certification:

CE / EU
Fruit & Vegetable Tools Type:

Vegetable Choppers
Metal Type:

Stainless Steel
Model Number:

chinapotatocutter
528 manual Electric spiral potato cutter:

528 -2
528 twister potato cutter:

528-1
528 potato cut machine:

with CE digital counter
china potato cutter Dimensions:

33x12x17cm
528 spiral potato cutter:

with CE
528 chipstix:

528-1(3in1)
Type:

chinapotatocutter
Place of Origin:

China (Mainland)
Product Description
high quality Manual Tornado Potato Cutter Stainless Steel Tornado Potato Slicer Spiral Potato Cutter China Spiral potato Patent (with CE)
We are expert in designing and manufacturing the potatoes machine (With CE)

We have already received: two projects in China Spiral potato Patent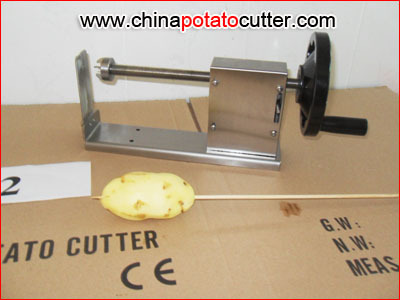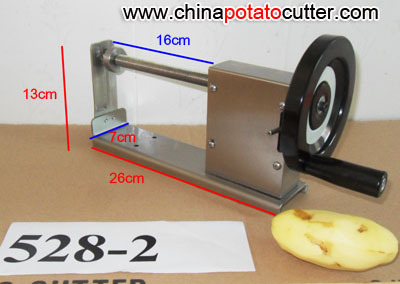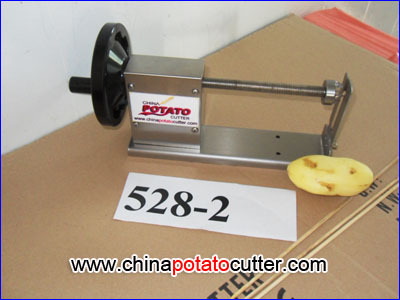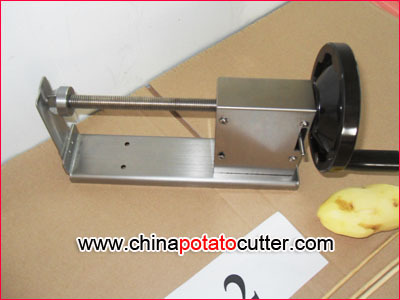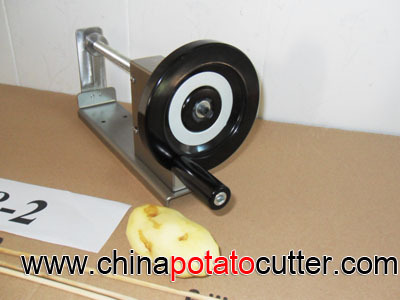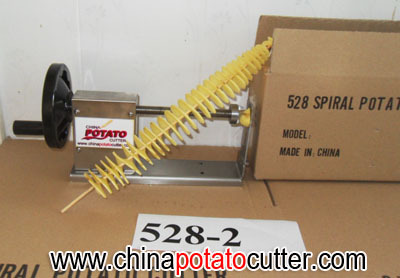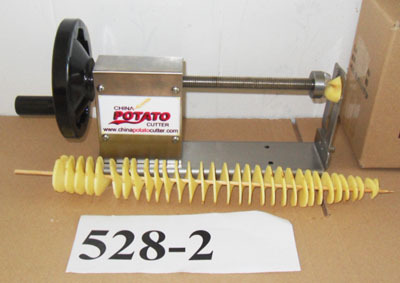 We are the manufacturers of the 528 Spiral potato chips machine( the electric/manual Twisted chips machine /Tornado Potato Chips Machine/spiral potato cutter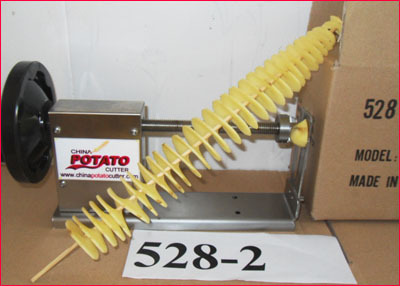 N.W. 1.5
G.W. 2
Size (mm): 330*120*170
Efficiency 5 second/one
Material Stainlees Steel
---------------------------------------
Mr Tang with the foreign customer who ordered the spiral potato slicer.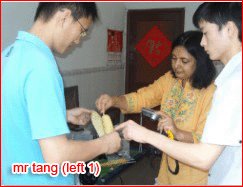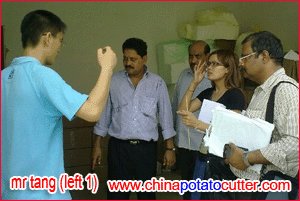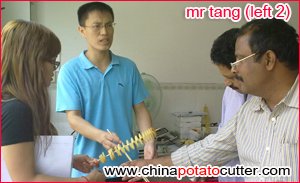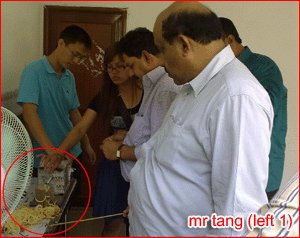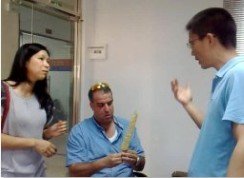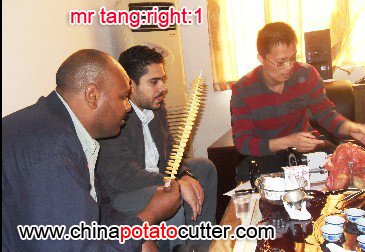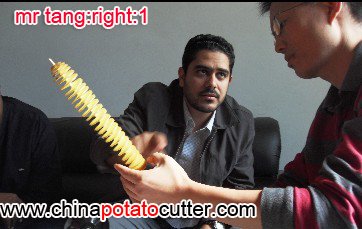 --------------------------------------------------------------------------------------------------------------------

We have successfully sold sipiral potato cutter to the following areas:

North America South America\Eastern Europe\Southeast Asia
Africa\Oceania\Mid East\Eastern Asia
Western Europe\Singapore\ Malaysia
Western Europe.
Indonesia\ New Zealand \Philippines
\Hong Kong\ India\china Taiwan... ..
North America/South America/ Eastern Europe,
Southeast Asia/Africa/Oceania/Mid East,

Eastern Asia, United States India Indonesia
Saudi Arabia Australia Canada South Africa Singapore
Jordan/ New Zealand / Canada / South Africa
Australia /United States / Spain
Europe /Russia / Italy / Poland
Croatia... ...
--------------------------------


528-1(2in1)-spiral poato+hot dog

Warranty Time 2 years
Customer Service Lifetime technical support and accessories supply.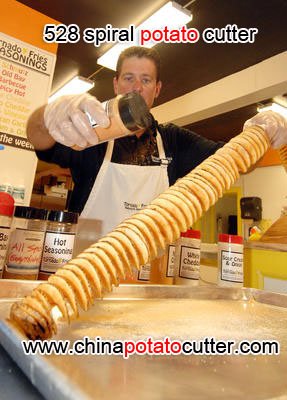 This Tornado Fries machine makes the Tornado chips. Peeling of potato before making chips in this Tornado Fries machine is done manually by 6 to 7 unskilled labour. Just one has to keep feeding peeled potatoes by using both Chip Twister on stick hands one after another and chips falls directly into frying vessel (bhatti) & frying starts in the oil.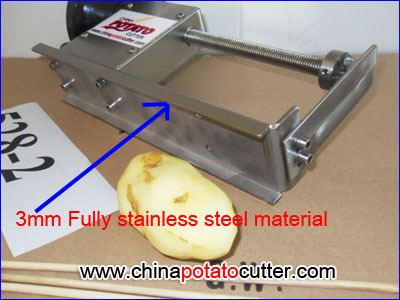 Product Description

This Twisted Chips slicer is for pellet and chips producing by single-screw extruder. The raw material can be potato starch, corn starch, cassava starch, wheat flour, etc. Through extruding cooking, the pellet can be different shapes like shell, Spiral Potato on skewer, Ribbon Potato franchise circle tube, and so on.
After drying the pellet need frying to get expanded, this line is characterized by unique technique, ration configuration, high automation and stable performance.

--------------------------------------------------------------------------------------
Process to make the Potato Twisted Chips

1=) Take a medium potato (washed and unpeeled), insert the skewer (diameter4- 5mm, length350-400mm),
blunt end first, into the center of the potato.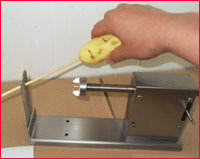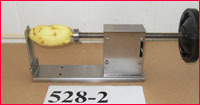 2=) Put the skewered potato into the Twister Cutter.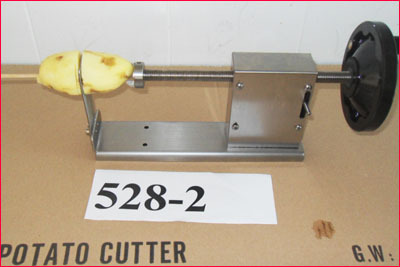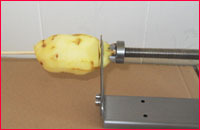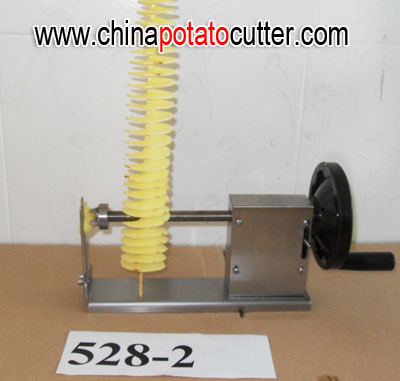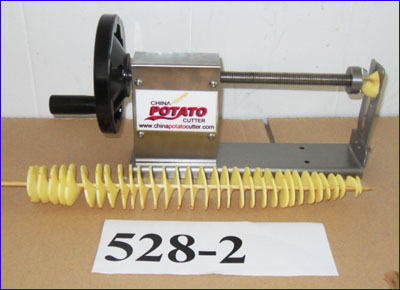 528-2=-spiral poato

3=) Put the potato into 180/200 degree C oil for max 3 minutes (Depending on the size and strength
of your deep fryer, multiple units can be deep fried at the same time). Remove twisted chips from
the oil. Allow excess oil to drip back to your oil bath.

------------------------------------------------------------------------------------------------------------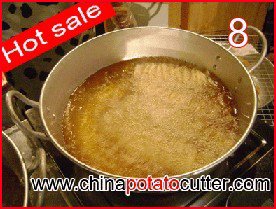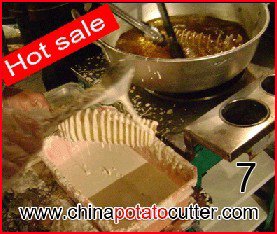 4=) Season the tornado potato chip, or allow customer use the seasoning themselves.
Normally, two people can handle this process: one person cut and deep fry potato, the other one take
orders/money and hand product to customers.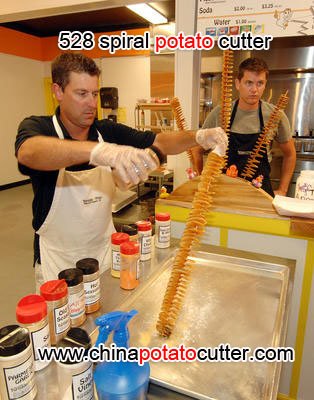 --------------------------------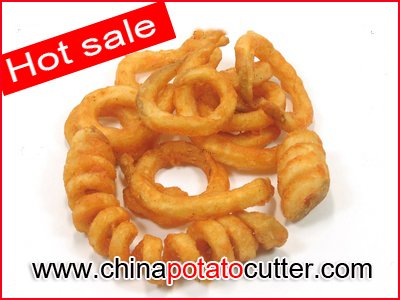 528-1(2in1)-spiral poato+curly fries

Process to make the chipstix type chips
At 528 spiral potato we come up with a few FAQ's.

Q. What type of oil should I use to fry?
A. Sunflower oil is highly can be used to fry spiral potato once made
.Q. Must the whole skewer be emerged in the oil?
A you can fry the ribbon fry in any way.
Q How will I remove the twisted potato from the oil once cooked?
A. With a pair of stainless steel tongs. Grip the curly fry the same manner as you would a kebab.
Q. What is the minimum size skewer that I can use in my Chipstix s kind machine?
A. The chiptwister machine is designed to fit a custom made bamboo skewer measuring 4-5mm in diameter and 350--500mm
Q. What type and size potato should I use for spiral fry machine?
A. any medium size potato can be used to make potato on stick.
You can cut these potatoes any size. The standard spiral chips we sell in are with the 40cm bamboo skewers I always enjoy looking at the opposition with their small 28cm skewers - but as a hungry client, with money to spend, which potato tornado would you buy for the same price? french fry cutter,industrial french fry cutter wholesale,french fry,ribbon fry cutter,potato cutter,french fries cutters,restaurant french fry ...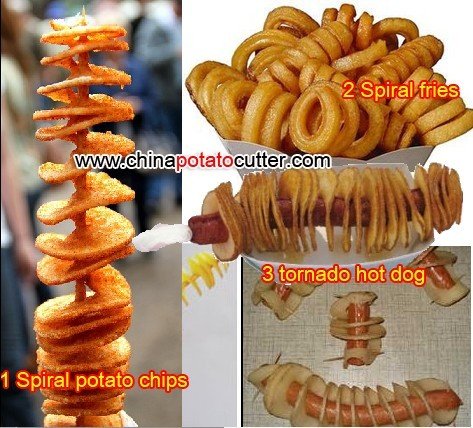 Shipment : via DHL(3-5day)
(We'l l choose the most suitable way and lowest delivery cost for you.)

528 chiptwister machines can be used in mobile trailers in conjunction with other food items.
you can also combine528 chip twister with our other bussiness opportunities
--snow nice for a lucrative 2 in 1 business
check out the new crispy 528 chip twister here,using our electric ,easy-to-use ,no hassle machine
YES - be independant & be your own boss
YES - the greatest new product on the market
YES - we train you at no cost
YES - make big, big profits
YES - trade anywhere you want to
YES - fully equipped & ready to trade
YES - you keep all the profits
YES - you get value for money
YES - a true business opportunity
YES - our 528 electric spiral potato cutting machine is portable and ready to use anywhere

Item 528 multi Spiral Potato Slicer
Brand Name 528 multi slicer
Model No 528 multi slicer-1/2

----------------------------------------------------------------------------------------------
We are expert in designing and manufacturing the potatoes machine (With CE)

We have already received: two projects in China Spiral potato Patent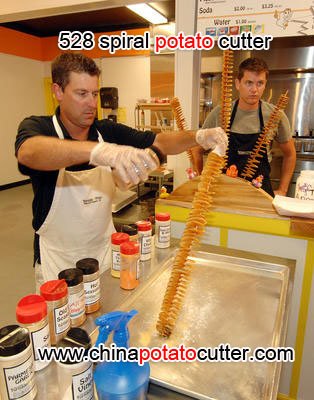 Controlled Easy, Low Cost, High Demand, and can be done by anyone!
Businesses that require only minimal space is best marketed in the concentration of people such as the expo, night markets, schools, restaurants, cafes, carnivals and supermarkets.

Packaging Details
Unit Type:

piece
Package Weight:

2.000kg
Package Size:

33cm x 12cm x 17cm